CNN anchor Brooke Baldwin didn't hesitate to "call BS" on Sen. Ted Cruz (R-Texas) Wednesday, after he suggested that a story her network reported on Monday wasn't true.
Asked to respond to Trump's latest attack saying he "stole" the Iowa caucuses and accusing him of "fraud," Cruz denied his campaign did anything wrong, claiming it simply repeated what CNN was reporting with regard to the status of Ben Carson's presidential campaign.
But Baldwin wasn't about to let Cruz's comments slide.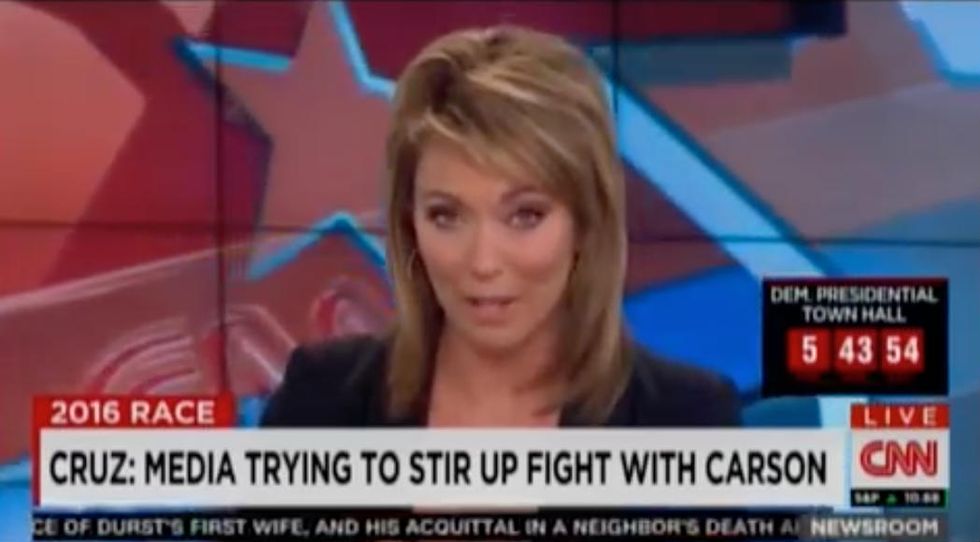 CNN anchor Brooke Baldwin (Image source: YouTube)
"Just so we're all crystal clear here, when Sen. Cruz, with all due respect, tries to throw my network and CNN under the bus for my colleagues and my journalists here in terms of the CNN report that he keeps quoting. ... Let me be precise in case this is seen again," Baldwin said.
"We reported it accurately and here are the facts: Dr. Carson's staff told us he would return home to Florida to 'take a breath' from the campaign before resuming his activities on the campaign trail," the CNN anchor said, adding that when somebody tries to take down the media, "it gets me a little fired up."
Baldwin then turned to an interview with Rep. Mark Meadows (R-N.C.). But while the Republican complimented the network's "stellar" reporting, he went on to say that it's "one thing to report and another to verify it."
"Congressman, forgive me," Balwin interjected, "[b]ut I'm going to call out BS if I hear BS. And that was BS."