A convenience store clerk successfully fended off an armed robbery attempt in an altercation caught on surveillance video.
Just after 4 p.m. Wednesday afternoon, the suspect entered a Stop Quick convenience store in Methuen, Massachusetts.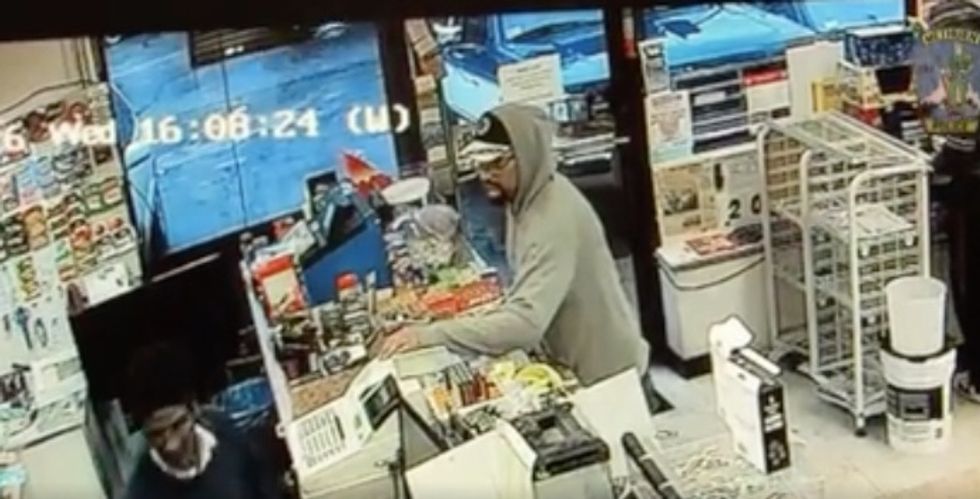 Image via Facebook/Robert Rogers
The would-be robber flashed a knife and demanded money from the cashier. But the clerk was not quite ready to give the man what he wanted.
The clerk promptly slipped away from the counter, grabbed a golf club and started swinging it wildly at the man.
The robber then ripped the cash register off the counter and tried to exit through the front door.
But the clerk, one step ahead, had already locked it.
The suspect, now panicking, began smashing the glass door with the register as the clerk continued to clobber him with the club.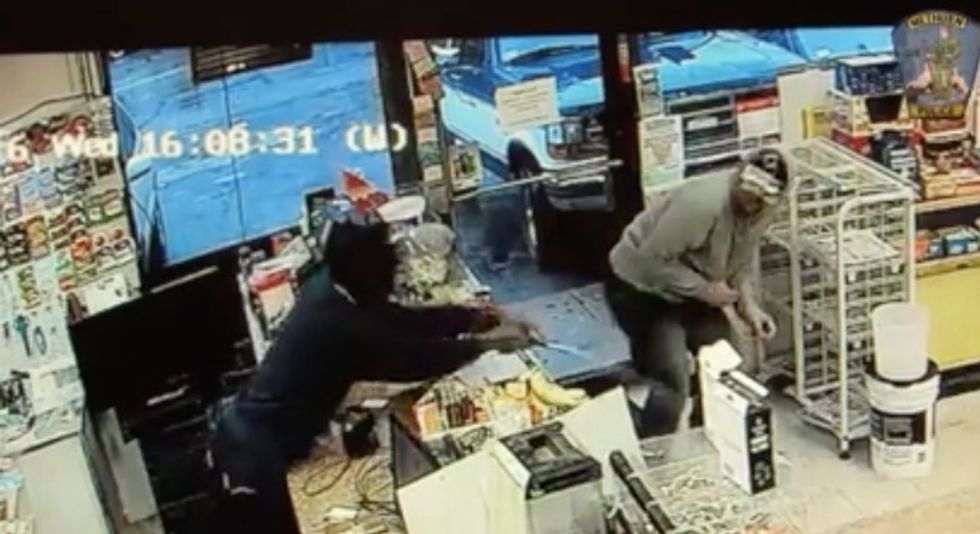 Image via Facebook/Robert Rogers
The man then grabbed the clerk by his head, pushed him away and escaped through the bottom of the broken door empty-handed and leaving his knife behind.
Once outside, the robber hopped into a blue SUV and drove away, according to police.
The clerk described the suspect as white or a light-skinned Hispanic male in his mid-30s, about 6 foot 4 inches tall and weighing about 250 pounds.
He was wearing a grey sweatshirt and grey sweatpants and may have cuts on his hand from pushing through the shattered glass door.
As of late Thursday morning, no arrests had been made.
Armed Robbery With A Knife – Stop Quick Convenience Store

Armed Robbery With A Knife – Stop Quick Convenience Store (12 Haverhill St.) This afternoon around 4:12 pm, an unidentified male suspect attempted to rob the Stop Quick convenience store. The suspect brandished a knife and demanded money from the clerk. The clerk immediately fought back and drove the suspect away from the counter. The suspect grabbed the cash register and attempted to exit the store. The clerk had locked the door so the suspect could not leave the store. He began to smash the door with the register until he was able to break the glass flee on foot out of the store. Before fleeing the store, the male dropped the knife. The suspect entered the passenger's front door of a blue SUV (possibly a Jeep) and was last seen heading down Cypress Ave. towards Lawrence. The suspect is described as a white male, 6'4", 250 lbs, approx. 35 years old, wearing a grey sweatshirt and grey sweatpants. The suspect may have injuries from exiting the front glass door. If you recognize this male subject, please contact the Methuen Police Department at 978-983-8698 or Detective Rick Pilz at 978-983-8783

Posted by Robert Rogers on Wednesday, February 3, 2016
(H/T: WBZ-TV)