Recent controversial statements from feminist icon Gloria Steinem and former Secretary of State Madeline Albright sparked MSNBC's Joe Scarborough to unleash a rant against feminists who did not stand up for people like Monica Lewinsky.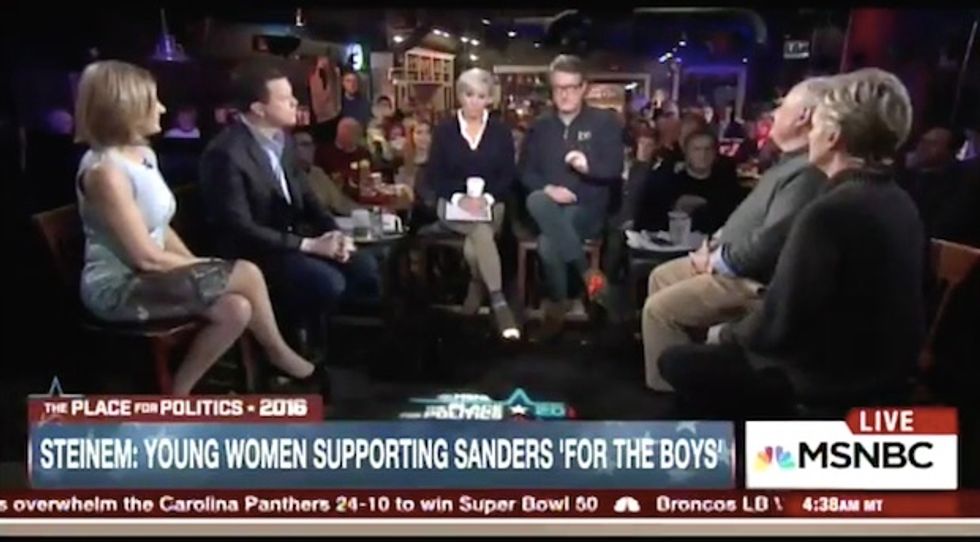 Image source: YouTube
The "Morning Joe" panel was discussing a recent statement Steinem made on Bill Maher's HBO show (and her subsequent apology posted on Facebook) about young women who follow Bernie Sanders and Albright's warning of a "special place in hell" for women who do not help other women.
Scarborough began his rant with the question, "Where were these women in 1998 when a young 22-yr-old intern was taken advantage of in the Oval Office?"
As the live audience cheered and clapped, he added, "And, on top of that, Gloria Steinem wrote an op-ed in the New York Times in 1998, eviscerating Monica Lewinsky, Kathleen Willey and all these other people."
"When do you say there's a special place in hell if you don't support women? Is it only powerful women?" Scarborough continued. "Or are 22-year-old women taken advantage of in the Oval Office not worthy of that same support?"
Scarborough closed his rant with, "How do they have the audacity to say this? They stumbled into this trap with Donald Trump. Why don't they stop?"
—
Follow the author of this story on Twitter and Facebook: