According to a report from Gawker Tuesday, Hillary Clinton's former right-hand press man, Philippe Reines, often participated in "transactional journalism" with a number of reporters, many of whom worked for large media empires.
The report keys in on one set of email exchanges in particular, which occurred in July 2009 between Reines and Marc Ambinder, who was a contributing editor at The Atlantic at the time.
The emails were uncovered as a result of a Freedom of Information Act request from 2012.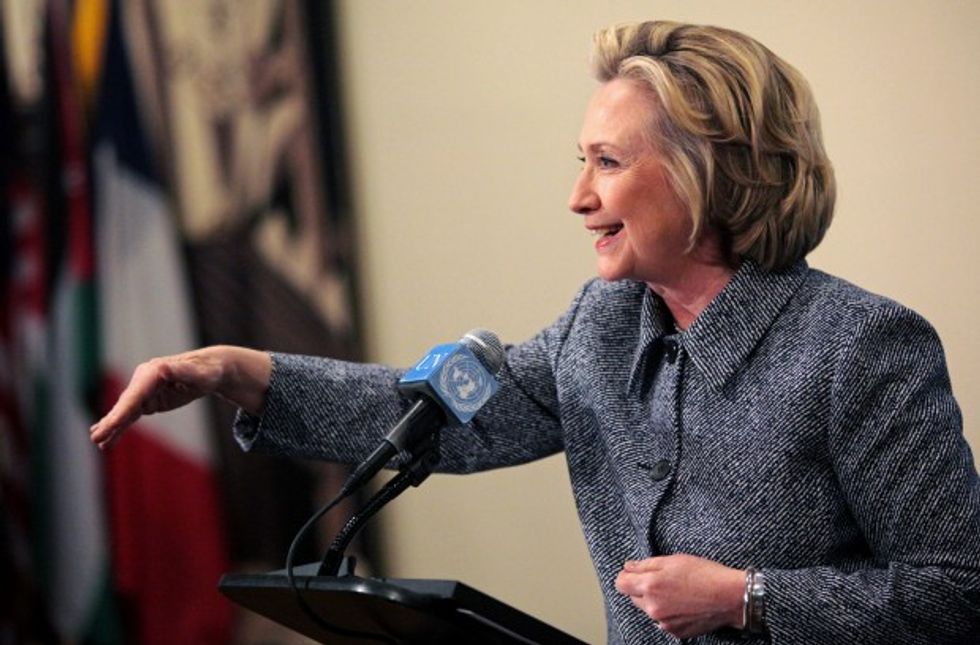 Hillary Clinton speaks to the media after keynoting a Women's Empowerment Event at the United Nations, March 10, 2015. (Getty Images/Yana Paskova)
According to the email exchanges, Ambinder initially emailed Reines asking if a speech that Hillary Clinton was set to deliver later on July 15 could be forwarded to him. Reines quickly responded, saying that he would send the speech over — with three conditions.
First, Reines requested that Ambinder describe Clinton's words as "muscular" in his story.
According to Gawker:
In [the emails], you can see Reines "blackmailing" Ambinder into describing a Clinton speech as "muscular" in exchange for early access to the transcript. In other words, Ambinder outsourced his editorial judgment about the speech to a member of Clinton's own staff.
Reines also wanted to Ambinder make a point a group of officials who would sit in front of Clinton during her speech
You note that a look at the CFR seating plan shows that all the envoys — from Holbrooke to Mitchell to Ross — will be arrayed in front of her, which in your own clever way you can say certainly not a coincidence and meant to convey something.
And finally, Reines told Ambinder that he couldn't admit to being "blackmailed."
In the end, Ambinder apparently followed Reines' instructions to a tee and received what he had initially asked for. Gawker, in its report, went on to detail several emails Ambinder later sent to Reines in which Ambinder allegedly praised Clinton.
When asked about the exchanges, Ambinder told Gawker, "I don't remember much about anything, but I do remember once writing about how powerful FOIA is, especially as a mechanism to hold everyone in power, even journalists, accountable."
He later said:
Philippe and I generally spoke on the phone and followed up by email. The exchange is probably at best an incomplete record of what went down. That said, the transactional nature of such interactions always gave me the willies. ... Since I can't remember the exact exchange, I can't really muster up a defense of the art, and frankly, I don't really want to. I will say this: whatever happened here reflects my own decisions, and no one else's.

It made me uncomfortable then, and it makes me uncomfortable today. And when I look at that email record, it is a reminder to me of why I moved away from all that. The Atlantic, to their credit, never pushed me to do that, to turn into a scoop factory. In the fullness of time, any journalist or writer who is confronted by the prospect, or gets in the situation where their journalism begins to feel transactional, should listen to their gut feeling and push away from that.

Being scrupulous at all times will not help you get all the scoops, but it will help you sleep at night. At no point at The Atlantic did I ever feel the pressure to make transactional journalism the norm.
The report also said that one other D.C. beltway journalist had wording similar to Ambinder's in a story on the same subject. That journalist allegedly was none other than Politico's Mike Allen, who has previously come under fire for his journalistic integrity.
(H/T: Gawker)
—
Follow the author of this story on Twitter and Facebook:
[facebook //www.facebook.com/plugins/like.php?href=