CONCORD, N.H. – Following Vermont Sen. Bernie Sanders's victory over former Secretary of State Hillary Clinton in the New Hampshire primary, TheBlaze asked Sanders supporters waiting to get inside his victory rally why they support the senator for president.
"He's someone that we can trust," Nilhari Bhendam said, adding that he "has what it takes to be the president."
"He's honest, earnest, and he speaks to the problems that I feel like, you know, my whole life, haven't been really addressed in a serious way by a candidate," Michael DiTommaso said. "It's refreshing to finally have someone who's platform I agree with up and down the board."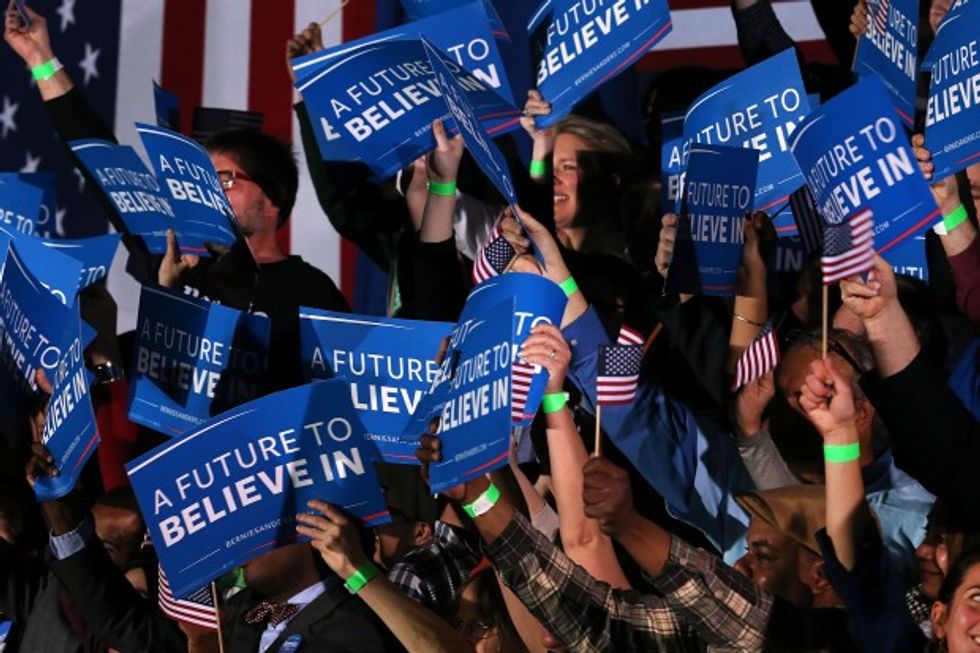 CONCORD, NH - FEBRUARY 09: People cheer as Democratic presidential candidate Sen. Bernie Sanders (D-VT) speaks onstage after victory over Hillary Clinton in the New Hampshire primary on February 9, 2016 in Concord, New Hampshire. Sanders was projected Democratic winner shortly after the polls closed. (Photo by Spencer Platt/Getty Images)
"I've watched trickle-down economics fail two or three times," Greg Ives said. "Wealth doesn't just automatically flow from the top down. Senator Sanders has a plan to make that wealth go down to the middle class."
Ives added that "when someone complains about socialism, just look to social security."
"You have to have a change in how we look at things, an overall systemic change," Ives said.
"He's the socialist candidate," Jeffrey Rovenpor said. "He's the only socialist candidate and I'm a socialist."
"He brings the humanity back into politics," Molly Hildebrandt said.
"He's a once-in-a-lifetime kind of candidate," Sylvie Stewart said. "He's by the people, for the people, the fact that he's not taking money from anybody but the people is revolutionary."
"His heart is in the right place," Stewart added. "We should be thinking about the 'have-nots' and making them 'haves' like everybody else."
Zachary Bouricius said that his uncle, Terry Bouricius, worked with Sanders during his time as a state representative in Vermont, and that he considers the senator a family friend.
"I'm not the slightest bit concerned about the label," Bouricius said when asked for his thoughts about Sanders describing himself as a "Democratic socialist."
"There's people who call themselves capitalists who actually want all kinds of government subsidies and things anyway, so it doesn't really matter, so you can call yourself a capitalist and advocate socialist ideas."
Bouricius said that he's been "a fan of Bernie for years" and that the senator hasn't changed his message since he was talking to "groups of 12 people at my grandfather's house."
"And now he's talking to millions of people," Bouricius said.