After a conservative cultural commentator — who also happens to be gay — stepped in front of the microphone at Rutgers University on Tuesday, objecting students were more than ready to protest his presence.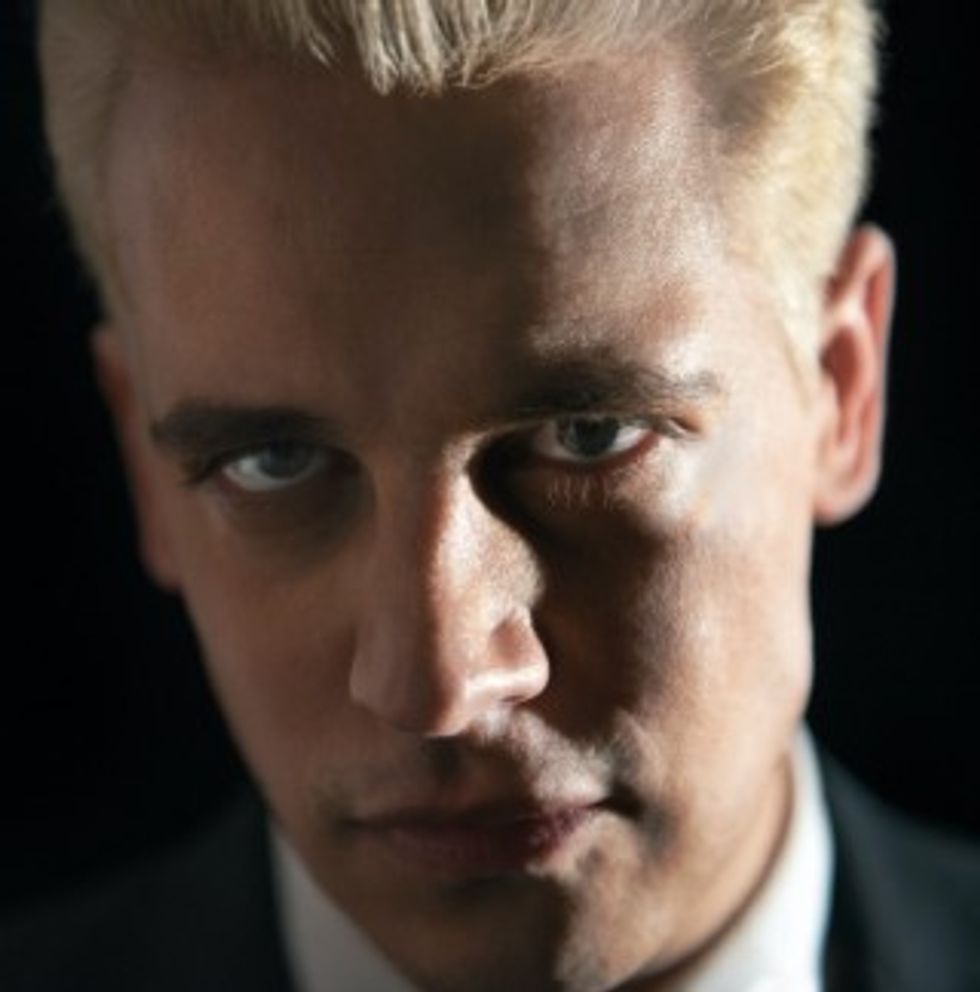 Milo Yiannopoulos (Image Source: yiannopoulos.net)
Milo Yiannopoulos was on his "The Most Dangerous Faggot Tour," and the outspoken critic of liberal ideas got right to it after telling the packed lecture hall that college is supposed to be a place where any number of ideas — even offensive ones — can be freely explored.
"Up against that mission," the provocative Brit continued, "is a culture of safe spaces and trigger warnings, which seeks to insulate people from anything that might traumatize or upset them. Of course, they're not really traumatized or upset — they're just upset that someone disagrees with them. In my view, anybody who asks for a trigger warning or a safe space should be immediately expelled."
Seconds later, as a cellphone camera rolled, a voice was heard shouting out, "This man represents hatred!" The camera then moved to the left and caught two women dressed in black smearing fake blood on their faces and holding up their fists.
Rutgers students protest journalist Milo Yiannopoulos's visit to campus https://t.co/CdxnUECqUs @Nero pic.twitter.com/CSjnvOv4HK

— The Daily Targum (@Daily_Targum) February 10, 2016
But in contrast to similar scenes on other college campuses — where protesters have interrupted events with practically no opposition, sometimes even taking them over — this one saw swift pushback.
Other students immediately faced the growing tide of protesters — now shouting "black lives matter!" — with chants of "Trump!" and shaking their own fists.
Check it out:
The room seemed on the brink of chaos as the competing sides shouted at each other, but soon the protesters filed out, many of them holding up middle fingers as they made their exits.
"Is that how you make your point? You shout at people?" one attendee was heard asking.
During his speech, Yiannopoulos also spoke out against feminism. "Even women are giving up on feminism because they realize it is a poisonous creed that is pushing people apart," he said, the Daily Targum reported.
A blogger who attended the event wrote: "Never in a million years would I expect a gay white man to be so strongly against the progressive feminism wave and the Black Lives Matter movement."
Here's another clip:
The man who posted the following clip wrote that he was punched by an exiting protester — and the moment appeared to be caught on his video:
I normally don't post very much, but I wanted to get this out there. So I went to see Milo Yiannopoulos speak tonight, and I got punched by a Black Lives Matter protester. I'm not hurt, or even mad, it's just that this is the most tasteless thing that I have ever seen in my entire life. I have no beef with BLM, but this... this is too much. #BlackLivesMatter #StayClassy

Posted by Stephen Poos on Tuesday, February 9, 2016
"[Rutgers groups] should not be inviting anyone like Yiannopoulos because what we stand for is inclusion and diversity," student activist Nyuma Waggeh told the school's paper. "If a speaker makes someone feel unsafe or uncomfortable, then they should not come to campus."
But the president of the Rutgers chapter of Young Americans for Liberty — which invited Yiannopoulos to speak — disagreed, saying that college students increasingly have been trying to shut down non-liberal ideas and that needed to be met with resistance.
"No matter how provocative or taboo the speech may be, there's still a value to that speech," Matthew Boyer told the paper. "I think it's really important to hear people come speak, even if you don't agree with them."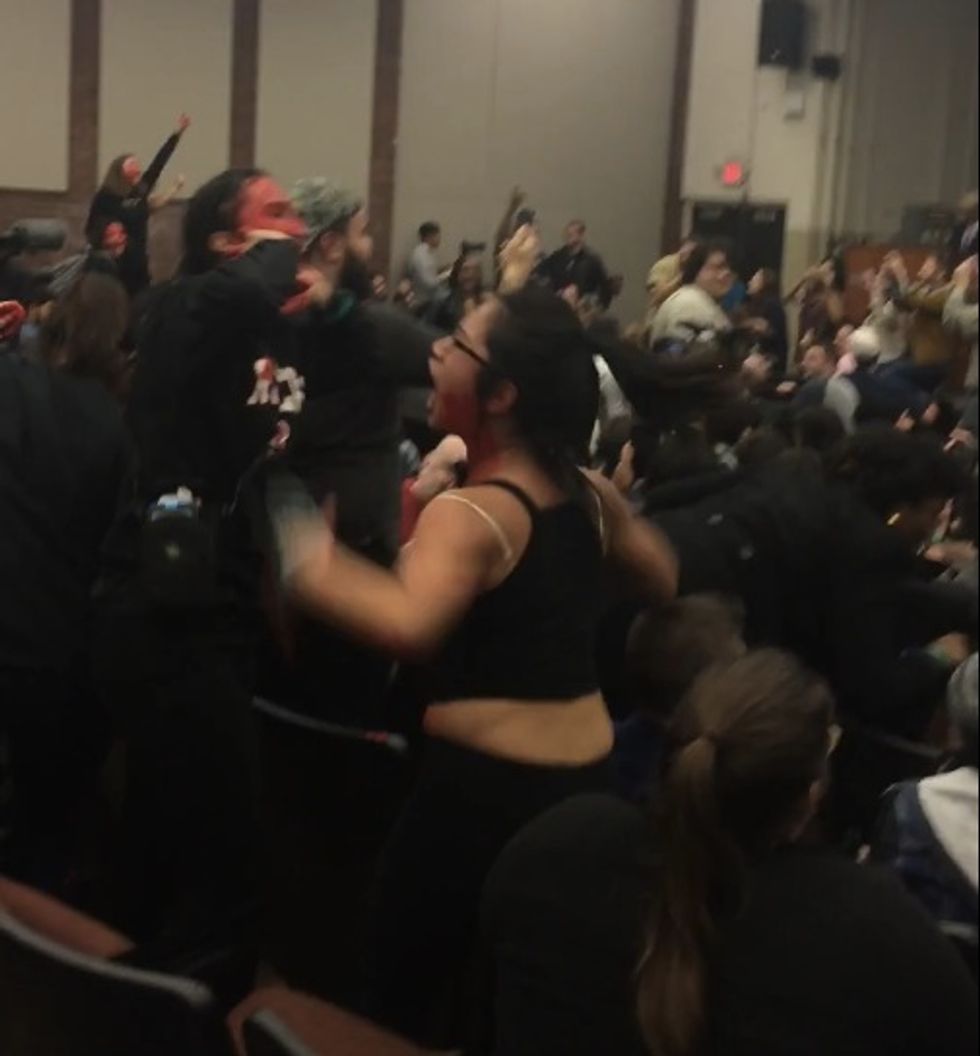 Image source: YouTube
While Boyer emphasized before the event began that attendees should formulate questions for a post-speech discussion, one audience member noted on Facebook that "when the floor was opened up for questions, I didn't see any of the protesters behind me raise their hand. Yiannopoulos and others were clearly open to hear the position of the left, and when someone with an opposing view DID have a question, it was respectfully answered with a libertarian perspective."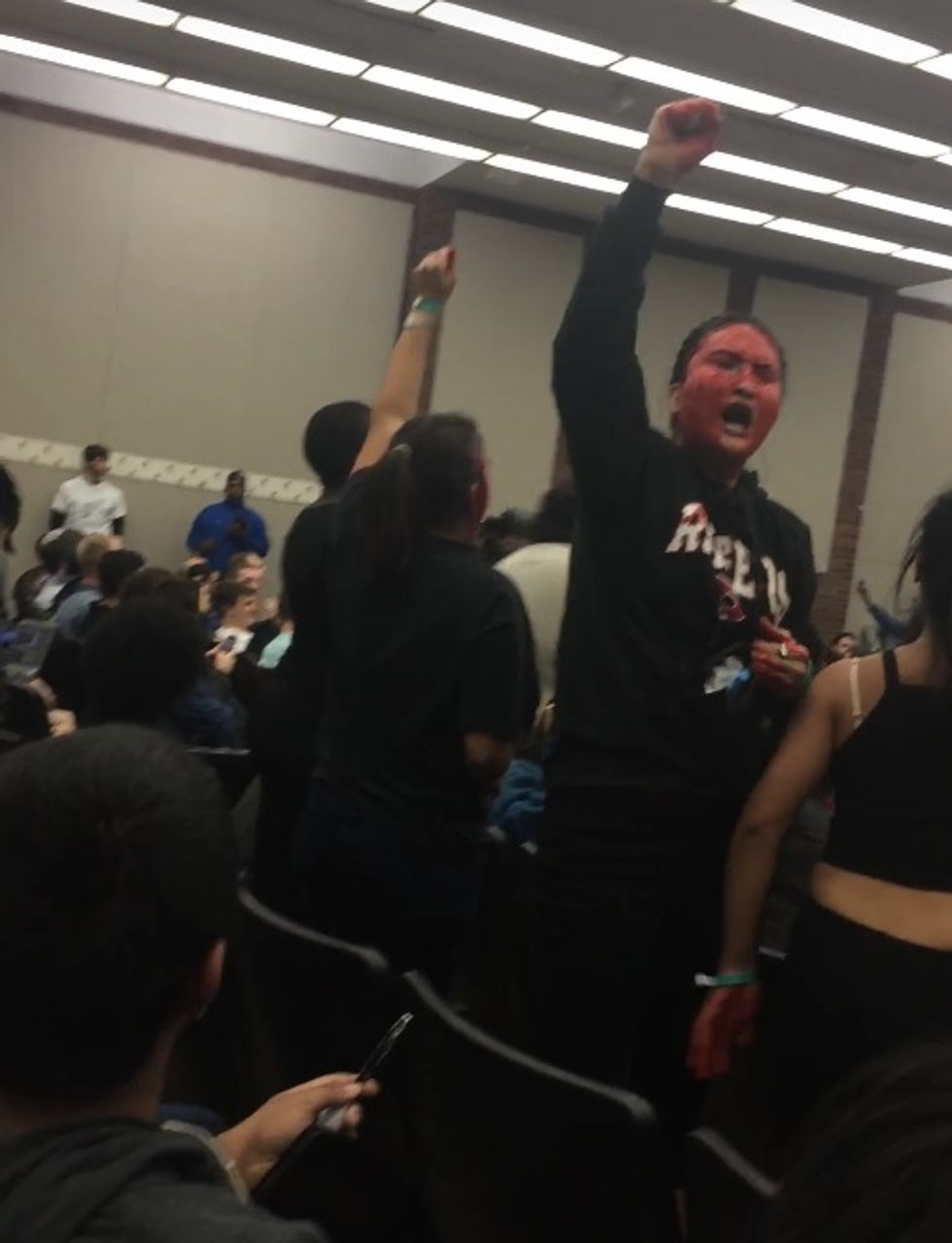 Image source: YouTube
In January, Yiannopoulos' Twitter account was unverified for "recent violations of the Twitter rules" — and he retorted that the social media giant was simply censoring his conservative views.
As the commentator's tour rolls on, a look at the upcoming schedule already shows a few previously announced dates have been "banned" or "cancelled," including one that had been set for March 1 at Ohio State University.
Yiannopoulos speech at Rutgers can be found in two parts, here and here.
(H/T: Campus Reform)