Germans are rushing to purchase non-lethal defense weapons to protect themselves from newly arrived asylum-seekers who are increasingly being viewed as posing a threat to their safety.
The English-language European website The Local reported Tuesday in an article headlined "Germans rush for weapons licenses amid public anxiety" that non-lethal weapons license requests have spiked "sharply" over the past three months. At the same time, a stun gun manufacturer told the Associated Press he cannot keep up with the flood of orders from Germany.
Germany holds among the most stringent gun control laws in the world, posing a challenge to those who wish to equip themselves with firearms.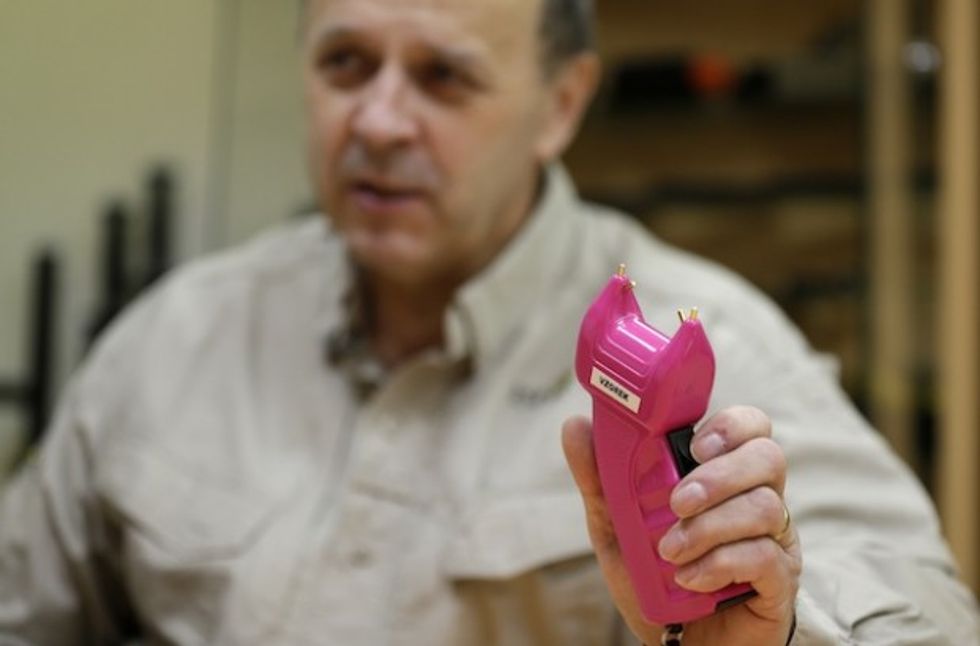 In this picture taken Jan. 25, owner of Euro Security Products, a self-defense equipment company, Bretislav Kostal displays a stun gun in Prague, Czech Republic. After the terrorist attacks in Paris and New Year's security scares, Germans have been snapping up self-defense equipment like stun guns to the delight of a Czech manufacturer who corners the market. Prague-based Euro Security Products has been flooded with new orders from Germany for stun guns and can't keep up with demand. (AP Photo/Petr David Josek)
The Local cited German Interior Ministry figures, which showed that non-lethal weapons' licenses rose by 21,000 — for a total of 301,000 — between November and January. The licenses cover blank-firing guns, pepper spray and other sprayed deterrents, according to The Local.
Green Party lawmaker Irene Mihalic, who requested the figures from the Interior Ministry, warned that a higher penetration of weapons among the population could incite further violence.
Mihalic, a trained police officer, said, "If more people are carrying weapons, it will lead to an escalation rather than a calming of the situation."
"In light of the constant threat of a terror attack, there is much that we need in terms of internal security, but we certainly don't need more weapons," she said.
The AP quoted Bretislav Kostal, owner of the Czech company Euro Security Products, who said that demand for his stun guns started to skyrocket in September.
While the delivery of his stun gun product to Germany was 25,000 for all of 2015, 15,000 of the weapons were for the last four months of the year alone.
"Our production capacity was 3,000 pieces a month. Now, we've been working to increase it to 4,000 a month," Kostal told the AP.
Various observers interviewed in the German and international media differed in their assessment as to whether the terrorist attacks in Paris were behind the self-defense weapons' spike or whether it could be attributed to reports of multiple sexual assaults at New Year's Eve celebrations, most notably in Cologne, Germany.
Ingo Meinhard, the head of the German association for weapons dealers, told the AP that demand crossed generations, sexes and professions.
"We think that most of these articles ... will never be used," Meinhard said, but that they served a "psychological effect" of making people feel safer.
An entry on German gun control laws on the U.S. Law Library of Congress' website explains the regulations:
The German system of gun control is among the most stringent in Europe.  It restricts the acquisition, possession, and carrying of firearms to those with a creditable need for a weapon.  It bans fully automatic weapons and severely restricts the acquisition of other types of weapons.  Compulsory liability insurance is required for anyone who is licensed to carry firearms.

In recent years, German gun-control law underwent several reforms that made it even more stringent.  A new Weapons Act became effective in 2003 after a school shooting in the city of Erfurt in which a student killed sixteen persons.  The new Act restricted the use of large caliber weapons by young people and strengthened requirements for the safe storage of firearms.

Another reform was enacted in 2009 in response to the massacre at Winnenden, in which an eighteen-year-old killed fifteen people in the course of a school shooting.  This latest reform led to the creation of a federal gun register and to intense governmental monitoring of gun owners' compliance with requirements for the safe storage of firearms.  Pursuant to the reformed legislation, the authorities may at any time request access to the premises of any registered gun owner to monitor whether proper safe-storage procedures are being observed.
The conservative Gatestone Institute website in December offered a peek of the zeitgeist in Germany, listing some newspaper headlines addressing the public's concerns.
Those headlines included: "Germany Is Afraid — and Grabs for the Weapon," "Germans Are Arming Themselves: The Demand for Weapons Explodes," "More and More People Are Buying a Weapon," "Security: Hands Up!" "The Need for Security Increases," "Boom in Weapons Stores," and "Bavarians Are Arming Themselves — Afraid of Refugees?"