In a homecoming of sorts in front of the Illinois General Assembly where he once served, President Barack Obama called for healing the political divide — before going on to make a polarizing point.
"There is no doubt that America is better off today than when I took office," Obama said, which prompted rousing applause from Democratic state lawmakers in the Capitol for about 20 seconds, while Republicans provided little response.
"See, I didn't want this to be like a State of the Union speech where we have one side standing up and the other sitting down," Obama said. "Come on guys, you know better than that."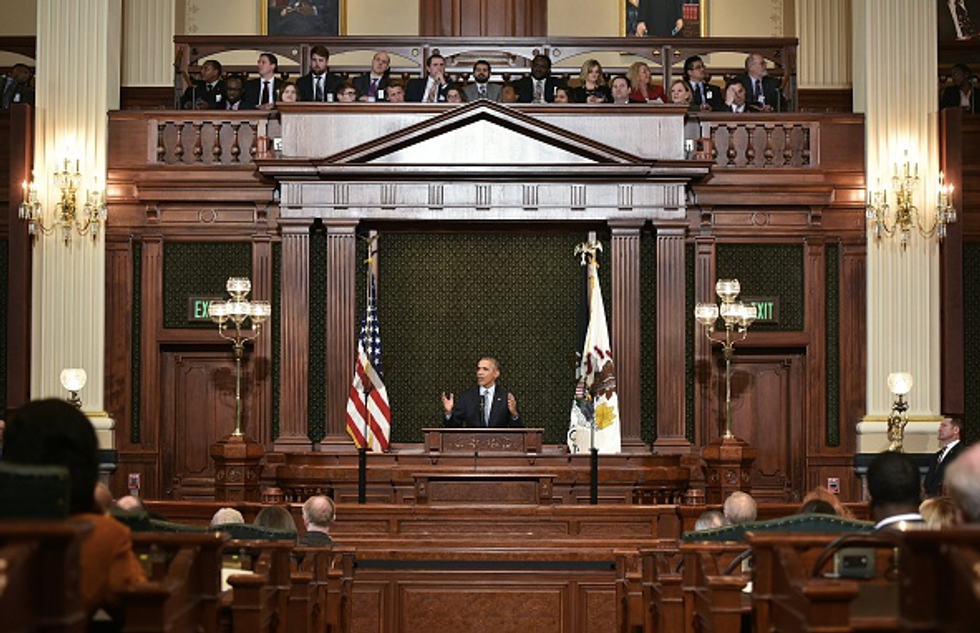 President Barack Obama addresses the Illinois General Assembly at the Illinois State Capitol in Springfield, Illinois, Wednesday. (Mandel Ngan/AFP/Getty Images)
Obama's return to Springfield comes nine years after the freshman U.S. senator stood on the Capitol steps to announce he was running for president. He talked about how politics in the statehouse were more civil, but decided to use the reaction to his assertion as an illustration.
"This is an important part of the issue — we have an importation of our politics nationally on cable and talk radio and it seeps into everything," Obama said.
Obama, seeking to appear above the fray, lectured both parties — Democrats who said others weren't progressive enough and Republicans who called their party members RINOs, a common acronym short for "Republican in name only."
"When I hear either side talking about refusal to compromise as actual accomplishment, I'm not impressed," Obama said.
Obama also complained about a "fractured media" that he said allowed people to get their own set of facts from either Fox News or the Huffington Post.
"If I listened to some of these conservative pundits, I wouldn't have voted for me either," Obama said. "I sound kind of scary."
He called for ending gerrymandering of congressional districts and for campaign finance reform, repeating some of his points from the State of the Union speech, which he believed would make politicians more responsive.
"Today, that kind of citizenship is threatened by a poisonous political climate that pushes people away from participating in our public life," Obama said. "It turns folks off. It discourages them. It makes them cynical. And when that happens, more powerful and extreme voices fill the void."
At the same time, he pointed out that polarization was not something new, noting severe division going back to the presidential elections between John Adams and Thomas Jefferson.
"American politics has never been particularly gentle or high minded, especially not during times of great change," Obama said.