A Colorado woman who was the victim of a violent attack last year that resulted in the death of her unborn daughter testified Wednesday during the trial of her accused attacker.
Michelle Wilkins was seven months pregnant when her unborn daughter — whom she had named Aurora — was cut from her womb in a brutal assault.
Dynel Lane has been charged with attempted murder and unlawful termination of a pregnancy for the attack. She has pleaded not guilty and her attorneys deny that the attack was premeditated.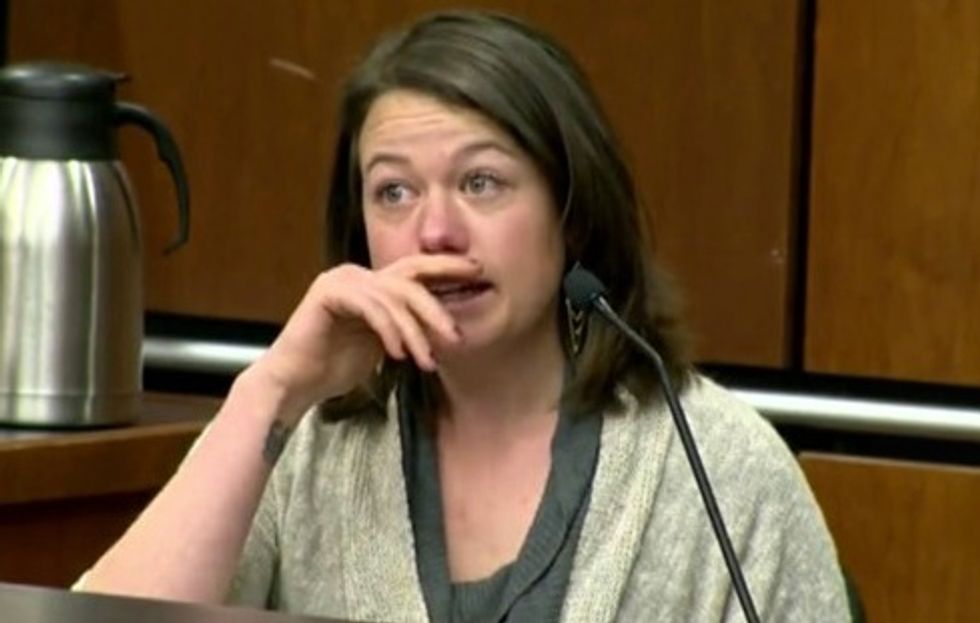 Michelle Wilkins was seven months pregnant when her unborn daughter was cut from her womb in a brutal assault. (Image Source: KDVR-TV)
According to Denver's KDVR-TV, Wilkins responded to a Craigslist ad for maternity clothes listed by Lane.
"As I was going upstairs towards the door, she struck me from behind," Wilkins said during her testimony. "It's hard to describe. She hit me, and then it was almost like pulling on my sweater and scratching at me."
"She broke a bottle over my head," Wilkins continued. "I said, 'I don't know why you're doing this, I love you.' She said, 'If you love me, you'll let me do this.' And then she stabbed it into my neck. I just remember everything was wet and slippery. I remember when she stabbed me, she removed it and then she continued to choke me."
"I remember thinking of Aurora and feeling like ... I just thought of her and I wanted to survive for her. So I fought back harder," she added.
After the attack, Wilkins awoke to find herself slashed from hip to hip.
"I could feel my intestines outside my body," she said.
Wilkins called 911. According to the Denver Post, a recording of the call was played for the jury.
"She cut me," Wilkins said in the recording. "I'm pregnant. She cut me in my stomach."
On Thursday, Dr. Kevin Berg testified during the trial that Wilkins lost half the blood in her body as a result of the attack.
Lane allegedly took the baby to a hospital, where she told staff that she had suffered a miscarriage but refused an examination. She later admitted the baby wasn't hers.
According to KDVR, Longmont Police Officer Billy Sawyer, who responded to Wilkins' 911 call, told the jury that "she was covered from head to toe in blood. And the entire room was also, blood everywhere."
Dr. Leslie Armstrong, who was in the emergency room after the attack, testified that Lane claimed the dead baby was hers, but refused an examination. Armstrong also recalled Wilkins being rushed in to the emergency room "barely alive."
Lane is being held in custody on a $2 million bond.