As a kid, if you ever had a wish to make your own toys, one toy company was your "genie." And that same genie is at it again.
The ThingMaker, a blast-from-the-past, toy-making machine introduced in the 60s by Mattel has stepped into the 21st century — and was one of the hottest new offerings at the Toy Industry Association's annual Toy Fair in New York City. The yearly gathering of tens of thousands of toy industry manufacturers, innovators, buyers and suppliers met last weekend at the Jacob K. Javits Convention Center on Manhattan's West Side, and TheBlaze got in on the fun.
The original ThingMaker offered plastic-infused molds that created miniature soldiers and vehicles. It first appeared on the toy scene in 1964 under the name Creepy Crawlers, a machine that created edible bugs. So, how did Mattel make an improved ThingMaker? Its name has been slapped onto a 3-D imaging machine. And the designs for the machine are programmed through an app on a child's computer.
ThingMaker creates dozens of designer parts that can be combined to create a variety of toys, from insects and dinosaurs, to figurines like ninja fighters, to whatever a child can imagine.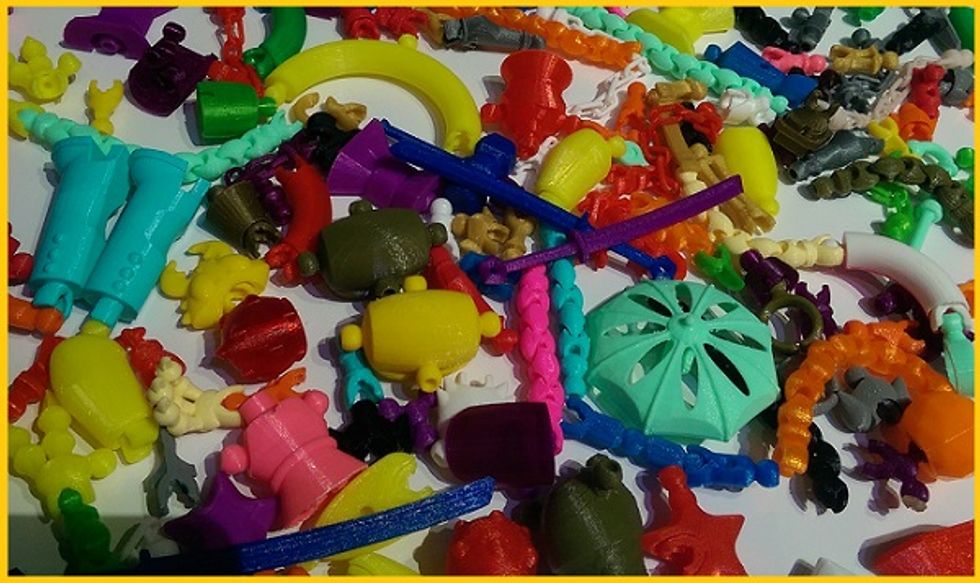 Pieces produced by Mattel's new 3-D ThingMaker. (TheBlaze)
Mattel is one of the world's largest toy companies and manufactures some of the most iconic playthings, including Barbie, Hot Wheels and Matchbox, and the Fisher-Price line.
But this year's toy industry showcase wasn't just a place for the big kids to come out and play. Inventors and entrepreneurs with ideas on the launching pad shared the spotlight.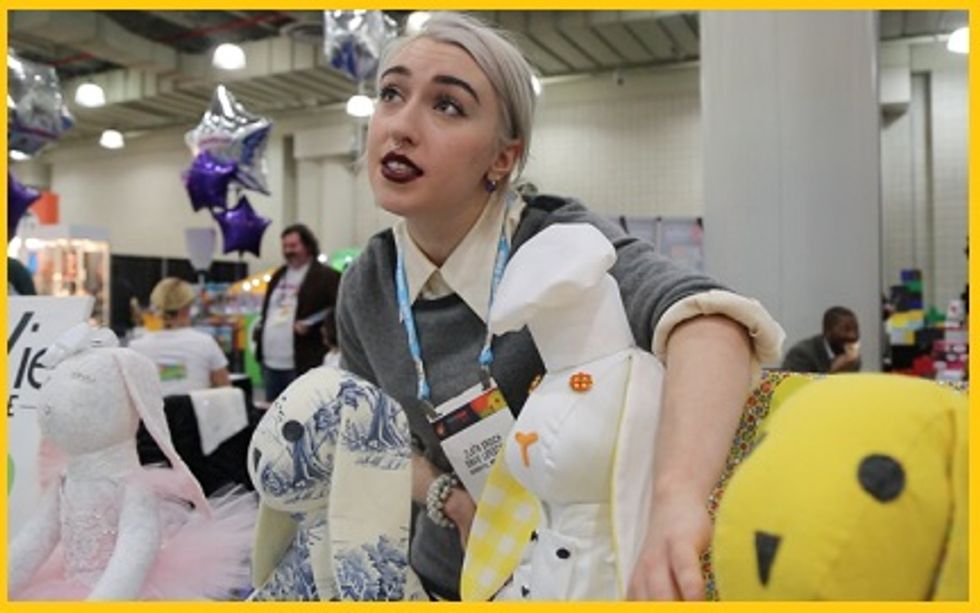 Handcrafted plush rabbits in an area designated as the "Launch Pad." (TheBlaze)
Featured on TheBlaze last year was Neda Vukas from Canada. Her idea of a soft, padded book that helped stroke victims — like her father — improve mobility has since caught the eye of doctors exploring its viability in the health care system. In the meantime, Vukas, along with her daughter Zlata in the Vanna White role, presented hand-sewn, three-foot cloth bunnies whose legs stretched twice the length of their bodies.
Long legs and Barbie are having at least a partial parting of the ways. This year's Barbie lineup introduced three new body types to join the original: petite, tall and curvy. Additionally, there are seven skin tones, 22 eye colors, 24 hair styles — and footwear accessories that pose the question: traditional high heels or flats? Time featured this realistic-body change to the Barbie line on its cover a few weeks back.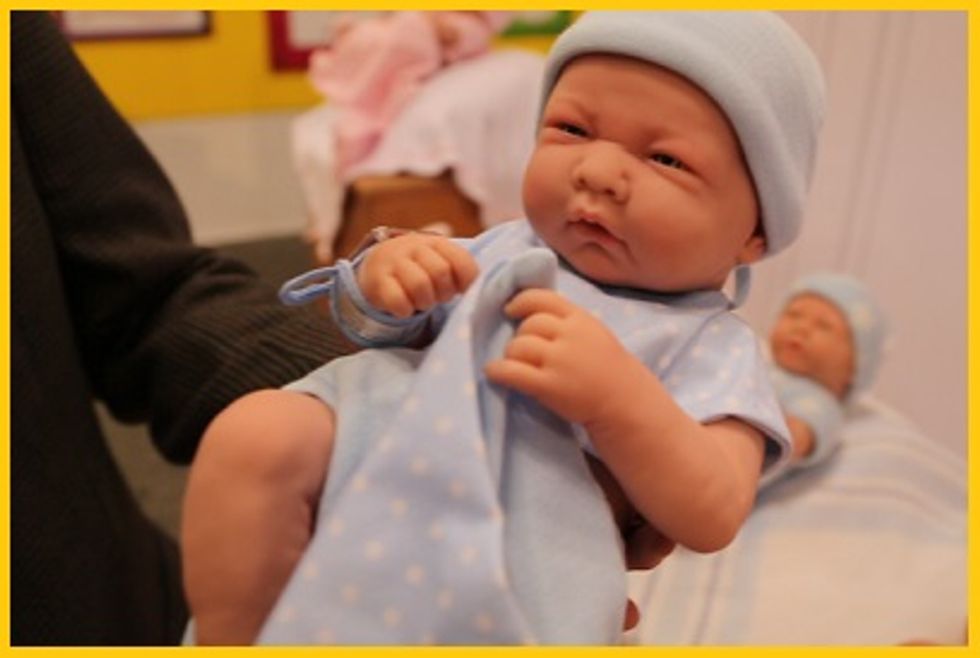 As real as an unreal baby gets. (TheBlaze)
Then again, if you're looking for a doll that's truly realistic, Richard Cerda, vice president of JC Toys, has your baby. These dolls look and feel real, even down to the wrinkled skin on the bottom of their feet. Cerda said these dolls are the ideal way for parents to introduce their young children who are about to become big brothers or big sisters to their newborn siblings. The children can learn to hold and assist in care for the newborn months before real-life "arrival" — and the babies are anatomically correct to complete a fully-orbed education.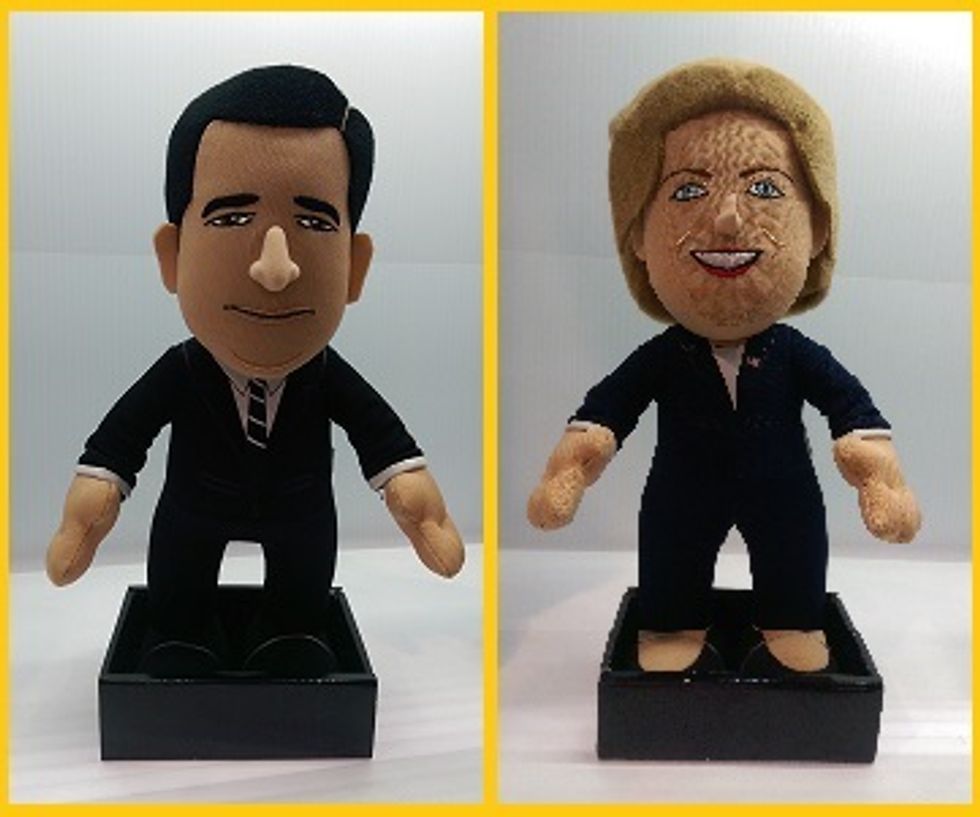 Not all the dolls at the Toy Fair were cute and cuddly. This election season's presidential head-butters Ted Cruz and Hillary Clinton are new to the Bleacher Creatures collection. (TheBlaze)
Dolls of all shapes and sizes are still the toy of choice for girls (some things might never change), but what toys are targeted specifically for boys to fill up their toy boxes? Science plays a role here for both boys and girls, along with trains and ride-ons and arts and crafts. But when it comes to exclusively boy toys, there's also the "traditional": guns, guns, guns — well, maybe not the plastic rifles, handguns and WWII-style machine guns so prevalent decades ago.
Classically designed guns have been co-opted by brightly-colored weaponry that shoots ping-pong balls, rubber bands and zombie-stopping darts. The official guidebook for the toy convention lists only three companies under "Guns — Toys/Replicas & Accessories," but we found guns as part of several companies' offerings.
The only traditional toy-gun collection at the fair was offered by Parris Manufacturing, which specializes in replicas. Parris' 2016 catalog touts "80 years [of] toy guns and more!" Company sales rep Alton Ramsey said that he hadn't received any negative feedback associated with unabashedly promoting firearms, pointing out that this was, after all, an international toy fair and not limited to a New York-area audience. However, he did mention that for their presentation in the Los Angeles area, their guns were bright pink and green, colors that further helped to distinguish them from the real McCoy.
Appealing to boys, girls and families alike were plenty of games. The winner of the best game this year was one featured by Glenn Beck on his radio program in early December: Pie Face. Players take turns sticking their faces into a cardboard cutout and looking squarely into their possible fate: A hand, tilted back, holds a large glop of whipped cream. After flicking a spinner to determine the number of turns on a dial, a player turns a knob. At some point, one of the players clicks the knob one too many times and the hand flings forward. The "winner" ends up with a face full of tasty goop.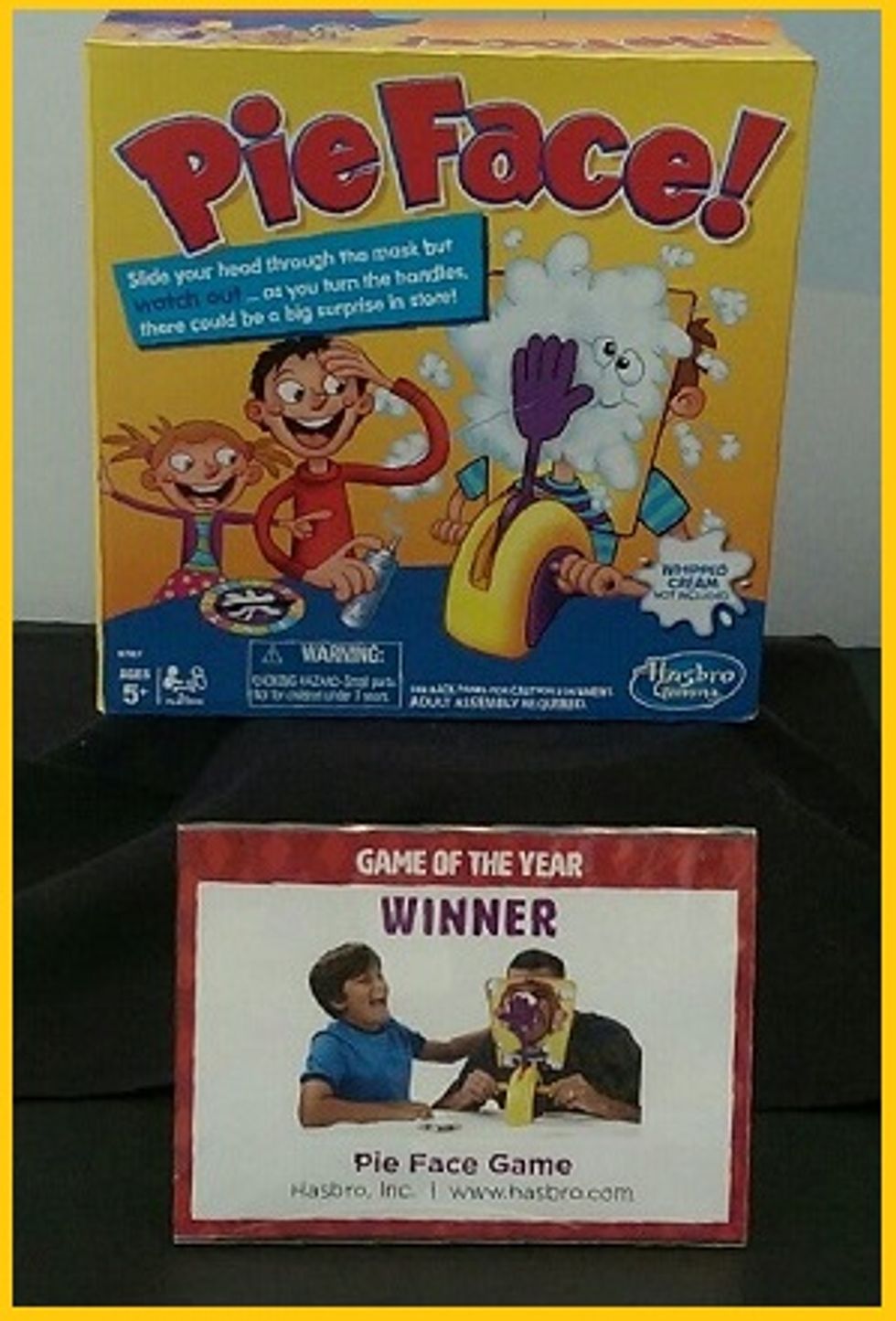 Game of the Year: Pie Face (TheBlaze)
From a good old-fashioned pie in the face, to a Barbie discovering realistic body shapes, to a revamped ThingMaker, Toy Fair presented popular toys from the past with a fun new twist.
So, what's down the road? Perhaps, if the past-is-present trend continues, someone at Toy Fair 2017 will resurrect a cool retool of Great Garloo?
To see what professionals of the Toy Industry Association voted as "best toys" for 2016 in a number of categories, go here.
Catch some of the fun of Toy Fair 2016: