Parents at Lombardy Elementary School in Wilmington, Delaware, were probably expecting something very different when they opened the attachment to an email sent by the school in support of the upcoming "Exercise Your Brain Day" event. Instead of an official school document, parents received something called the "Hurt Feelings Report," a parody document mocking efforts to curb bullying in schools.
The document appeared to be something a school might send home for parents to complete. However, the content raised eyebrows from some parents and gave others a laugh or two.
On the official-looking form there is a place for the "Whiner's Name," "Whiner's age," "Whiner's sex" and things such as the date and place where the action or words that caused the hurt feelings occurred.
There is even a question asking, "Which ear were the hurtful words spoken into?"
The Wilmington News Journal reportedly received the document from an irate parent who told the paper the single-page form was "completely offensive and mocks children who are bullied in schools."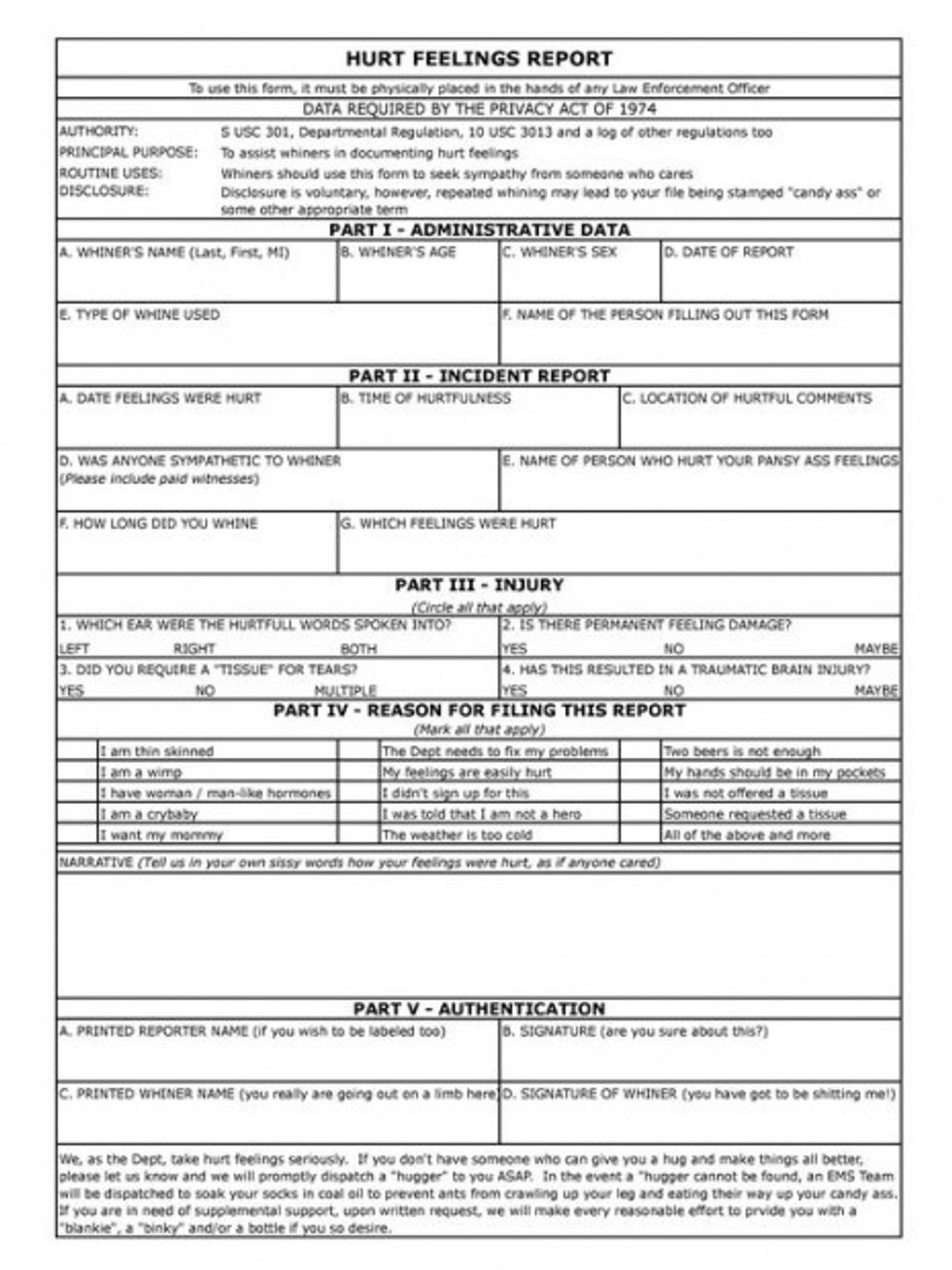 Image source: Delaware Online
A blank section where the "Whiner" is encouraged to tell his story does so with the following words of "encouragement": "Tell us in your own sissy words how your feelings were hurt, as if anyone cares."
The final section offers some additional, unvarnished thoughts on whiners and how they should be treated:
We, as the Dept. take hurt feelings seriously. If you don't have someone who can give you a hug and make things all better, let us know and we will promptly dispatch a "hugger" to you ASAP. In the event a "hugger" cannot be found, an EMS team will be dispatched to soak your soaks in coal oil to prevent ants from crawling up your leg and eating their way up your candy ass. If you are in need of supplemental support, upon written request, we will make every reasonable effort to provide you with a "blankey," a "binkie" and/or a bottle, if necessary.
Without naming the employee responsible for sending the embarrassing attachment, the school, through a spokesperson, has attempted to appease any angry parents. "It should not have happened, and we apologize for the error," Alexis Andrianopoulos told the News Journal.
(H/T: DelawareOnline.com)
—
Follow the author of this story on Twitter and Facebook: