GREENVILLE, S.C. — As long as he keeps seeing progress, GOP presidential hopeful Dr. Ben Carson isn't counting his campaign out just yet.
Speaking to reporters Thursday evening, Carson slammed the media for not paying enough attention to his campaign unless "you make a gaffe or if something goes wrong."
"I just want to see us continuing to make progress week over week, month over month, making progress," Carson told reporters after his speech at the Conservative Review's convention.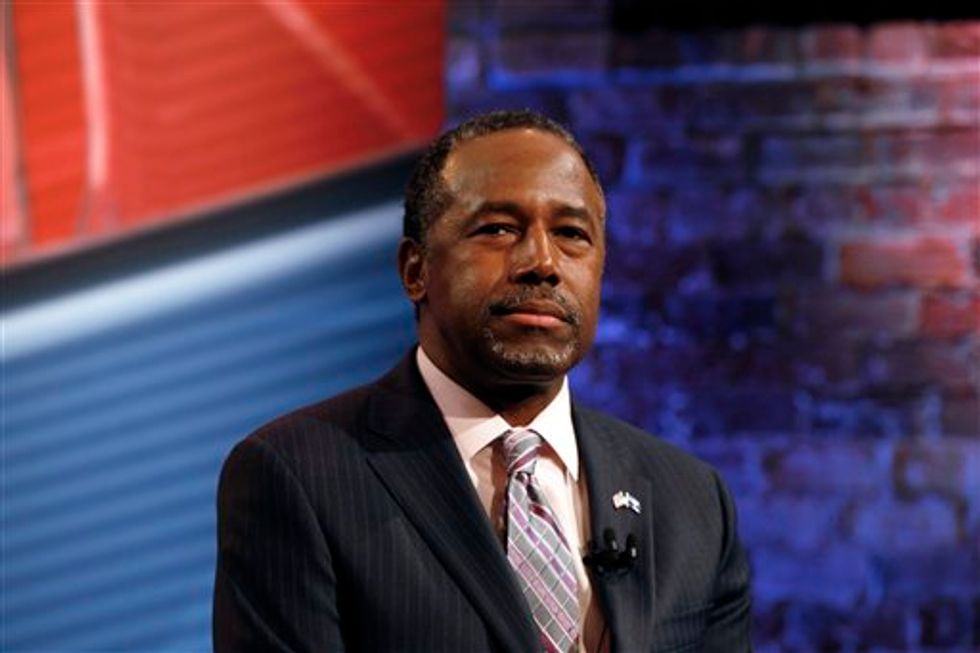 Republican presidential candidate Ben Carson in Greenville, S.C. (AP Photo/Paul Sancya)
"I believe that as time goes on, people will actually begin to look at our policy and recognize that there is a very serious candidate who has logical solutions for the problems that we have and recognize that this is like a baseball game — the all-American pastime," he continued. "You don't call the game after the first two innings."
He continued to say that he recognized his campaign has "a big mountain to climb" following the terrorist attacks in San Bernardino, California, and Paris.
"People bought into the narrative that a nice person could not be tough on ISIS or the things that we face," he said. "I think I'm shooting those things down."
The retired neurosurgeon also addressed calls from GOP presidential front-runner Donald Trump to nullify the votes in the Iowa caucuses as Texas Sen. Ted Cruz's campaign erroneously told voters that he had suspended his campaign; Carson was, in fact, only leaving Iowa early in order to return home to his Florida home to retrieve fresh clothing.
"As far as I'm concerned, it's water that's already gone over the dam or under the bridge or wherever you want it to go," Carson said. "I'm just ready to move on. There's a lot to go. We still have 48 states that have to make a decision as well as territories, and I don't want to concentrate on that anymore."
Carson, who has had a less than stellar finish in the Iowa caucuses and New Hampshire primary, needs a big win in South Carolina on Saturday. According to Real Clear Politics' aggregated polling data, he is polling in sixth among Republicans behind Trump, Cruz, Florida Sen. Marco Rubio, former Florida Gov. Jeb Bush and Ohio Gov. John Kasich.
—
Follow Kaitlyn Schallhorn (@K_Schallhorn) on Twitter