© 2023 Blaze Media LLC. All rights reserved.
I Deserve an Apology': College Students Gather, Share Wounded Emotions After Conservative Writer's Lecture
"I felt my identity was getting shot at ..."
Rutgers University students expressed hurt feelings and fear in the wake of a controversial lecture last week by conservative writer Milo Yiannopoulos, saying the outspoken commentator's takedowns of liberal views were an assault on their sensibilities.
Milo Yiannopoulos (Image Source: yiannopoulos.net)
"I felt my identity was getting shot at by what he was saying and by what other people were saying," sophomore Jasmine Dennis noted during Monday's forum, according to the Daily Targum, the New Jersey school's newspaper.
As part of his "The Most Dangerous Faggot Tour," Yiannopoulos — who indeed is gay — lambasted many schools' attempts to shield students from ideas that might offend them during his Feb. 9 speech, calling out their "culture of safe spaces and trigger warnings."
"Of course, they're not really traumatized or upset — they're just upset that someone disagrees with them," he offered. "In my view, anybody who asks for a trigger warning or a safe space should be immediately expelled."
During the lecture many students held loud protests in which they shook their fists and smeared fake blood on their faces —
— but the tone was decidedly subdued at the post-lecture gathering.
Melissa James, a junior, told the paper that Yiannopoulos asked the audience if they thought black lives mattered — and then told those who raised their hands to leave the room and that rape culture doesn't exist.
"As a sexual assault survivor, that hurt me, I broke down crying after I left," she said during the post-lecture gathering. "How can you say that is not violent? Maybe they did not hit me, but that took such a big toll on me emotionally."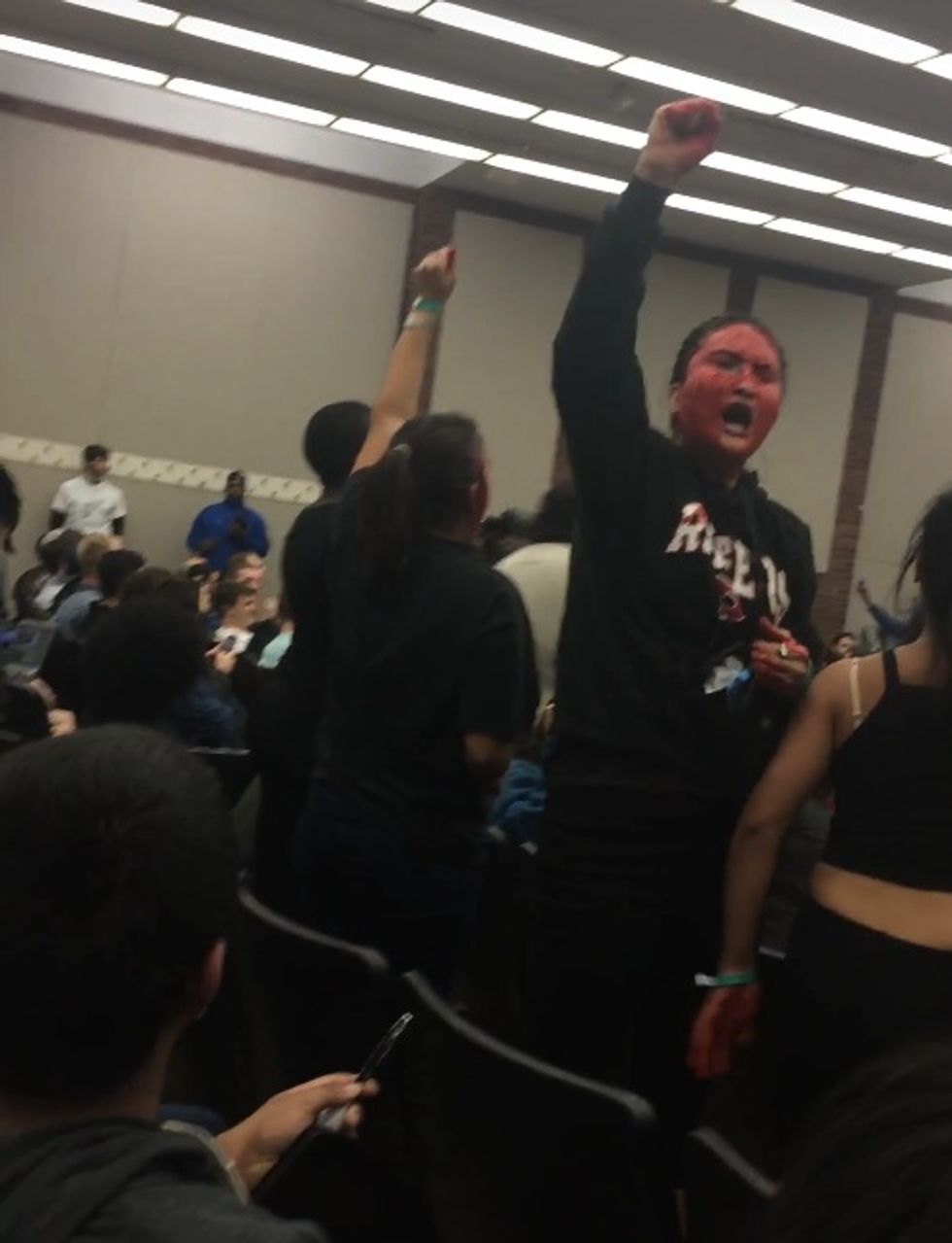 Image source: YouTube
James added that she was scared to walk around campus the next day; others added that they also felt unsafe after the event.
"It is upsetting that my mental health is not cared about by the university," James said. "I do not know what else to do for us to be heard, for us to be cared about. I deserve an apology, everyone in this room deserves an apology."
I normally don't post very much, but I wanted to get this out there. So I went to see Milo Yiannopoulos speak tonight, and I got punched by a Black Lives Matter protester. I'm not hurt, or even mad, it's just that this is the most tasteless thing that I have ever seen in my entire life. I have no beef with BLM, but this... this is too much. #BlackLivesMatter #StayClassy

Posted by Stephen Poos on Tuesday, February 9, 2016
Sophomore Dianne Techwei said audience members were applauding false ideas.
"He said it is in black people's nature to be angry. I am not an angry person," Techwei said, according to the Targum. "It was revealing to see people who already had these thoughts. He was just there to confirm it."
Representatives from the school's police department attended the post-lecture gathering and said students who feel threatened can contact them if need be.
This story has been updated.
Want to leave a tip?
We answer to you. Help keep our content free of advertisers and big tech censorship by leaving a tip today.
Sr. Editor, News
Dave Urbanski is a senior editor for Blaze News.
DaveVUrbanski
more stories
Sign up for the Blaze newsletter
By signing up, you agree to our
Privacy Policy
and
Terms of Use
, and agree to receive content that may sometimes include advertisements. You may opt out at any time.