Stone Temple Pilots are looking for a new lead singer.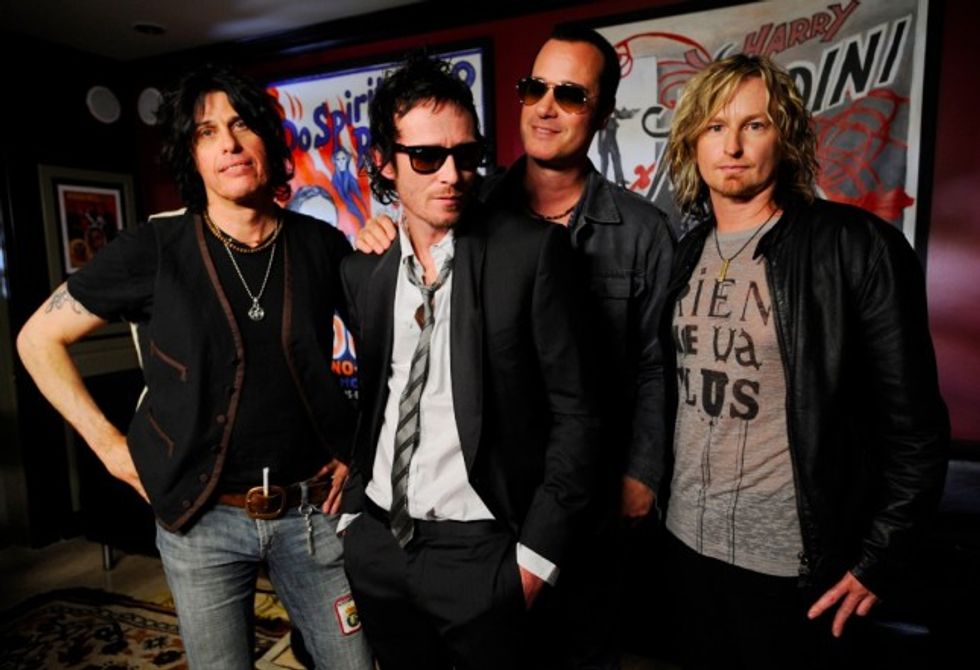 From left, Dean DeLeo, Scott Weiland, Robert DeLeo and Eric Kretz of Stone Temple Pilots pose before a special private performance in Los Angeles, Monday, April 7, 2008. (AP Photo/Chris Pizzello)
Their original frontman Scott Weiland — who died late last year of an accidental drug overdose — hadn't been with the group since 2013. Chester Bennington of Linkin Park, who replaced Weiland, left in 2015.
Now the legendary rockers — who sold millions of albums on the strength of hits like "Plush," "Interstate Love Song," "Vasoline" and "Big Empty" — are widening their search for a new vocalist by extending the invite to, well, everybody.
Yup, the band is conducting online auditions, and the whole world can take turns at the mic.
"We know there are many talented people out there who'd never get an opportunity like this, and this simply allows us to listen to so many people," guitarist Dean DeLeo told Guitar World.
Want in?
DeLeo reveals how: "Go to stonetemplepilots.com and click 'Singer Submission' and 'Sign Up.' We've provided three tracks. Please sing on two of them. Upload those, along with a video of you performing recently, and include an original piece of music as well. We'll have a listen."
As you can imagine, there's been quite a response to the casting call — with, of course, varying degrees of promise. Here's a sampling:
Toryn Green won a spot fronting hard rockers Fuel a decade ago through an online audition, and now he's trying the same route with STP. Pretty impressive run through of "Plush":
All the way from Israel is an enthusiastic Idan Jeresey, who cuts through "Wicked Garden":
If my ears don't deceive me, Nolan Neal has some solid chops and isn't afraid to add a bit of his own flavor to "Interstate Love Song":
Then there's Josh Hutson, a 38-year-old from Terre Haute, Indiana, who fared decently with his performance but whose highlight might be the homespun video intro he presented to the band:
We're reasonably sure the "vocal prowess, the legendary snake dance, and the unquestionable sex appeal" of Gunner Haznogunz will open STP's eyes. Though for all the wrong reasons. (You've been warned):
Okay, sorry 'bout that.
Now, granted it's unlikely to go anywhere, but renowned singer Joss Stone (hey, perfect last name!) took the stage on "Jimmy Kimmel Live!" with the DeLeo brothers and drummer Eric Kretz for a soulful version of "Interstate Love Song" last November. No harm in branching out, right?
Good luck, everybody.
This story has been updated.