Decorated Navy veteran Charles Rushing, who currently lives in Wisconsin, has for years dreamed of returning to Pearl Harbor, Hawaii, to relive memories of when he was stationed there. Thanks to the Dream Foundation, that wish became a reality.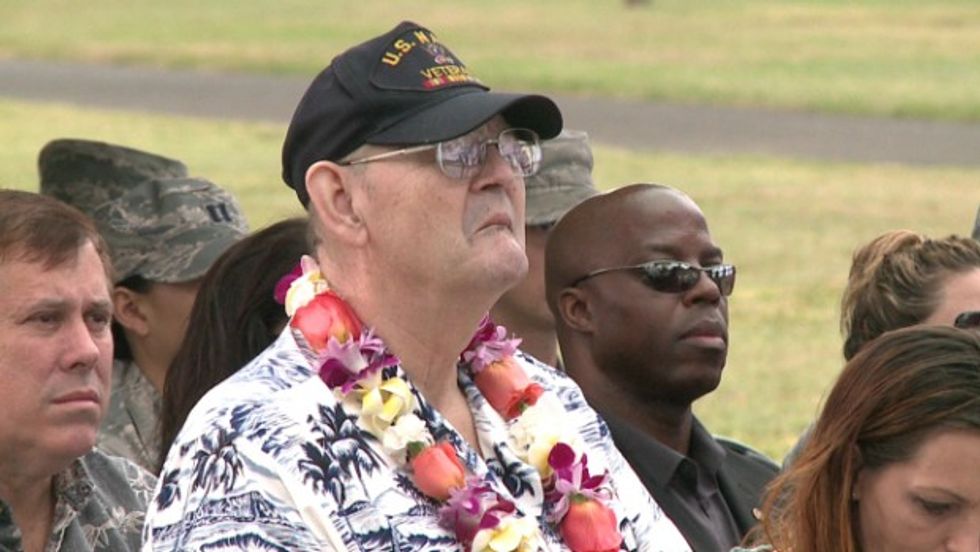 Image credit: KHON-TV
The Dream Foundation, a wish-granting charity for terminally ill adults, learned about Rushing when he was diagnosed with severe lung cancer, and decided to take the decorated veteran back to the place where he dedicated his life to military service so many years ago.
In granting the wish, the Dream Foundation made Rushing a VIP at a medal of honor dedication ceremony Friday.
"I'm glad I'm back," Rushing told KHON-TV. "Especially being from Wisconsin, where they're freezing. … I'm very thankful I got this opportunity to come back."
Rushing was just 17 years old when he volunteered to serve in the U.S. Navy and was eventually stationed at Pearl Harbor in the 1970s. During his time at Pearl Harbor, he guarded aircraft carriers. Soon after, he was tapped to assist the downed Apollo 11 space capsule, according to KHON.
Rushing then went on to serve on the USS Carpenter, then transitioned to special operations before being deployed to Vietnam.
Doctors have given Rushing less that one year to live.
A U.S. Air Force officer was honored posthumously at Friday's service. The officer's son, Cory Etchberger, said, "Dad would have been honored by this."
"But I got to feel proud for him," he added.
Watch the video:
—
Follow the author of this story on Twitter: