Donald Trump is expected to finish first in the South Carolina primary.
The Associated Press called the state for the Republican frontrunner less than 30 minutes after the polls closed.
"Let's have a big win in Nevada, let's have a big win in the SEC [on Super Tuesday], let's put this thing away and let's make America great again," Trump said in his victory speech Saturday.
Florida Sen. Marco Rubio and Texas Sen. Ted Cruz were in a dead heat for second place. With 82 percent of precincts reporting, Trump had 33 percent of the vote, Rubio had 22.3 percent and Cruz was at 21.7 percent.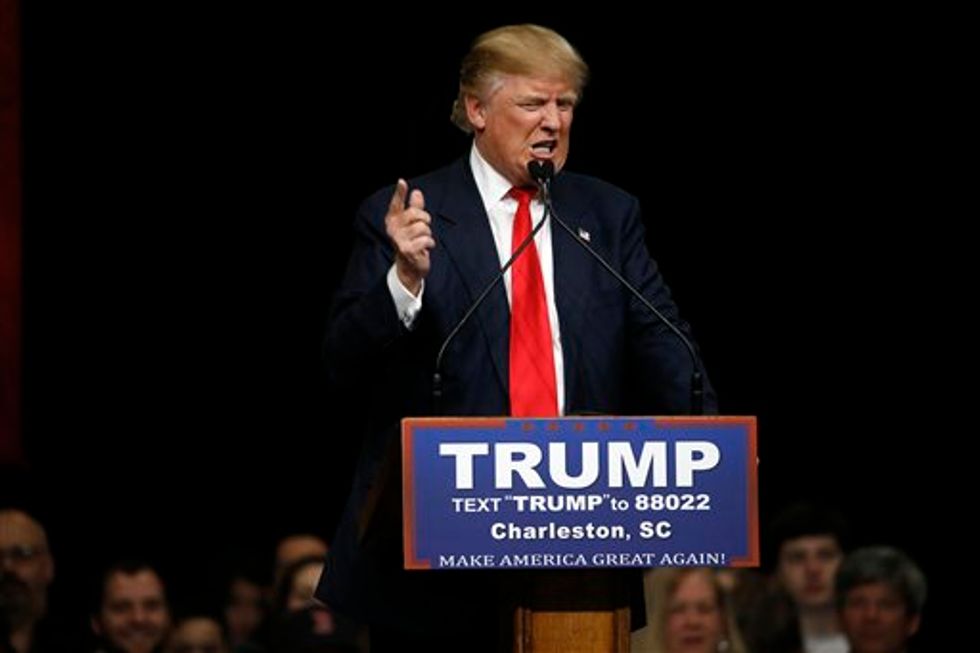 Donald Trump speaks Friday in North Charleston, S.C. (AP/Matt Rourke)
Former Florida Gov. Jeb Bush trailed far behind at 8.1 percent of the vote. Bush suspended his campaign after his finish Saturday.
Ohio Gov. John Kasich was at 7.9 percent and neurosurgeon Ben Carson was at 6.9 percent.
There are 50 delegates up for grabs for Republicans in South Carolina. Trump won 38 of those delegates on Saturday, according to the AP.
Trump's victory builds on his victory in New Hampshire last Tuesday, after finishing in second place to Cruz in Iowa on Feb. 1.
South Carolina is a key stop on the way to winning a nomination — Trump's victories in New Hampshire and South Carolina give him crucial momentum heading into Nevada on Feb. 23 and then the Super Tuesday states on March 1.
Trump had led in the South Carolina polls for weeks. Rubio recently surged toward second place, perhaps aided by an endorsement this week from the state's Gov. Nikki Haley.
—
Follow the author of this story on Twitter and Facebook:
[facebook //www.facebook.com/plugins/like.php?href=