Joe Scarborough and Mika Brzezinski were caught on a hot mic having a candid conservation with Republican front-runner Donald Trump off the air.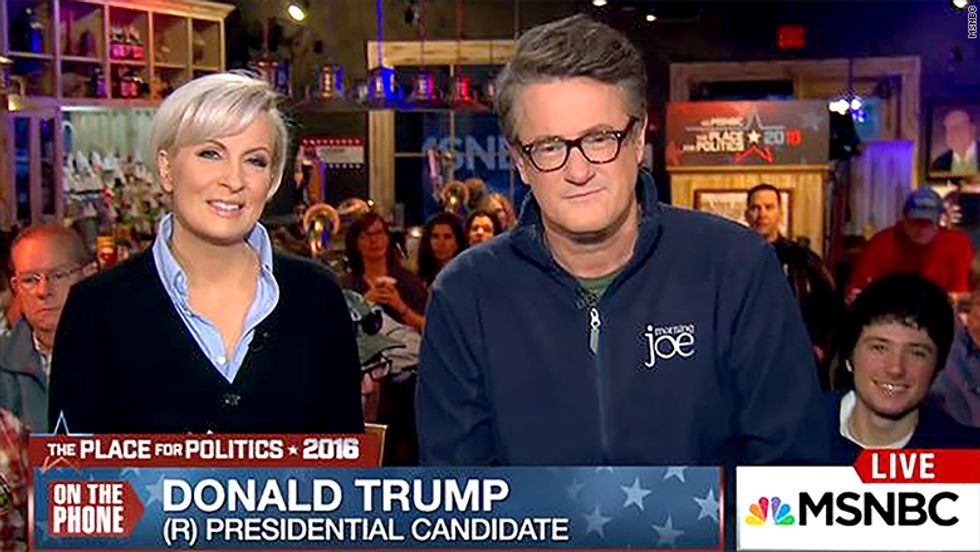 Image source: MSNBC
During a recent commercial break from a town hall interview in Charleston, South Carolina, Trump is heard touting his performance at the CBS debate the night before, and subsequent polls that found a majority of voters believed that Trump won the debate.
"I tell you what, the Bloomberg poll—all the polls out today look great in South Carolina," Scarborough says in the audio, published by radio show host Harry Shearer.
Trump then points out how his critics have spent "million of dollars" in ads against him, and asked the co-hosts if they thought the ads were "catching on." Brzezinski is then heard saying, "no," but Huffington Post reporter Michael Calderone tweeted Monday that Brzezinski was talking to her producer, not Trump.
Just talked to @morningmika, who said she was talking to her producer, not Trump, about deportation question at MSNBC town hall.

— Michael Calderone (@mlcalderone) February 22, 2016
Brzezinski later calls attention to when the Republican candidate called up two of his supporters at a recent rally in North Augusta, South Carolina, to address the crowd, to which she refers as a"wow moment." "You had me almost as a legendary figure," Trump responds.
Just before the show was about to go back on-air, Brzezinski informs Trump that they'll ask him some questions in the next segment.
"You don't want me to do the ones with deportation?" Brzezinski asks.
"That's right, nothing too hard, Mika," Trump tells her.
"OK," she replies.
The candid moment comes just days after CNN reported that Scarborough and Brzezinski watched the New Hampshire primary results come in from Trump's hotel room, raising questions about the candidate's seemingly close relationship with the cable co-hosts.
A spokeswoman for MSNBC told TheBlaze in response to the CNN report that the two were at Trump's hotel that night, but only for a interview with one of his senior advisers.
–
(H/T: Gawker)