An Egyptian toddler has been sentenced to life in prison for crimes he allegedly committed while participating in a protest in support of former President Mohamed Morsy, according to CNN.
Last week, Ahmed Mansour Qorany, 3, along with 115 others, were found guilty by an Egyptian military court of "killing three people and sabotaging public and private property" during a January 2014 protest by supporters of the ousted Morsy.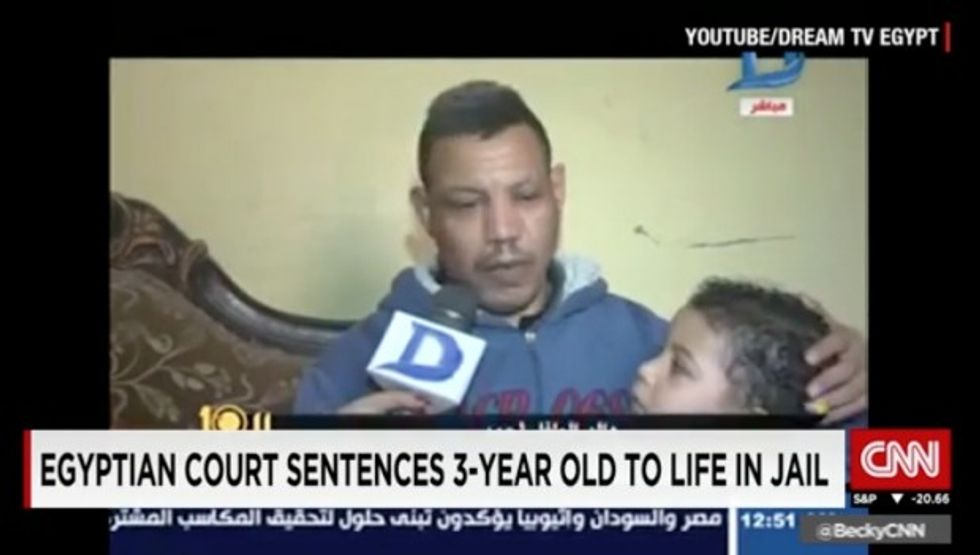 Ahmed Mansour Qorany, 3, pictured here with his father, was sentenced to life in prison. (Image source: CNN)
Ahmed was 16 months old at the time.
In 2014, when police came to arrest Ahmed, they realized he was a child and took his father — Mansour Qorany Sharara — instead and imprisoned him for four months. A judge later released him, and he spent almost 18 months on the run from authorities.
Lawyers showed the court Ahmed's birth certificate in the hopes of exonerating him as there is a 16-year-old suspect with the same name as the toddler, but to no avail.
According to CNN, Gen. Abu Bakr Abdel-Karim, an aide to the interior minister, told an Egyptian television network that "it was a case of mistaken identity" and that neither Ahmed nor his father would go to jail.
But during the same interview, Hemat Mostafa, Ahmed's mother, called the network to say that the police had just left their home after inquiring about her son and her husband.
The family of the toddler later told CNN that they feel somewhat relieved by the assurances.