GREENVILLE, S.C. — Votes hadn't even been cast in the Nevada Republican caucus before Florida GOP Sen. Marco Rubio won his first victory — and claimed his first victim in presidential rival Texas Sen. Ted Cruz's campaign.
Over the weekend, Jordan Davis, a Cruz supporter who lives in Georgia, expressed his discomfort over the constant bickering between the two Republican presidential contenders, two men who he said are "great candidates." But while he laughed off his "bias" toward Cruz as a supporter, Davis wasn't sure that Cruz would win the fight between his camp and that of Rubio's. In fact, Davis speculated that it would be Cruz who would come out "battered and bruised."
In a way, Davis was right. On Monday, Cruz asked for the resignation of his communications director, Rick Tyler, during a press conference with reporters in Nevada. Between accusations of photoshopped images and erroneously spreading rumors that another campaign has ended, the final offense came in the form of a barely audible video with subtitles that claimed Rubio said something disparaging to a Cruz staffer about the Bible.
Tyler shared the video online, and the next day Cruz shared with dozens of reporters that Tyler was out.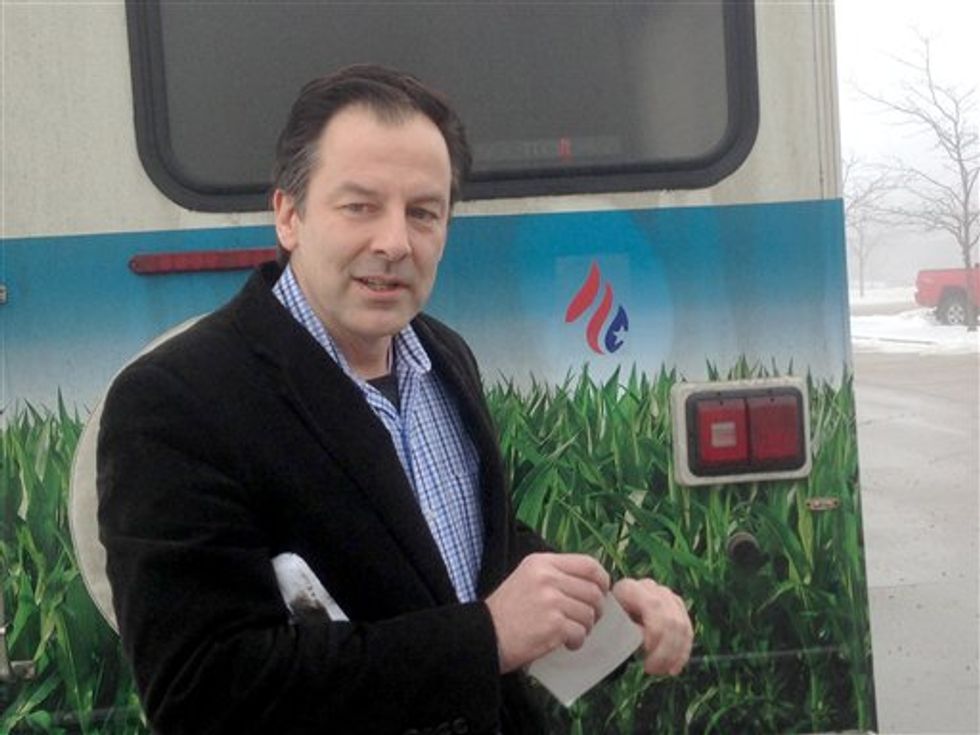 Rick Tyler, former communications director for Texas Republican Sen. Ted Cruz's presidential campaign.  (AP Photo/Scott Bauer)
Speaking to TheBlaze Monday, Davis applauded the Cruz campaign's decision to ask for Tyler's resignation and said it made him feel "extremely" better.
"The reason we fell in love with Cruz was because he fought the establishment with class and precise, fact-based arguments," he said. "He stood up to them without dragging names [through the mud]. The campaign, I believe, realized that and fired [Tyler]. Cruz's message is extremely positive … so he should stick to that. I think the new communications director will do that; I'm extremely excited."
Like Davis, Dr. David Woodard, a professor of political science at Clemson University, speculated that Cruz came out worse for wear in South Carolina with all of the fighting between him and Rubio.
"I think it's one of the reasons why he finished third. Now, he didn't finish third but by a few votes," Woodard told TheBlaze. "Certainly of the two, Rubio appeared more appealing to the voters."
Woodard added that Cruz's firing of Tyler was most likely in an effort to better his reputation and image on the campaign trail — a move that is not that unusual.
"There is a history of getting rid of campaign [staffers] as a sort of revitalizing a campaign. Gerald Ford had that experience in 1976, and Ronald Reagan had that experience four years later in 1980 when he fired his campaign manager after he didn't do well in Iowa," Woodard said. "There is a history of having that; however, that was a different era. The way we communicate with voters is different today than what it was then. I'm sure that's why they did it — they hope that's what happened."
But even with the firing of Tyler, the bickering between Cruz and Rubio hasn't completely subsided.
"Rick is a really good spokesman who had the unenviable task of working for a candidate willing to do or say anything to get elected," Alex Conant, Rubio's campaign spokesman, told TheBlaze after Cruz made his announcement. "There is a culture in the Cruz campaign, from top to bottom, that no lie is too big and no trick is too dirty. Rick did the right thing by apologizing to Marco. It's high time for Ted Cruz to do the right thing and stop the lies."
A young Rubio supporter, who asked to remain anonymous, slammed Tyler as "just a mouthpiece for the [Cruz] campaign" but also told TheBlaze that Cruz's problems extend far beyond his former spokesman.
"There is a larger problem in Cruz's world than just Tyler," the Rubio voter said. "It seems to be in their nature to lie and play dirty. They did it to poor Ben Carson in Iowa, now they are trying to do it to Rubio."
The millennial pointed to exit polls in South Carolina and suggested that that those, along with Cruz's sinking favorability numbers, signify that "voters felt Cruz ran a dirtier campaign than any other candidate."
"So I do think Cruz's image has taken a beating. I would be surprised if Cruz supporters start looking to make America great again or creating a new American century," he said.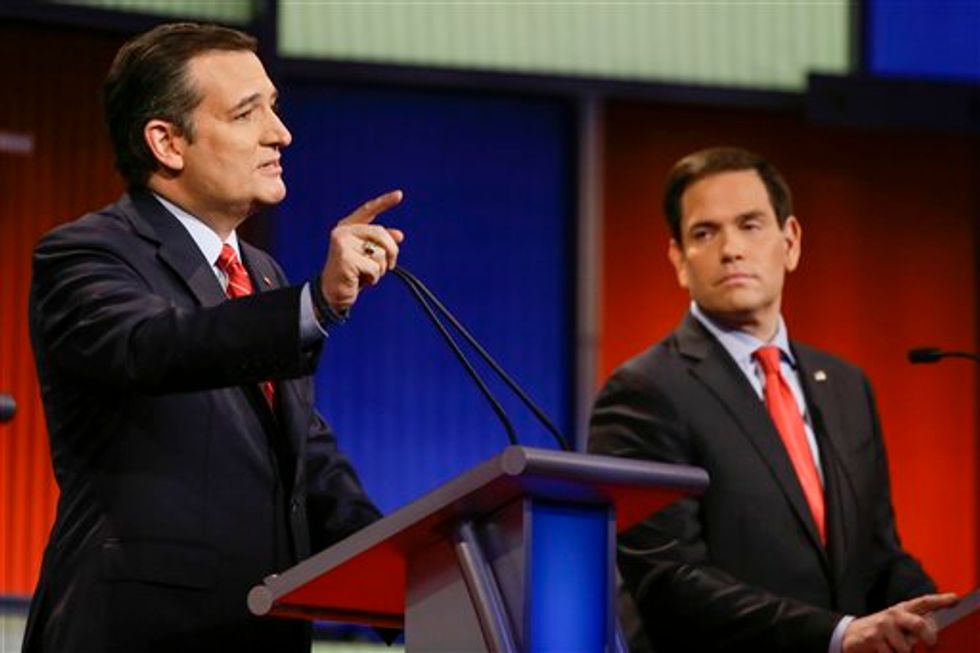 Presidential candidate Texas Sen. Ted Cruz answers a question as Florida Sen. Marco Rubio looks on during a Republican presidential primary debate Jan. 28 in Des Moines, Iowa. (AP Photo/Charlie Neibergall)
But for Gabriella Hoffman, a Cruz supporter and conservative blogger in Virginia, she isn't sure the constant bickering will be too damaging for Cruz as "he only narrowly lost to Rubio in South Carolina and Iowa officials declared him a winner."
"Depends on whom you talk to, but perhaps the staff change will prompt Cruz to better stay on message," Hoffman said of Cruz's image.
Hoffman, 24, continued to praise Cruz, saying that as he won over youth in South Carolina and Iowa, "he can genuinely appeal to young people — conservatives, libertarians, values voters and those disenchanted with big government or extreme foreign policy views."
"If he stays on message as a constitutionalist and continues to focus, I think he will continue to perform well," she said. "I suspect he realizes this with the recent staff change. Those writing his campaign's obituary too soon aren't to be trusted. Both he and Rubio are electable and fair well against either of the Democrats."
"I hope conservatives in other camps — particularly Rubio's camp — can come together to find a mutually agreeable solution to help defeat [GOP front-runner Donald] Trump since it'll be a three-way race as predicted," Hoffman continued.
The loss of a senior campaign official for Cruz comes as Rubio simply continued to rack up endorsements following his second-place finish in South Carolina. As of Monday, according to the campaign, Rubio has gained 16 new endorsements since the primary.
Ahead of the Nevada GOP caucus, Davis is full of confidence for his candidate and doesn't view Rubio as the one to fight.
"I think I speak for a lot of Rubio and Cruz supporters when I say that the enemy isn't Rubio. The enemy is Donald Trump," Davis said.
Trump did weigh in on the firing of Tyler — on Twitter, of course.
Wow, Ted Cruz falsely suggested Marco Rubio mocked the Bible and was just forced to fire his Communications Director. More dirty tricks!

— Donald J. Trump (@Donald J. Trump) 1456173842.0
According to Real Clear Politics' aggregated polling data, Trump leads the Republican candidates at 34.2 percent followed by Cruz at 20.6 percent and Rubio at 16.0 percent nationally.
—
Follow Kaitlyn Schallhorn (@K_Schallhorn) on Twitter