During a rally in Las Vegas Monday night, a day before the Nevada Republican caucuses, GOP front-runner Donald Trump threatened to punch a protester in the face.
"There's a guy, totally disruptive, throwing punches," Trump remarked as the protestor was being escorted from his event. "We're not allowed to punch back anymore."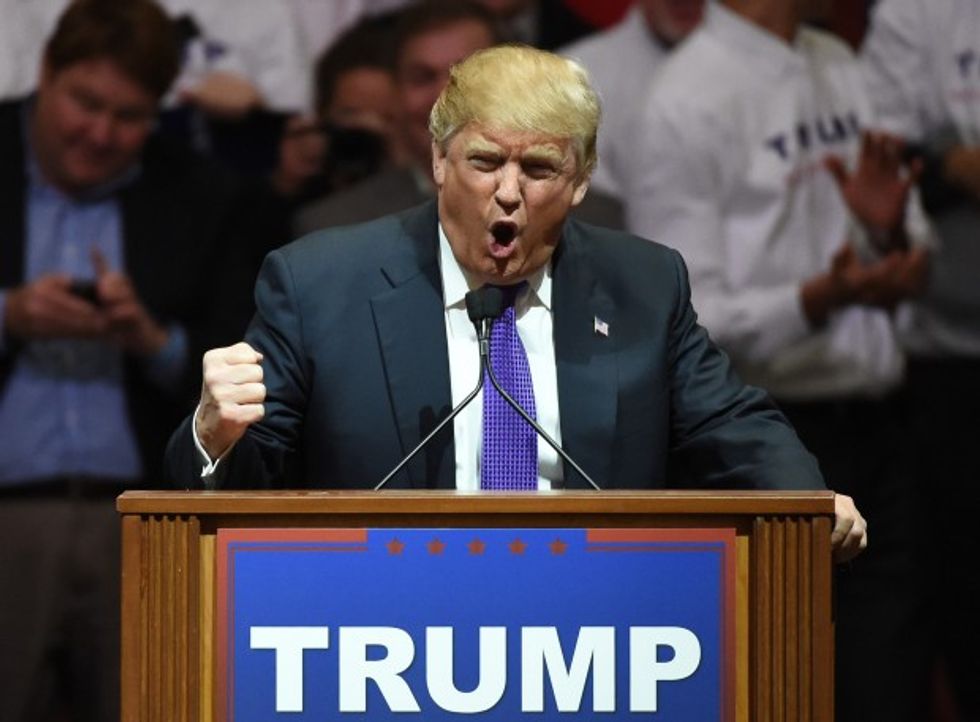 Donald Trump speaks at a rally at the South Point Hotel & Casino in Las Vegas Monday. (Getty Images/Ethan Miller)
"I love the old days. You know what they used to do to guys like that when they were in a place like this? They'd be carried out on a stretcher, folks," Trump added. "I'd like to punch him in the face."
Trump also labeled the protestor "nasty as hell" and accused him of attempting to fight security officers, although, according to CNN, it wasn't immediately apparent that the protestor was trying to fight anyone.
The Manhattan mogul has a history of suggesting that his protesters be dealt with more harshly. Last November, after a Black Lives Matter protester interrupted a rally in Alabama, Trump told Fox and Friends the next day, "Maybe he should have been roughed up because it was absolutely disgusting what he was doing."
In January, Trump instructed security officers at an event in Vermont to throw a protester into the cold without his coat, saying, "Don't give him his coat! Keep his coat. Confiscate his coat. You know, it's about 10 degrees below zero outside. You can keep his coat. Tell him we'll send it to him in a couple of weeks."
Ahead of Tuesday's caucus, Trump is enjoying a commanding lead in Nevada. According to a recent Gravis poll testing each candidates' support in the Silver State, Trump is leading second-place Ted Cruz, 39 percent to 23 percent. Florida Sen. Marco Rubio received 19 percent in the poll, good enough for third place.
"I'd like to punch him in the face." @realDonaldTrump sends strong message to protester at rally last night!https://t.co/hYBRl3llHz

— FOX & Friends (@foxandfriends) February 23, 2016
—
Follow the author of this story on Twitter and Facebook:
[facebook //www.facebook.com/plugins/like.php?href=