© 2023 Blaze Media LLC. All rights reserved.
Three Black College Students Say They Were Racially Attacked; Outrage and Protests Follow. But New Information Just Turned the Tables.
"I can't believe I just experienced what it's like to be beaten because of the color of my skin."
Things were just getting heated up at the State University of New York at Albany.
After three black female students reported that they were victims of a racially motivated attack by up to a dozen white men and women on an Albany city bus in January, outrage quickly followed.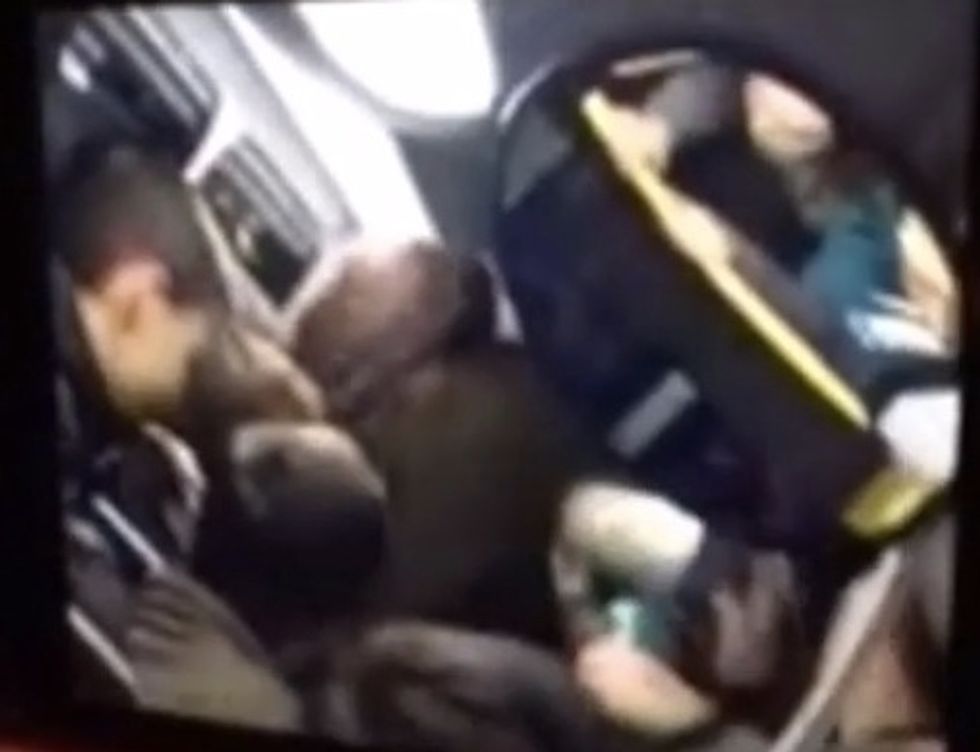 Cellphone screengrab from bus altercation. (Image source: Times-Union)
One of the three, Asha Burwell, tweeted that she was beaten because she's black:
I can't believe I just experienced what it's like to be beaten because of the color of my skin.

— Asha Burwell (@AshaBurwell) January 30, 2016
Then her brother, San Diego Chargers lineman Tyreek Burwell, tweeted a threatening message to someone he heard was involved: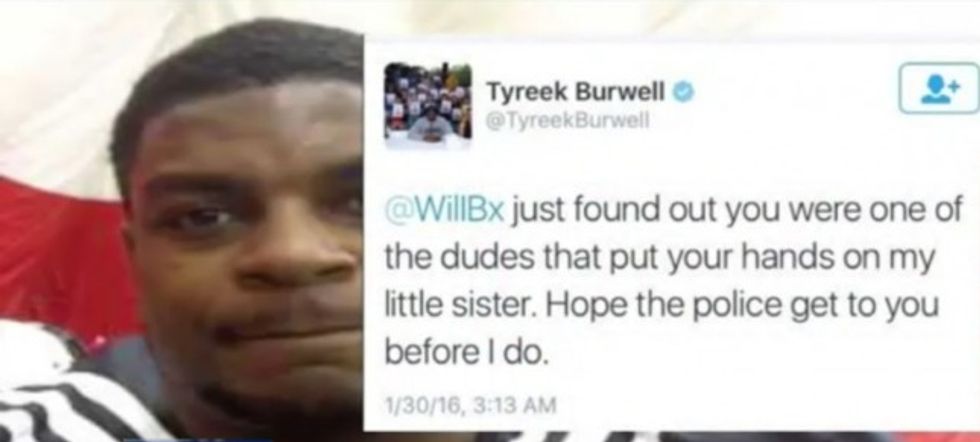 Image source: WTEN-TV
Even Democratic presidential candidate Hillary Clinton got into the act:
There's no excuse for racism and violence on a college campus. https://t.co/ADVghl4iEv -H

— Hillary Clinton (@HillaryClinton) February 4, 2016
At the rally, one of the three women offered a tearful speech: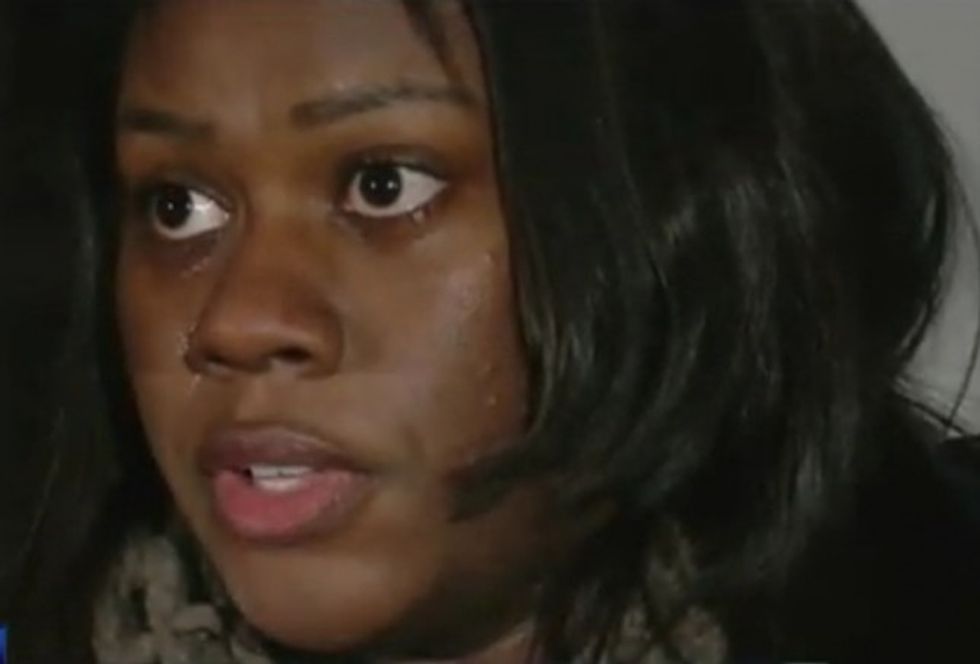 Image source: WTEN-TV
But now WTEN-TV is reporting that the trio's claims are being called false.
Turns out statements from other minority passengers on the bus contradicted what the three students claimed, sources told the Times-Union. And now charges against the three women are forthcoming, the paper reported, noting that the accusers were issued tickets to appear in court next Monday on undisclosed charges in connection to the Jan. 30 incident.
The smoking gun may be the bus' surveillance video — which hasn't been released to the public. One WTEN source watched it and told the station that one of the three accusers actually threw the first punch and that none of the passengers uttered racial slurs at them.
The source added that, on the contrary, one of the accusers used a racial slur against a white passenger: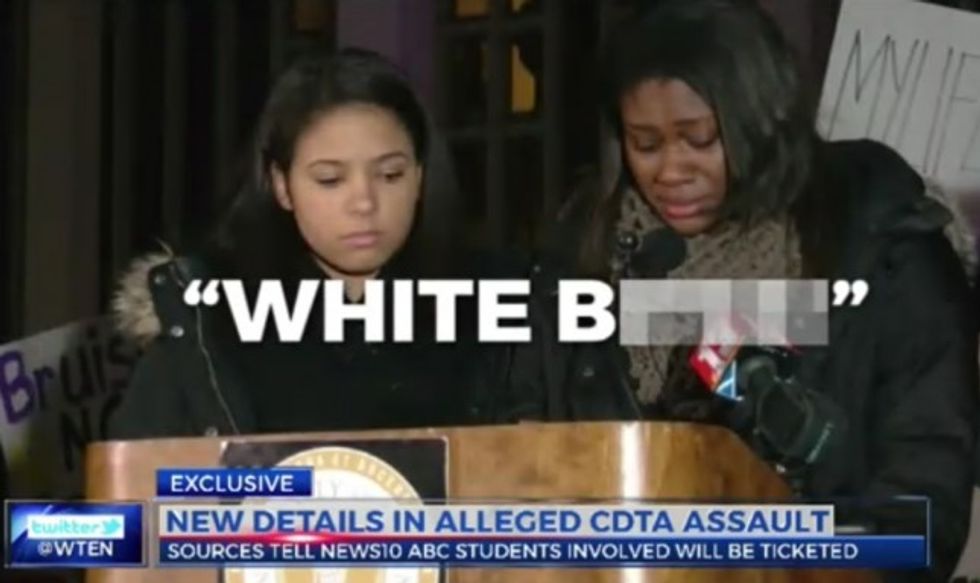 Image source: WTEN-TV
Alice Green, a local social activist and director of the Center for Law and Justice, was among the few invited by the Albany County District Attorney to watch the bus surveillance video.
"I would not lock them up," Green told WTEN of the three accusers, "but if it comes to be that they made false claims, there needs to be an apology perhaps." Green added to the station that the video quality isn't great and she learned more from witness statements.
WTEN added that a court will determine whether the bus surveillance video will be made public but that it was advocating for its release to the public.
(H/T: New York Daily News)
Want to leave a tip?
We answer to you. Help keep our content free of advertisers and big tech censorship by leaving a tip today.
Sr. Editor, News
Dave Urbanski is a senior editor for Blaze News.
DaveVUrbanski
more stories
Sign up for the Blaze newsletter
By signing up, you agree to our
Privacy Policy
and
Terms of Use
, and agree to receive content that may sometimes include advertisements. You may opt out at any time.