Republican presidential candidate Donald Trump, when asked about his pro-life credentials, sought to solidify his stance against abortion while also praising the work of Planned Parenthood during Thursday night's GOP debate.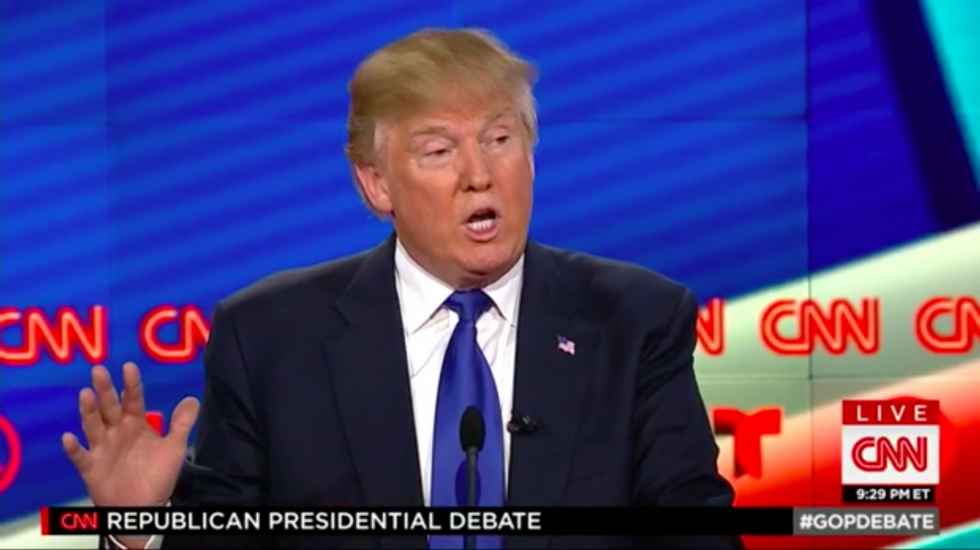 Image: Twitter/CNN
The billionaire businessman was aligned with every Republican candidate at Thursday night's debate when he vowed to defund Planned Parenthood "because of the abortion factor." But Trump's message was, to say the least, a mixed one.
While sharing his convoluted comments on Planned Parenthood, Trump stood alone when he went on to tout the organization's claim that only 3 percent of their funding goes to abortion services, though he did add, "I don't know what percentage it is."
"Millions and millions of women, cervical cancer, breast cancer, are helped by Planned Parenthood. You can say whatever you want, but they have millions of women going through Planned Parenthood that are helped regularly," Trump said to a silent auditorium.
"I wouldn't fund it. I would defund it, because of the abortion factor, which they say is 3 percent. I don't know what percentage it is. They say it's 3 percent. But I would defund it because I'm pro-life. But millions of women are helped by Planned Parenthood," he continued.
Regarding Trump's claims about breast cancer, many reports have revealed that Planned Parenthood does not directly offer any mammogram services, a claim that was confirmed by Cecile Richards, the organization's president, during a funding hearing last year before the House Oversight and Government Reform Committee.
Additionally, Planned Parenthood's claim that only 3 percent of its funding goes to abortion has been hotly contested by many, chief among those critics being National Review editor Rich Lowry, who wrote in an op-ed that the percentage "is crafted to obscure the reality of Planned Parenthood's business."
As the Washington Post reported last year, when all Planned Parenthood services are all counted together, abortion does, in fact, account for approximately 3 percent of the organization's funding. However, a first trimester abortion, for example, costs up to $1,500 while emergency contraceptive pills cost only around $45 and a urine pregnancy test costs around $10.
Trump has made headlines recently for his praise of Planned Parenthood. Earlier this week, the billionaire businessman was praised by Richards for defending the controversial organization.
Watch the video:
.@realDonaldTrump speaks on Planned Parenthood during tonight's #GOPDebatehttps://t.co/OgDvw7E5rvhttps://t.co/bQSVrvM5s3

— CNN (@CNN) February 26, 2016
—
Follow the author of this story on Twitter: