NASHVILLE -- Rafael Cruz is joining the chorus of conservatives who are warning that Americans are just one Supreme Court justice away from losing some of their key constitutional freedoms.
Cruz, the father of Republican presidential candidate Ted Cruz and the author of the book, "A Time for Action: Empowering the Faithful to Reclaim America," discussed the issue this week during a sit-down interview with TheBlaze at the National Religious Broadcasters convention in Nashville, Tennessee.
"We are one Supreme Justice away from losing our religious freedom, from losing our Second Amendment rights to keep and bear arms, from losing our right to life and having abortion on demand, even to the moment of delivery," Cruz said. "If we have one more liberal appointed to the Supreme Court it may take a generation to correct that."
For these reasons, Cruz said that it is imperative that Americans elect a "true constitutional conservative" — one who will appoint Supreme Court justices who have proven track records.
Listen to what Cruz had to say below:
As for his book, "A Time for Action," Cruz said that he was motivated to publish the text after learning at a Christian conference a few years ago that "somewhere between 40 and 60 percent of Christians are not voting."
That startling dynamic caused him to wonder why Bible-believers are refraining from engaging in the political process.
While Cruz said that some pastors would say that politics is a "dirty business," his response would be that this is due to the fact that people of principle haven't been engaging in the political sphere.
"If people of principle are not voting — if people of principle are not running for office, what is left?" he said, going on to urge people to take both prayer and action. "Yes, we must start in prayer, but prayer is not the whole equation ... we need to be involved in the civic society."
Cruz charged that many pastors are "hiding behind their pulpits."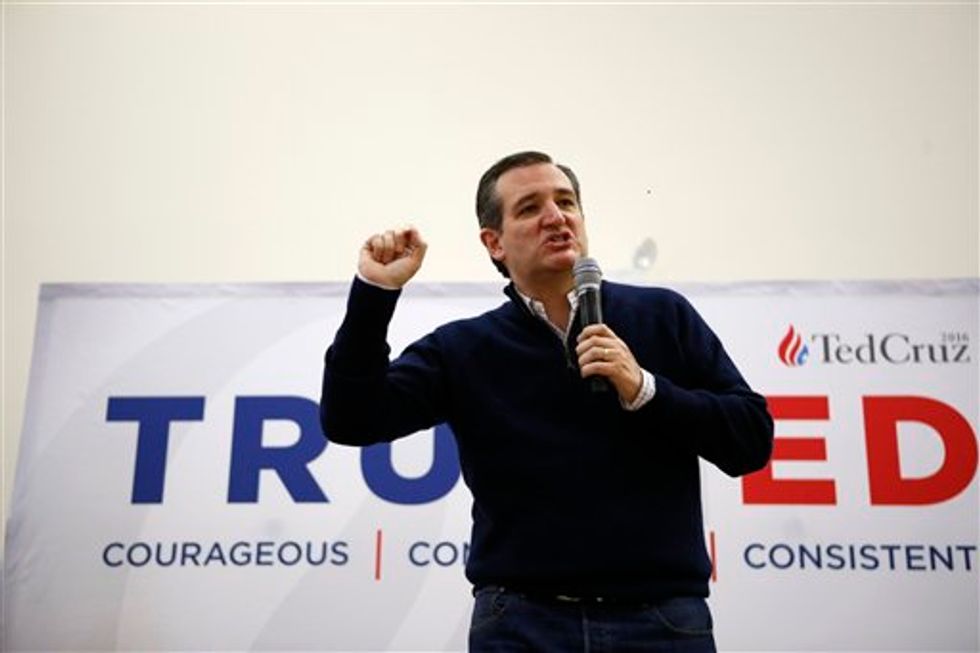 Republican presidential candidate, Sen. Ted Cruz, R-Texas speaks at a town hall-style campaign event, Monday, Feb. 8, 2016, in Barrington, N.H. (AP Photo/Robert F. Bukaty)
"We have to have an impact in all of society," he said. "The church is supposed to be the moral compass of society."
Cruz also became intensely personal, sharing his love for America as well as the overwhelming emotion he felt when his son, Ted Cruz, was sworn in as a U.S. senator back in 2013, saying that he "couldn't contain the tears."
"I remember when my son was being sworn in as U.S. senator. I couldn't contain the tears from my eyes," he said. "And I thought back of when over five decades ago I came to this country, didn't have hardly any money, couldn't speak a word of English — and to see my son being sworn in as U.S. senator and potentially to become the next president ... all that comes to my mind is 'only in America.'"