SOUTH CAROLINA — For Hillary Clinton in South Carolina, it's not a glass ceiling but a glass bubble that her campaign needs to keep its eye on.
Following the endorsement of venerable Rep. Jim Clyburn (D-S.C.), coupled with her ability to appeal to black voters — particularly black voters in the south — the Palmetto State should be a home run for the former secretary of state, according to several political scientists.
That is, if neither she nor her husband blows it.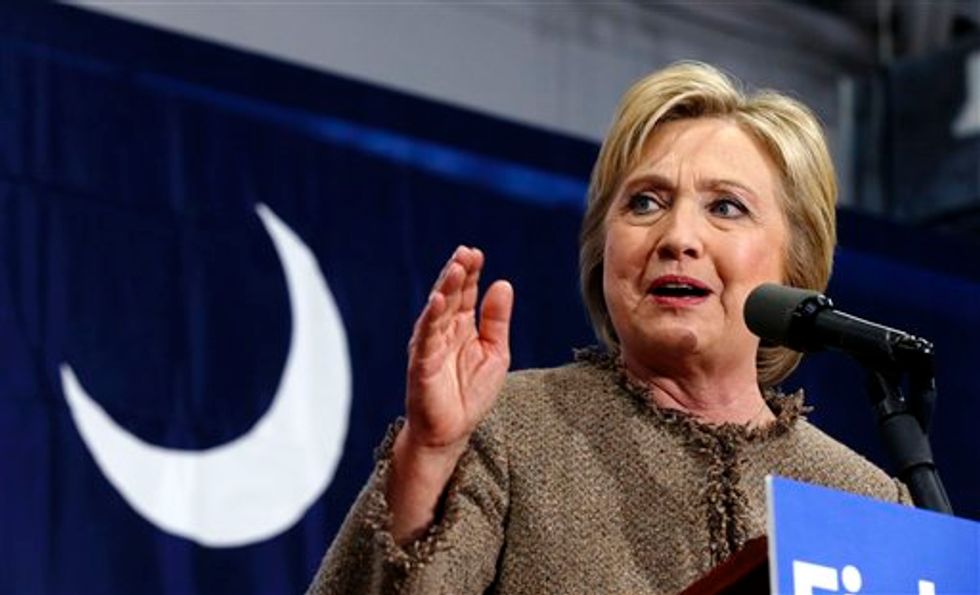 Democratic presidential candidate Hillary Clinton speaks at a "Get Out The Vote" rally for historically black colleges and universities, at South Carolina State University in Orangeburg, S.C., Friday, Feb. 26, 2016. (AP Photo/Gerald Herbert)
"What she needs to do [in South Carolina] is what she's been doing, and that is beating [Vermont Sen.] Bernie Sanders in the African American community, playing up those ties," Dr. Scott Huffmon, a political science professor at Winthrop University and director of the Winthrop Poll, told TheBlaze in an interview.
The endorsement of Clyburn, who angered the Clintons when he endorsed President Barack Obama during his first presidential race in 2008, was a much-needed get for Clinton, Huffmon said.
"That's actually a huge endorsement simply for what it signals," he said. "The most important constituency for the Democratic primary in South Carolina are African American voters. It's 55 percent or more in the Democratic primary, and Clyburn is respected and trusted by the African American voters in South Carolina so that's actually a big deal."
"I would argue on the Democratic side that's a bigger deal than any of the endorsements that came to the Republicans on the Republican side because it's a stronger signal than any of those others," Huffmon added.
For Sanders, the struggle to win over South Carolina isn't necessarily his message — it's the messengers. His own surrogate, Dr. Cornell West, while widely respected among white liberals and progressives in academia, isn't seen as a member of the black community who southern blacks can trust — especially with his constant criticisms of Obama, a figure that black voters in South Carolina still very much hold dear, Huffmon said.
"Sanders has got to find a way to sort of penetrate the black voting community, and he has simply had trouble," Huffmon said, adding that while his message can resonate easier with younger black voters, the voting turnout for that age group is dismal and won't help his campaign.
Besides his surrogates, the letter that was attached to Sanders' for so long — that "I" — could remain a hinderance to him in Saturday's primary. That independent status, despite his caucusing with the Democrats, doesn't bode well in a state that values party loyalty — at least when it comes to the Democrats.
"It's a very different electoral base than the Republicans, but I think they do look for party loyalty," Dr. David Woodard, a political science professor at Clemson University, told TheBlaze. "There's still some remnants of that old Democratic Party that used to run the south for so many years, and they do expect people to be loyal to the sort of standards."
"They realize that Democrats may have different social positions, but when it comes to the military, gun rights and the taking care of social security, they're pretty appreciative of what the Democrats have done, and I wouldn't be surprised with them sticking with the party over those issues," he continued.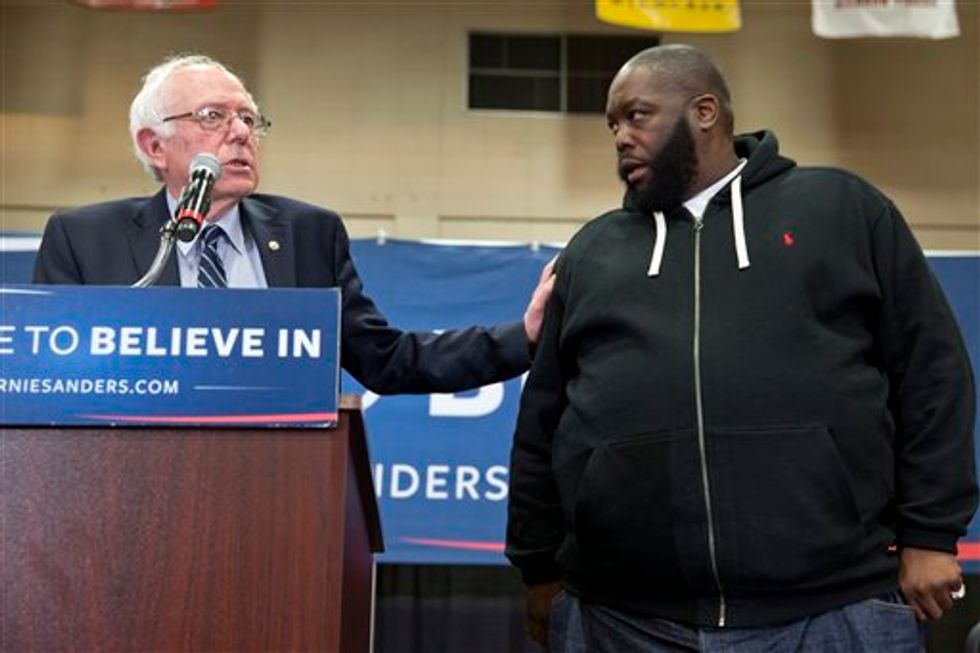 Democratic presidential candidate Sen. Bernie Sanders, I-Vt., after being introduced by rapper Killer Mike, at a campaign rally in Orangeburg, S.C., Friday, Feb. 26, 2016. (AP Photo/Jacquelyn Martin)
Huffmon agreed, adding that Democrats in South Carolina are "faithful, capital-D Democrats."
"They are strong, capital-D Democrats. Bernie Sanders has never been a capital D Democrat in his life; he's been an independent and called himself a socialist," Huffmon told TheBlaze. "So you're coming down south and going up against an established Democrat in a strong, capital D Democratic electorate saying, 'I know you're all Democrats, but vote for the guy who has chosen never to be a Democrat in his life.' That's just a tough sell."
The difference between Sanders' lack of embedding with the Democratic Party and that of GOP presidential front-runner Donald Trump is like comparing "apples to oranges," Huffmon said.
He explained:
"What is happening on the Republican side is an insurgency against their own party. So you're kind of seeing Bernie Sanders hoping there will be a Democratic insurgency in his party whereas it's not likely to happen in South Carolina. But on the South Carolina Republican side, we led the way in the insurgency against the Republican Party by conservative voters in 2012, and nobody picked up on the signal. You know, everybody just sort of thought for the first time ever South Carolina got it wrong whereas any other time, whoever won the South Carolina primary went on to get the nomination. But in 2012 they voted for Newt Gingrich; they got it wrong. I don't think that's the case. I really think that South Carolina was the canary in the coal mine for the Republican Party in 2012, and they didn't get the message. The message was, 'hey, conservative voters are angry at the Republican Party, and they're going to vote for an insurgent unless you do something.' That message didn't come through, and now what's happening nationwide, they're voting for an insurgent candidate because they're angry at the Republican Party. We signaled it first in 2012, and nobody noticed."
According to Greenville County Democratic Party chair Eric Graben, the way the two Democratic presidential candidates treat each other stands in stark contrast with Republican candidate interactions.
Graben said "it was great to see" former President Bill Clinton "up close and personal" as he came to the Upstate on behalf of his wife and contended that Democrats, no matter who they support, were excited to see him.
"I think one of the things I see is that whether you're supporting Secretary Clinton or Sen. Sanders, I think the vast majority of Democratic voters think highly of both of them, and I think the vast majority of Democratic voters think highly of President Clinton and are excited to see a former president when he's in town," Graben, who will not make an endorsement, said.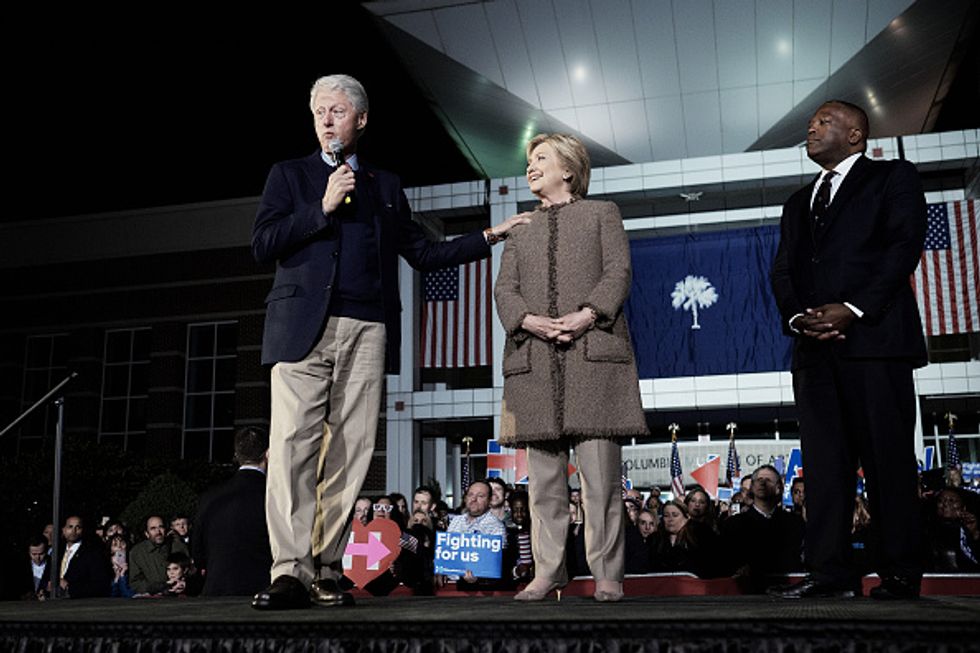 Bill Clinton, former U.S. President, left, speaks as his wife Hillary Clinton, former Secretary of State and 2016 Democratic presidential candidate, center, and Stephen Benjamin, mayor of Columbia, South Carolina, during a town hall event at the Columbia Museum of Art Boyd Plaza in Columbia, South Carolina, U.S., on Friday, Feb. 26, 2016. Photographer: T.J. Kirkpatrick/Bloomberg
While voters may be excited to see a former president in their town, Huffmon argued that Bill Clinton needs to bring his "A game" when campaigning for his wife and not have a repeat of 2008 when he said "this whole thing is the biggest fairytale I've ever seen," when discussing Obama's campaign.
"I think the fences have been mended since his fairytale comment in 2008, and then after the election people accused him of racializing the race because he said, 'well [Rev. Jesse] Jackson won South Carolina, too.' But that's really the sort of upset between black voting communities and the Clintons is really sort of a family squabble, and they've clearly gotten over it," Huffmon said. "She served the Obama administration well, and it seems that all has been forgiven. So Bill's back down here, he's popular, he's touting the fact that black household incomes grew when he was president. He's kind of strengthening those ties or reawakening those lines of communication."
Clay Middleton, Hillary for South Carolina director, told TheBlaze that Clinton's plan to travel around the Palmetto State ahead of the primary was in an effort to "talk about her agenda to break down barriers for South Carolinians who have been left out and left behind for too long."
"She'll continue outlining her plans to build on President Obama's progress by protecting the president's hard fought achievement — the Affordable Care Act — as well as working to prevent gun violence, combating systemic racism and making college, including HBCUs, more affordable," Middleton told TheBlaze.
Democrats in South Carolina will vote on Saturday in a state where Clinton is ahead by 26.6 points over Clinton.
—
Follow Kaitlyn Schallhorn (@K_Schallhorn) on Twitter