SALT LAKE CITY (TheBlaze/AP) — Unrest broke out in a Salt Lake City neighborhood Saturday night after a shooting involving a police officer, KSTU-TV reported.
Latest on the reported shooting of a teenager in #SLC; may impact people leaving #BKNatUTA: https://t.co/WEkI5hoCWLpic.twitter.com/oDDFB3sQp0

— Salt Lake Tribune (@sltrib) February 28, 2016
The shooting happened about 8:15 p.m. near downtown, the Salt Lake Tribune reported. Selam Mohammad told the Tribune that a police officer shot a 16-year-old boy who was his friend. Police confirmed to KSTU that it was an officer-involved shooting.
City police are being helped by officers from three other departments as onlookers throw rocks at officers and yell obscenities, the Tribune says. Police have closed a light rail stop in the neighborhood.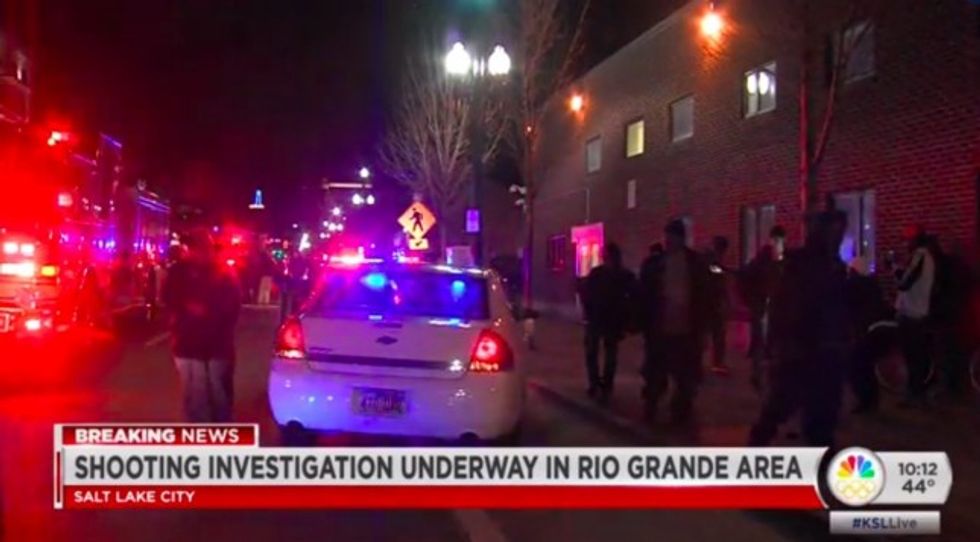 Image source: KSL-TV
The newspaper says that at 8:40 p.m., a line of officers moved protesters down a sidewalk.
BREAKING: shots fired in Rio Grande area near shelter. A lot of angry people on street. Trying to get info @KSL5TVpic.twitter.com/pl4qB946oF

— Sandra Yi (@KSL_SandraYi) February 28, 2016
A lot of people are yelling, "they shot an innocent kid" referring to the police. Not confirmed @KSL5TVpic.twitter.com/XsRLPVO2xp

— Sandra Yi (@KSL_SandraYi) February 28, 2016
Line of officers on 200 S 500 W. A few people are yelling just north of them @KSL5TVpic.twitter.com/y6wy3ifFRY

— Sandra Yi (@KSL_SandraYi) February 28, 2016
This group says they're friends of teen who was shot by police. They say he is 17 and from Kenya @KSL5TVpic.twitter.com/0JD4VUVHCK

— Sandra Yi (@KSL_SandraYi) February 28, 2016
The Tribune reports that there are a number of homeless shelters in the neighborhood and that business owners have long complained about the homeless population and drug dealing.