BENTONVILLE, Ark. (TheBlaze/AP) — Republican presidential front-runner Donald Trump is trying to deflect attention from a class-action civil lawsuit involving the former Trump University by pointing to the ethnic background of the judge in the case.
Asked on "Fox News Sunday" what U.S. District Judge Gonzalo Curiel's ethnicity has to do with the lawsuit against him, Trump replied:
"I think it has to do perhaps with the fact that I'm very, very strong on the border, very, very strong at the border, and he has been extremely hostile to me," Trump said.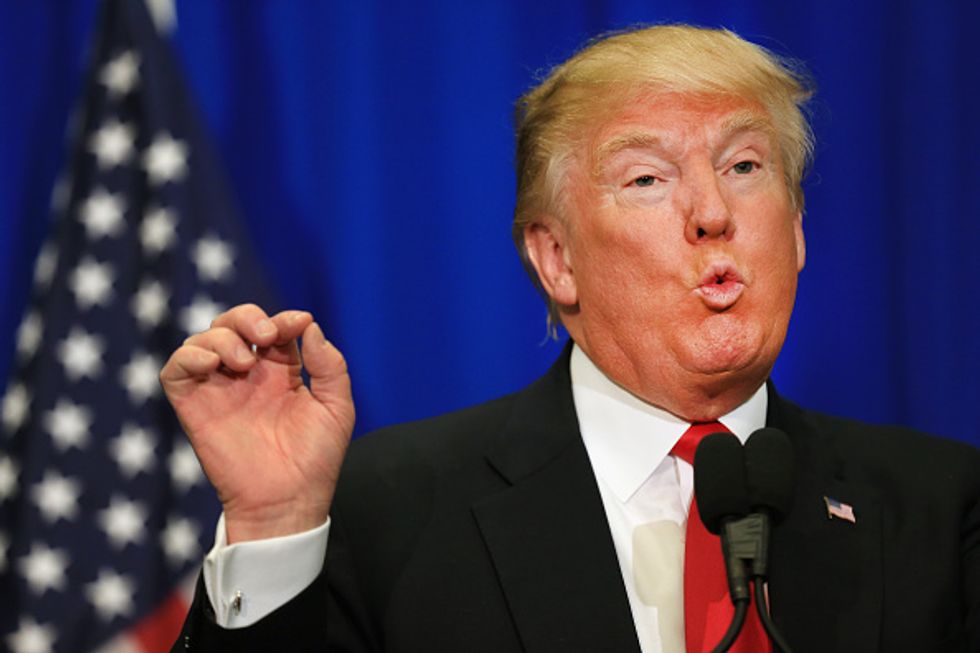 (Tom Pennington/Getty Images)

The comment regarding Curiel's ethnicity is likely to garner even more backlash against Trump, who has received a lot of criticism lately for his seemingly ethnocentric politics and refusal to condemn White Supremacist David Duke and the KKK's endorsement.
"Honestly, I don't know David Duke," Trump told CNN's Jake Tapper Sunday. "I don't believe I've ever met him … and I just don't know anything about him."
Later in the day, Trump modified his stance via Twitter:
As I stated at the press conference on Friday regarding David Duke- I disavow. pic.twitter.com/OIXFKPUlz2

— Donald J. Trump (@realDonaldTrump) February 28, 2016
According to the California class-action complaint in front of Curiel, a one-year apprenticeship that Trump University students were promised ended after students paid for a three-day seminar. Attendees who were promised a personal photo with Trump received only the chance to take a photo with a cardboard cutout. And many instructors were bankrupt real estate investors.
Trump University emerged as a campaign issue at Thursday's GOP debate, raised by Florida Sen. Marco Rubio.
"There are people who borrowed $36,000 to go to Trump University, and they're suing now — $36,000 to go to a university that's a fake school," Rubio said. "And you know what they got? They got to take a picture with a cardboard cutout of Donald Trump."
Texas Sen. Ted Cruz jumped in, adding: "It's a fraud case. ... I want you to think about, if this man is the nominee, having the Republican nominee on the stand in court, being cross-examined about whether he committed fraud."
At a rally in Arkansas on Saturday, Trump took a break from his standard campaign speech to downplay the lawsuit pending against the business, which was founded by Trump and offered students instruction on real estate investments.
"It's a small deal, very small," Trump said of the suit, which could force him to take the stand this summer.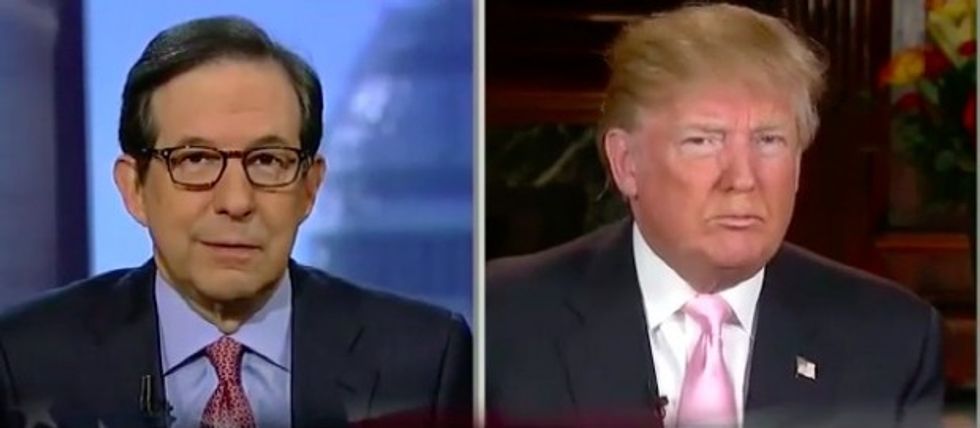 Trump talks to Fox News' Chris Wallace about Trump University lawsuit Sunday, Feb. 28 2016. (Image source: YouTube)
Trump specifically railed against the judge in the case, and at one point noted the judge's Hispanic ethnicity.
Trump claimed the case should have been thrown out years ago, "but because it was me and because there's a hostility toward me by the judge - tremendous hostility - beyond belief." He then noted, as an aside: "I believe he happens to be Spanish, which is fine. He's Hispanic — which is fine."
Curiel is a judge in the Southern District of California and based in San Diego.
New York Attorney General Eric Schneiderman, whose office has filed a separate civil $40 million complaint against Trump University in state court, accused Trump of "racial demagoguery." Schneiderman sued Trump University in 2013 alleging it committed fraud and fleeced 5,000 people out of millions of dollars.
"I will not engage in a debate about ongoing litigation," Schneiderman said in a statement issued after Trump made his comments. "But there is no place in this process for racial demagoguery directed at respected members of the judiciary."
Schneiderman noted that New York's state Supreme Court ruled that Trump University operated illegally in New York as an unlicensed educational institution. His suit alleges that Trump University falsely promoted itself as an educational institution even after the state education department warned it to stop. The complaint accuses Trump of falsely promising that Trump University students would receive intense training from experts hand-picked by Trump himself.
During breaks in the seminars, Schneiderman's complaint alleges, participants were urged to call their credit card companies and ask to increase their credit limits. Once the credit lines were secured, Trump University staff tried to persuade students to pay for additional services.
Trump, at the rally, dismissed the cases as the work of "a sleazebag law firm" and suggested that Schneiderman's intervention was politically motivated.
"I could've settled this suit numerous times. Could settle it now. But I don't like settling suits," Trump said.
Watch Trump's full "Fox News Sunday" interview here: