In recent weeks, there have been many reports detailing businessman Donald Trump's dealings with mafia mob families. One of Trump's main GOP challengers believes that's the reason he has yet to release his tax returns.
Texas Sen. Ted Cruz said on NBC's "Meet the Press" Sunday that he believes it's possible Trump is stalling to release his tax returns because his business dealings with the mob go deeper than anyone currently believes.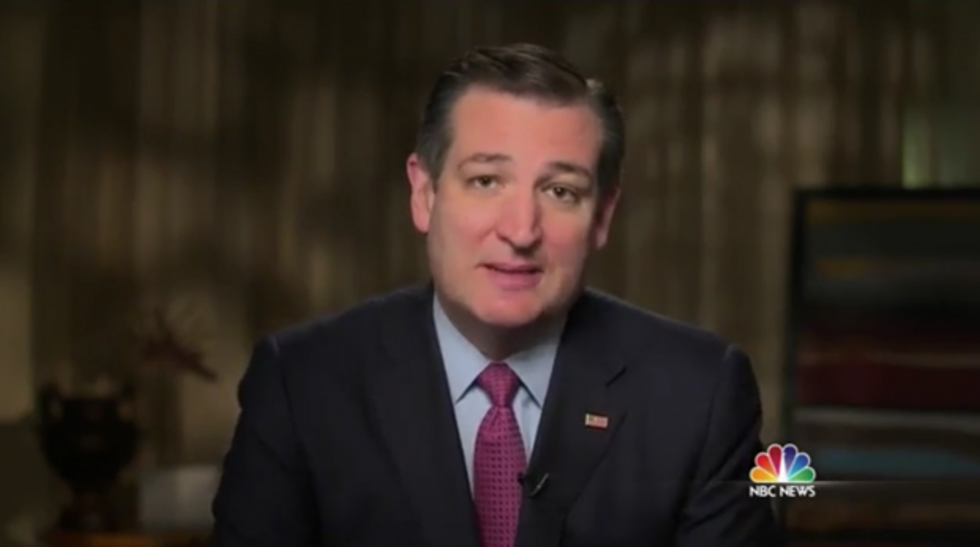 Image source: Youtube/screenshot
"There have been multiple media reports about Donald's business dealings with the mob," Cruz told show host Chuck Todd. "Maybe his taxes show those business dealings are a lot more extensive than has been reported."
However, that answer was not suitable for Todd, who challenged that it was largely speculative. When he asked Cruz for facts, the Texas Republican got specific.
"ABC, CNN, multiple news reports have reported about his dealings with, for example, S&A construction, which was owned by 'Fat Tony' Salerno, who is a mobster who is in jail," Cruz said. "It is owned by two of the major New York crime families. And that has been reported in multiple media outlets."
According to the CNN report to which Cruz referred, Trump has "extensive" ties to crime families in both New York and Philadelphia. In addition to paying double the market price for a property in Atlantic city — which would eventually become a Trump casino — from Philly mob boss Philip "Chicken Man" Testa, Trump built his Trump Plaza condos in Manhattan using primarily concrete, rather than steel, an industry controlled by the mafia during the building's construction.
The report also noted that Trump was the subject of a bribery investigation in 1979 and a racketeering investigation in 1981 — crimes commonly associated with organized crime syndicates.
Cruz also told Todd that Trump may not want the public, particularly the Republican Party and conservatives, to see additional donations on his returns.
"Maybe it's the case that he has given large sums of money to left-wing groups like Planned Parenthood," Cruz said. "Maybe he's been a big financial supporter of that."
In recent days, both Cruz and Florida Sen. Marco Rubio have released their tax returns.
—
Follow the author of this story on Twitter and Facebook:
[facebook //www.facebook.com/plugins/like.php?href=