Former KKK Grand Wizard David Duke has released a new video in which he claimed that the media is lying about his endorsement of Donald Trump, although in the same video, Duke states that he will vote for Trump.
A controversy ensued when, during remarks on the "David Duke Radio Program," Duke said that "voting against Donald Trump at this point, is really treason to your heritage."
"I'm not saying I endorse everything about Trump; in fact, I haven't formally endorsed him," Duke said. "But I do support his candidacy, and I support voting for him as a strategic action. I hope he does everything we hope he will do."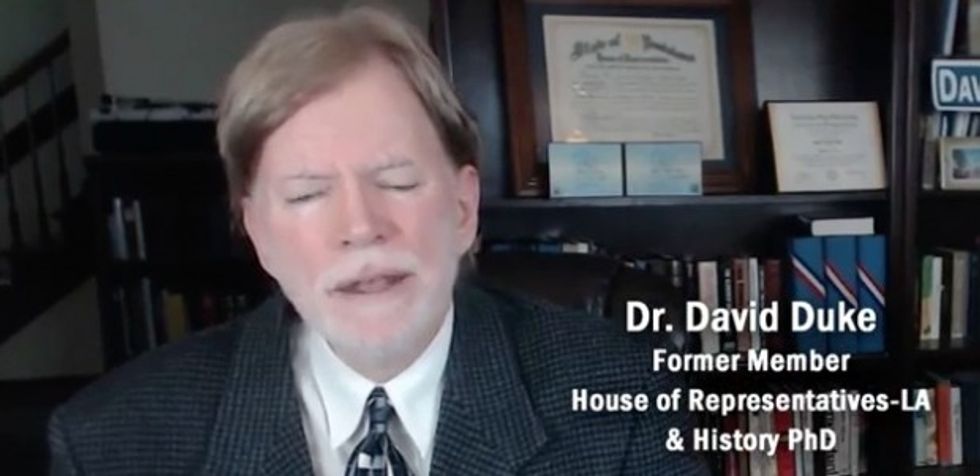 Image source: YouTube
Trump was asked by multiple media outlets about Duke's endorsement.
"I didn't even know he endorsed me," Trump said during a recent press conference. "David Duke endorsed me? OK, alright. I disavow, OK?"
Trump was later asked about the endorsement by CNN's Jake Tapper.
"Well, just so you understand, I don't know anything about David Duke, OK?" Trump said. "I don't know anything about what you're even talking about with white supremacy or white supremacists. So, I don't know."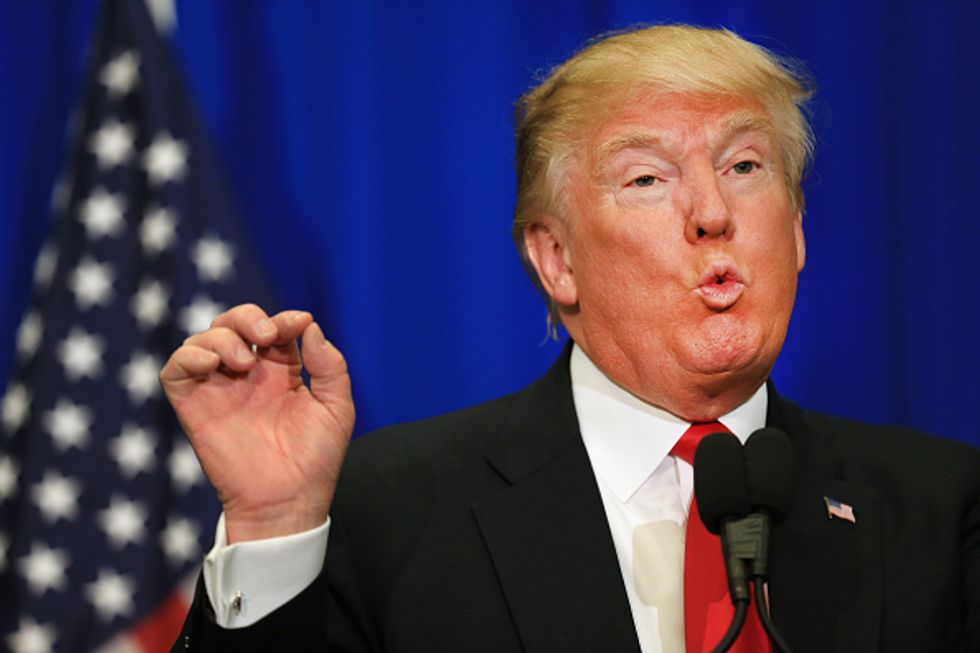 Tom Pennington/Getty Images
"Well, I have to look at the group," he later added. "I mean, I don't know what group you're talking about. You wouldn't want me to condemn a group that I know nothing about. I would have to look. If you would send me a list of the groups, I will do research on them. And certainly, I would disavow if I thought there was something wrong."
Trump later blamed the exchange on "a very bad earpiece."
In a post on his website referring to the CNN interview, Duke denied in a video message that he formally endorsed Trump, adding that he will vote for him.
Duke wrote that he made the video to expose "the ZioMedia lies" and "to address the controversy over his qualified support of Donald Trump for president."
"I'm David Duke, and this is a quick, unscripted response to the CNN interview today with Donald Trump, the inaccurate reporting of the media that I had endorsed Donald Trump," Duke said, adding, "I am not endorsing Donald Trump. The media in this country is absolutely disgusting."
"I've not endorsed him, but I do think that we should vote for him," he continued.
Duke said that he will vote for Trump as a "strategic means" of promoting "the illegal immigration issue" and "against two Republican contenders who I believe are total traitors to the United States of America."
Duke said that "we are in the most critical election probably in our history" and that Donald Trump "is the guy who really stands up" on immigration.
Duke also called the media's portrayal of him as a member of the KKK as a "complete distortion of reality," arguing that he was a member of a "non-violent Klan group" 40 years ago.
Duke concluded that as president, Trump would "look out for the interests of the American people."
"This is what I believe," Duke said.