A group of masked burglars are caught on security footage expertly breaking into a Houston gun shop — by pulling the doors off of the store with a large truck.
At least 10 people in hoodies and masks are seen on the dramatic surveillance video backing a black ford F-150 up to the store and hooking up chains from the back of the truck to the front doors of Carter's Country gun shop in southwest Houston. It takes a couple of tries, but eventually the truck accelerates enough to rip the front doors and bars off of the store.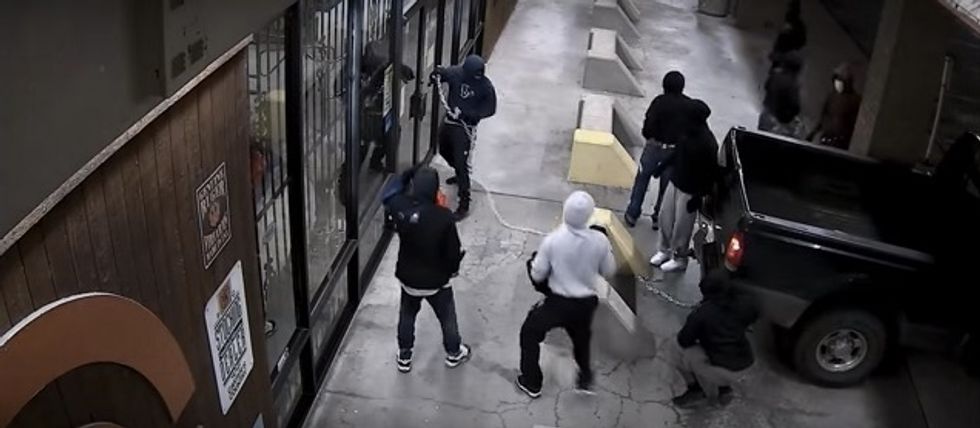 Image source: YouTube
According to KHOU-TV, the crime occurred around 4:30 a.m. on Tuesday. The robbers were able to steal several weapons from the store before getting away. Robert Elder, the ATF Houston Field Division special agent in charge of the case, said the types of weapons stolen could be used in more violent future crimes, such as drive-by shootings, murder and other robberies.
"These types of crimes are becoming more prevalent in the Houston area," Elder told KHOU.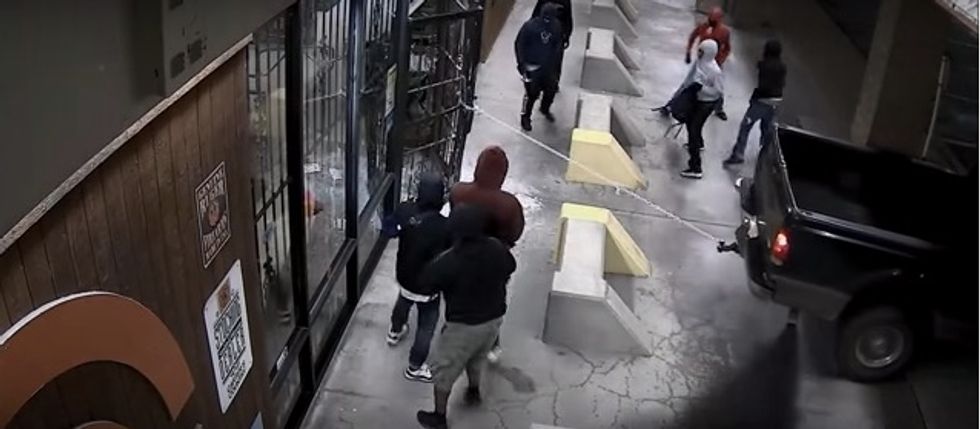 Image source: YouTube
"Typically the groups that are stealing these will sell them for a profit, and they will a lot of times be sold to other criminals in the area and in surrounding areas," he added. "It's a source of guns. It's a black market source of guns for the criminal element."
According to KPRC-TV, the robbers used hammers to smash glass cases inside of the store to steal firearms as well as took several rifles off racks. The suspects in the case are thought to have changed vehicles shortly after the fleeing the scene, possibly to a later model Chevrolet Traverse SUV.
ATF confirmed to KPRC that multiple arrests have already been made, and federal charges are expected.
"I'm very shocked, and I'm very stunned this could happen to these people," Robert Sarabia, a customer of the store, told KHOU. "You wouldn't think this could happen in our neighborhood. I live right across the way. I've heard of nothing like this before."
Police are asking for anyone with any information regarding the incident to call the CrimeStoppers tip line at (713) 222-TIPS.
Watch the dramatic security video below.