Sen. Marco Rubio (R-Fla.) argued that conservatism is about principles not personalities during remarks on Saturday at the Conservative Political Action Conference.
"We must re-embrace the principles that made us the greatest nation to begin with," Rubio said.
Rubio said that the theme of the conference, "Our Time is Now," forces the question "What does it mean to be a conservative in the twenty-first century?"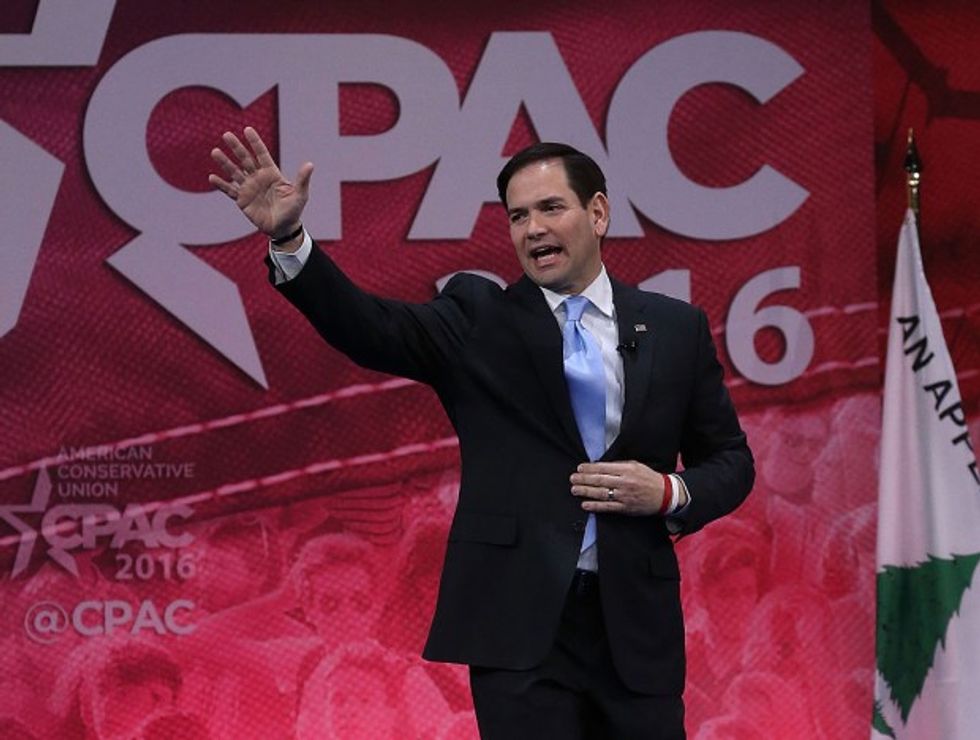 NATIONAL HARBOR, MD - MARCH 05: Republican presidential candidate Sen. Marco Rubio (R-FL), walks up to speak at the CPAC 2016 conference, March 5, 2016 in National Harbor, Maryland. (Photo: Mark Wilson/Getty Images)
"Being a conservative can never be about simply an attitude," Rubio said. "Being a conservative cannot simply be about how long you're willing to scream, how angry you're willing to be or how many names you're willing to call people. That is not conservatism. Conservatism has never been about fear or about anger – not at it's best."
Rubio said that people have a right to be angry about the failures of the political class and both parties, but that "neither anger nor fear will solve our problems. It can serve to motivate us, but it will not solve our problems."
"What will solve our problems is a specific set of ideas built on bedrock principles that made America the greatest nation to begin with and applying those principles to the unique challenges of this new century," Rubio said, including the principle that "our rights do not come from government, our rights do not come from laws, our rights do not come from leaders, our rights come from God."
"I'm preaching to the proverbial choir on this issue," he joked to the crowd of conservative activists.
In a shot at rival Donald Trump, Rubio said that young Americans have the chance to become the next Greatest Generation, but they "won't have the chance if the conservative movement is hijacked by someone who is not a conservative."
The line earned Rubio a standing ovation and over 20 seconds of applause from an enthusiastic crowd.
"The time has arrived for us to do our part now," Rubio said. "The stakes could not be higher because the future of the greatest nation on earth is at stake."
Asked in a question and answer session with CNN's Dana Bash about Trump's decision to skip the conference, Rubio replied, "This is the American Conservative Union, I mean, it is usually reserved for conservatives," to cheers from the audience.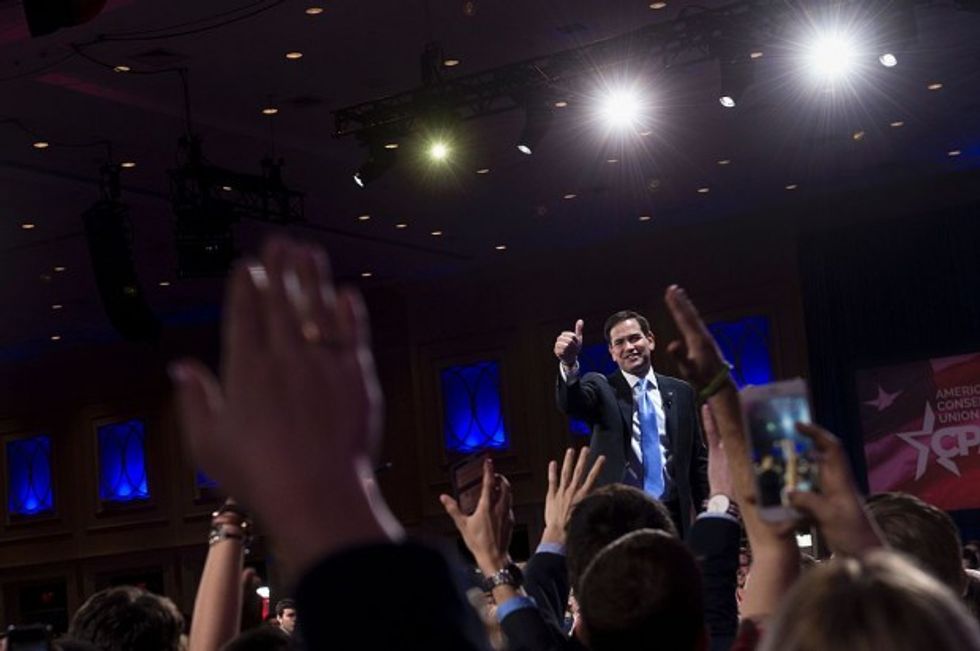 US Republican Presidential hopeful Marco Rubio gives a thumbs up after speaking during the American Conservative Union Conservative Political Action Conference 2016 at the Gaylord National Resort and Convention Center on March 5, 2016, in Oxon Hill, Maryland. (Photo: BRENDAN SMIALOWSKI/AFP/Getty Images)
Asked why he didn't begin to criticize Trump for not being a conservative earlier in the campaign, Rubio replied, "If you had told me a year ago that the frontrunner at this stage in the Republican campaign would be a supporter of Planned Parenthood, who says he does not stand with Israel, who has a long record of supporting government-sponsored health care, I would say, on what planet would that be the Republican frontrunner? But it's happened, and I think we have to ask ourselves, why have we allowed that to happen?"
Rubio said that the media has allowed Trump to "dominate" coverage, and noted that two of Bash's three questions for him at that point had been about Trump.
"That's fair," Bash replied, adding, "He is the frontrunner."
"I don't want us to have a president that we constantly have to be explaining to our kids," Rubio added. "Look, I know that is what the president did, but you shouldn't do that."
"We actually had a president like that not long ago, it was really bad," Rubio said.
"I'll leave that alone," Bash replied.