Eli Martinez was awakened last Thursday morning by his father telling him that the U.S. Secret Service was there to see him at his home in the Chicago suburbs.
"I thought he was kidding, or I was dreaming," Martinez told Mashable.
Only a few days earlier, Martinez tweeted what he said a joke about killing Republican presidential candidate Donald Trump.
"I think I have to kill Trump," the tweet read. "None of y'all gon do it, I have to take measures into my own hands."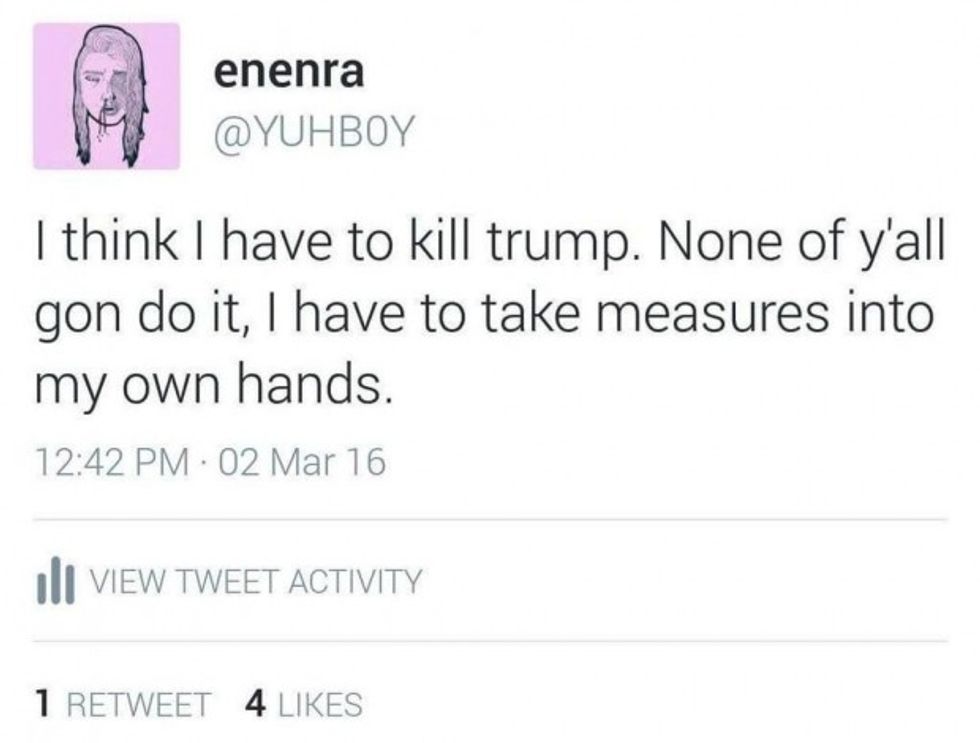 Image: Twitter @YUHBOY
Martinez said the agents "questioned the hell" out of him, asking the 20-year-old about his personal, medical and employment history. The Secret Service also asked him if he was a legal U.S. citizen and if he had ever purchased weapons.
The agents were determined to find out if Martinez's threat was legitimate or just another ill-advised tweet that would later be deleted.
According to Mashable, Martinez's experience is not that unique. In fact, threatening any presidential candidate is likely to result in a visit from the Secret Service.
Though the Secret Service has not commented specifically on threats to Trump's life, a spokesman did outline the duties of the agency and how it handles threats against candidates.
"If you see anything that applies on Twitter," the spokesman said, "we're going to investigate."
Under current law, anyone who "knowingly and willfully threatens to kill, kidnap, or inflict bodily harm" upon a candidate should expect a visit from the Secret Service and could face fines and up to five years in jail. These laws were instituted in 2009, when the Secret Service expanded its "Internet Threat Desk" in order to handle threats on President Barack Obama's life.
Even if the tweet is posted as a joke, the Secret Service will investigate — and it's not a laughing matter.
One person posted a photo in December showing agents outside his residence, claiming the Secret Service "raided" his home after he tweeted, "Ima shoot Donald the next time I see him."
Additionally, a man said Secret Service met with him after he posted tweets referring to the assassination of Trump, former Florida Gov. Jeb Bush and former President George W. Bush.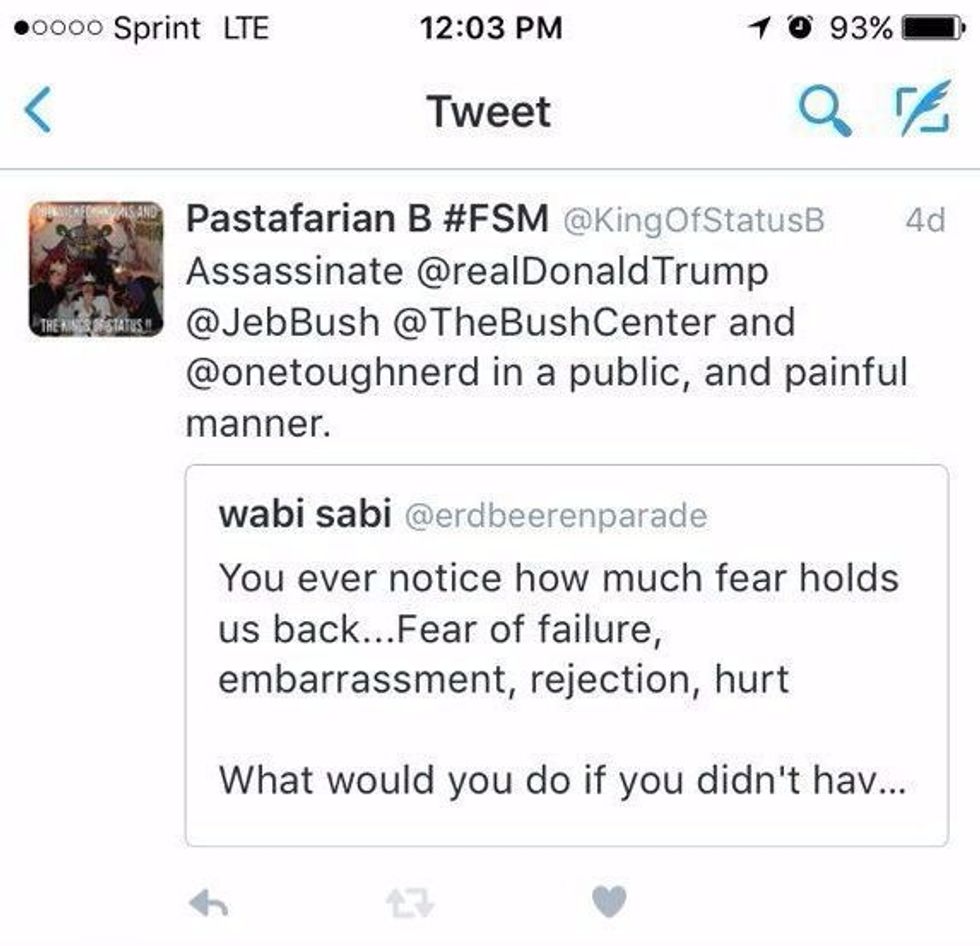 Image: Twitter
Another 29-year-old Iowan woman told Mashable that she "tweeted something like 'just let me shoot, you ass,'" while waiting outside a gun range as Trump's sons shot rifles inside. Agents showed up where she works, telling the woman she could spend 10 years in prison for the since-deleted tweet.
The agents reportedly asked her if she liked her job — she worked at a hospital in Des Moines — and also wondered what her co-workers thought of her. They also visited her elderly grandparents.
As she began crying, one agent, who was wearing a CrossFit T-shirt, told her she "needed to show more respect." However, she said it was difficult to offer an explanation for the tweet to the agents.
"I couldn't see how anything I said could be interpreted as a threat unless you have very poor reading comprehension," she said.
The government has the authority to request user information from Twitter. If they do not have a court order, they are able to fill out an "Emergency Disclosure Report," detailing the nature of the threat and the individual being targeted. Twitter received more than 2,500 of these reports between July 1 and December 31.
Though the social media company does not comment on specific cases, Twitter spokesman Nu Wexler said criminal complaints often contain private information such as IP addresses, email addresses, phone numbers and direct messages.
However, the Secret Service is not only looking at Twitter. An Egyptian student who posted a comment on Facebook threatening to kill Trump was recently arrested and asked to leave the United States within 120 days.
And in February, agents found a supporter of Democratic presidential hopeful Bernie Sanders who attempted to place an obituary for rival Hillary Clinton in a Las Vegas newspaper, which he described as "political humor."
—
Follow the author of this story on Twitter: