It certainly is not something you see every day. An erratic naked woman climbed atop a big rig Monday morning in the middle of a busy Texas highway, stopping traffic.
The westbound lanes of US-290 were shut down for more than two hours while the nude lady danced around the hood of the vehicle, shouting incoherent statements at parked drivers.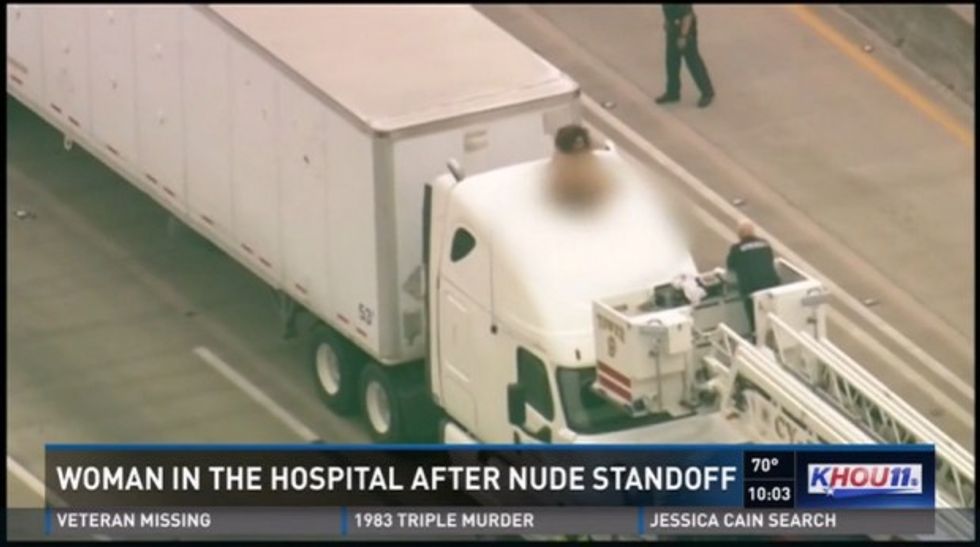 Image source: KHOU-TV
Footage recorded by KHOU-TV showed the woman twerking and twirling in front of nearby vehicles just after 9 a.m.
Volunteer firefighter Brian Shirley was called to the scene and witnessed something he's not likely to ever forget.
"You're thinking on your feet the whole time," Shirley told KHOU-TV. "We wanted to get her down safely."
Firefighters and police officers who attempted to persuade the 25-year-old woman to enter their ladder trucks and come back down safely were met with hostility. The woman cursed at them, refusing to budge.
Finally, authorities were able to jump on the top of the big rig, wrestle her into handcuffs and bring her down safely.
According to Houston TranStar, it is believed the woman was driving one of three vehicles that crashed just before the naked dancing incident.
Shirley stood next to the big rig as first responders tried to negotiate the apparently troubled woman down.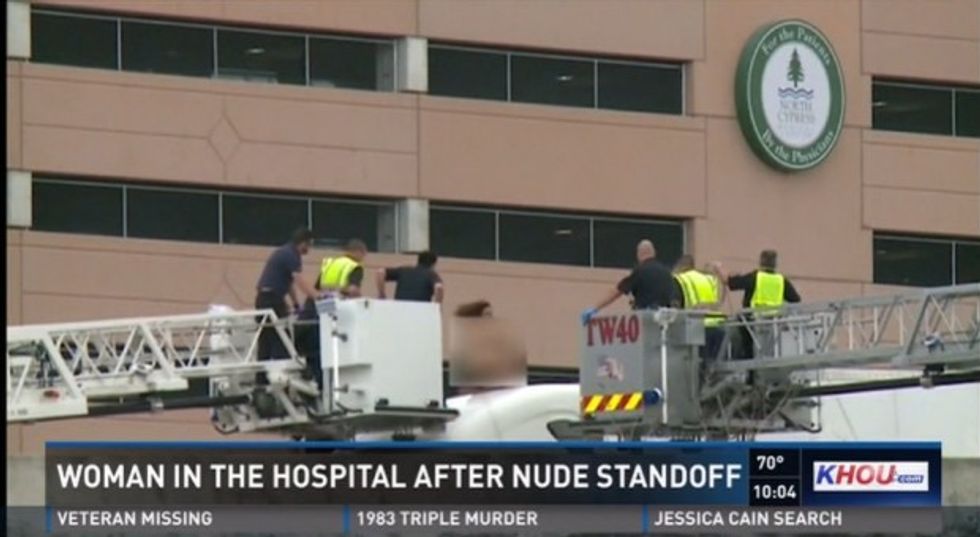 Image source: KHOU-TV
"She wasn't making any sense. A lot of times she was real quiet, but then she had outbursts about the FBI and the CIA is after her," Shirley said.
Witness Pearly Ward told KHOU that she called 911 as soon as she saw the event unfolding.
"That's the most horrific thing I've ever seen, and I'll be 68 in two days," Ward said.
While the bizarre spectacle had many commuters laughing, others like Ward felt compelled to pray for the woman's well-being.
"And I said, 'In the name of Jesus I bless you and hope things will be okay for you,'" Ward said.
"This is maybe somebody's mother, somebody's wife, somebody's child," Shirley said.
The woman was taken to an area hospital for a psychiatric evaluation. It is unclear whether she was on drugs.
(H/T: KHOU-TV)