The editorial board of the Chicago Tribune announced Wednesday that it will endorse Florida Sen. Marco Rubio to be the Republican nominee but refused to endorse either Hillary Clinton or Vermont Sen. Bernie Sanders for the Democratic nod.
Wednesday's announcement comes after the newspaper endorsed Barack Obama three times for the presidency.
The reason given for the non-endorsement was simple: economics. In the wake of the nation's mounting debt and sluggish economy, Sanders and Clinton have proposed federal spending increases that ignore "economic reality," the paper claimed.
"This being a free country, Hillary Clinton and Bernie Sanders are welcome to pander however feverishly they wish, promising vast new expenditures by a federal government already committed to wildly more spending than its taxpayers and its low-growth economy can afford," the editorial said.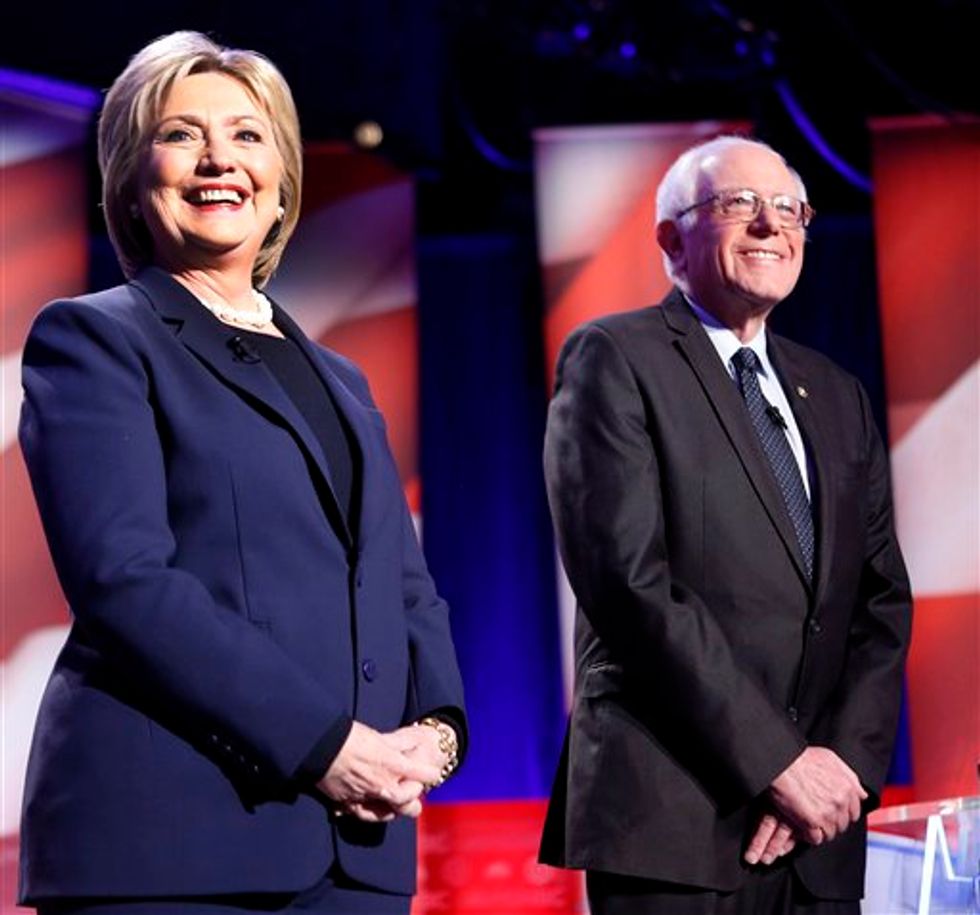 Democratic presidential candidates Hillary Clinton and Vermont Sen. Bernie Sanders (AP Photo/Jim Cole)
The piece then critiqued the Democratic candidates individually, starting with self-proclaimed socialist Bernie Sanders:
Sanders first amused Americans who know their fiscal math with proposals for free college tuition, expanded Social Security, $1 trillion in infrastructure spending, "Medicare for all" ... The nonpartisan Committee for a Responsible Federal Budget calculates that his economic plans would push the top federal tax rate to about 77 percent. And, "When state and local taxes are included, the top rate rises to an average of about 85 percent (nationwide)"
Then it was Clinton's turn to be in the hot seat. The Tribune's editorial board accused the former secretary of state of copying Sanders' policies:
If you like window-shopping at the Lamborghini dealership on Sundays, when no salespeople are around to check your credit, then you'll enjoy the bounty of Free Stuff that Clinton and Sanders promise to provide.
The editorial likened Clinton's promise of "serial diminishment during the Iowa caucuses campaign of the crisis menacing Social Security" to Republican candidate Ted Cruz, accusing her of "doing or saying anything to win this nomination."
The non-endorsement continued in an increasingly biting tone:
How the costly programs Clinton and Sanders advocate could ever get through Congress, why global bond markets would tolerate such ruinous U.S. spending, whether there are even enough wealthy Americans alive to pay the mathematically necessary taxation — hey, don't be a killjoy, look at this website! Lamborghini Beverly Hills has a blue Aventador coupe priced at $599,990!

Clinton and Sanders are smart and shrewd enough on economics to know they essentially are promising Americans whole fleets of Lamborghinis that never…will…be…built. This year, federal deficits begin a new climb that rises, every year, for as far as the Congressional Budget Office projects — to fiscal 2026.

Given the distance from economic reality that Clinton and Sanders have catapulted in their exhortations, we cannot endorse either of them in the Illinois primary election.
The Tribune was much kinder to Florida Sen. Marco Rubio:
Agree or disagree with Marco Rubio on various issues, he offers Illinois voters the framework of a presidency that realistically could exist. Hillary Clinton and Bernie Sanders have not met this fundamental economic test. We're keeping an open mind, hoping that whichever of them prevails will meet that test in the general election campaign. Because promises, pledges and policies mean nothing to a gravely indebted American government that can afford only to window-shop.

In the Republican primary contest, the Tribune endorses Marco Rubio. In the Democratic contest, no endorsement.