President Barack Obama has already begun to interview potential nominees for the Supreme Court — which includes a judge with a controversial past of defending a child predator by allegedly making a misleading argument.
Obama has begun talking to five judges who were confirmed to federal courts in recent years with bipartisan votes, National Public Radio reported. One of those contenders is Judge Jane Kelly of the U.S. Eighth Circuit Court of Appeals in St. Louis. She previously served as a federal public defender in Iowa, the home state of Senate Judiciary Chairman Charles Grassley, a Republican who has vowed to block any Obama nominee to fill the vacancy left by the death of Justice Antonin Scalia.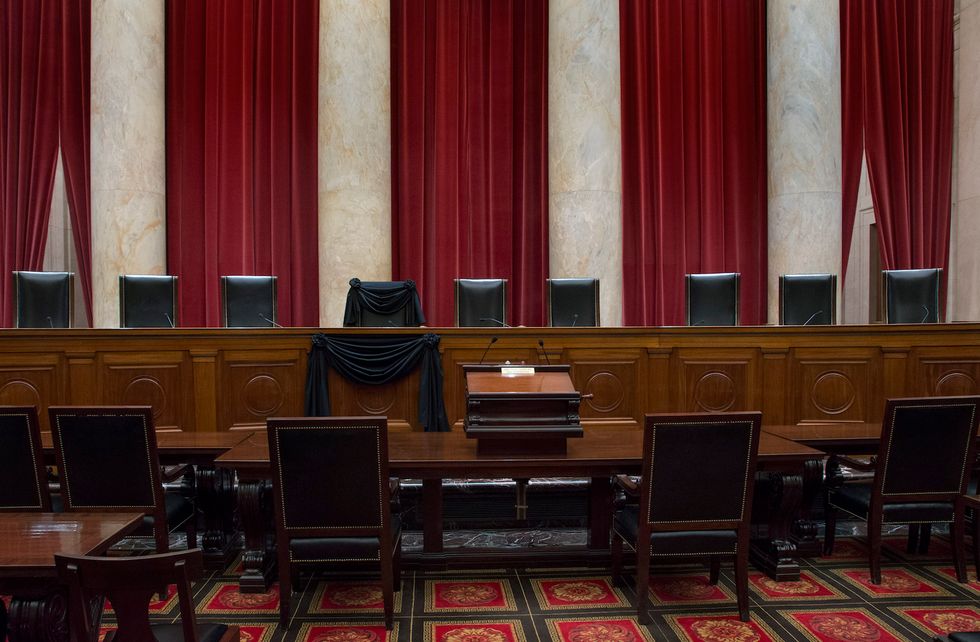 U.S. Supreme Court Associate Justice Antonin Scalia's bench chair and the bench in front of his seat were draped in black after his death. (Getty Images/Handout from Supreme Court)
As a public defender, Kelly represented Casey Frederiksen, who had been charged with child pornography in 2005 and had a prior record. Kelly reportedly "argued her client was not a threat to society." After she secured a plea deal for her client and while he was serving out his sentence, Frederikson was convicted of murder for stabbing 5-year-old Evelyn Miller and dumping her body in the river.
The Des Moines Register reported on Oct. 5, 2005:
Frederiksen's attorney, Assistant Public Federal Defender Jane Kelly, argued her client was not a threat to society. She said Frederiksen had been seeing a psychologist, who said that Frederiksen was not a danger to others.
The issue is that Kelly seemed to mislead prosecutors, said Carrie Severino, chief counsel for the Judicial Crisis Network.
"During her career as a public defender she made dangerous and false statements in saying her client was not a threat to society," Severino told TheBlaze. "This happened while there was a missing 5-year-old and an incredible amount of child porn on his computer."
Frederiksen reportedly committed the murder three months before Kelly argued that he was not a threat. Kelly arranged the plea deal where Frederiksen would serve a 14-year sentence. However, while serving that sentence, investigators found thousands of images of children stored on his computer as part of the murder investigation. He was sentenced to life in prison for the murder.
"A public defender is a great calling and everyone deserves a vigorous defense, but when you work for you client, you can't make false arguments," Severing continued. "It might be a great argument to say he was not a threat to society, but it was not true. If she didn't know about his previous record, it would have been malpractice."
The White House did not immediately respond to inquiries from TheBlaze.
On March 2, White House press secretary Josh Earnest declined to confirm to reporters whether Kelly was under consideration.
No one is arguing that Kelly knew Frederiksen was guilty of murder when she made the favorable plea deal, Severino said. However, the defense attorney was aware of his prior molestation charge.
"People are suggesting that this is an effort to manipulate Sen. Grassley, who is up for re-election this year, believing Iowans will be upset if he doesn't rubber stamp her," Severino said, adding that she didn't think it would work.
Obama nominated Kelly to the federal judgeship in January 2013 after she had served as an assistant federal public defender in the Northern District of Iowa since 1994. She is a graduate of Harvard Law and once taught at the University of Illinois College of Law.
Obama is also in the process of interviewing Chief Judge Merrick Garland and Judge Sri Srinivasan, both of the U.S. Court of Appeals for the District of Columbia; Judge Paul Watford of the U.S. Ninth Circuit Court of Appeals based in San Francisco; and U.S. District Judge Ketanji Brown Jackson for the District of Columbia, NPR reported. NPR framed both Kelly and Jackson as longer shots than the other judges.