Super Tuesday Two didn't so much signal a great victory for business mogul Donald Trump, who walked away with a win in three out of four states, as much as it was a distress call for Florida Sen. Marco Rubio's campaign.
Rubio finished in third-place in two GOP presidential primaries Tuesday and in last-place in the other two. And it wasn't only his lackluster finishes that signaled a sign of distress; Rubio failed to pick up any delegates in the three states with a threshold.
There were 150 delegates at stake Tuesday night, and they will largely be split among Trump, Texas Sen. Ted Cruz and Ohio Gov. John Kasich. Kasich, too, failed to win an entire state, but he did obtain at least 17 delegates Tuesday by the time Hawaii's polls had closed and news of another Trump win hit.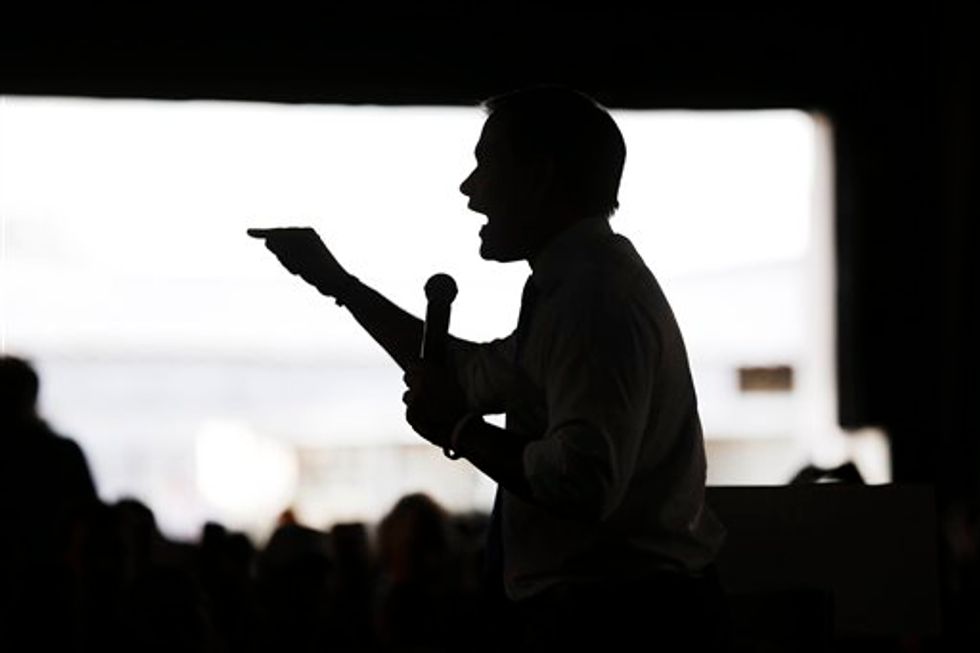 Republican presidential candidate, Sen. Marco Rubio, R-Fla., speaks during a campaign rally in Sarasota, Fla., Tuesday, March 8, 2016. (AP Photo/Paul Sancya)
Trump's sole loss Tuesday came in Idaho as the state went to Cruz. There, as well as in Mississippi and Michigan, Rubio failed to meet the threshold of votes in order to receive any delegates. 
According to a memo from the Republican National Committee, Hawaii's 19 delegates are divvied up among the GOP candidates proportionally with no threshold — giving Rubio a chance to pick up some much-needed delegates.
As Trump had already been declared the winner of Hawaii, Rubio appeared to be in a distant third-place to Cruz.
Even before Rubio was dealt the losses, Edward Rollins, a Republican campaign consultant, said that Rubio "certainly [has] not been an effective candidate," during an interview on Fox News Tuesday evening.
"There's no place for him to go, even if he wins his state, which I don't think he will, it's going to be a very close race and there's no place for him to go after that. There's no support," Rollins said.
He added that Rubio "has absolutely failed now as a candidate."
CNN reported that while Rubio has staunchly promised that he is in the race to win it, his advisors are urging that he suspend his campaign before his home state's March 15 primary.
Alex Conant, Rubio's spokesman, has strongly denied any such internal conflict in the campaign.
Rubio, with a massive support system of fellow senators and other lawmakers, insisted he would press on to his home state's primary in Florida next Tuesday.
"It has to happen here, and it has to happen now," Rubio told supporters during a rally in Sarasota.
Florida's contest, as well as Ohio's which is on the same day, is a winner-take-all scenario for the state's delegates.
If Rubio and Kasich can't win at home, the GOP primary appears set to become a two-person race between Trump and Cruz. The Texas senator is sticking close in the delegate count, and with seven states in his win column he's argued he's the only candidate standing between the brash billionaire and the GOP nomination.
As Hawaii's projections came in, Trump leads the GOP presidential contenders with 446 delegates followed by Cruz with 347, Rubio with 151 and Kasich with 54.
Thus far, Minnesota is the only state that Rubio has won. He has also won the U.S. territory of Puerto Rico.
The Associated Press contributed to this report. 
 —
Follow Kaitlyn Schallhorn (@K_Schallhorn) on Twitter