President Barack Obama said he cannot be blamed for the rise of Republican presidential front-runner Donald Trump.
"I've been blamed by Republicans for a lot of things, but being blamed for their primaries and who they are selecting for their party is novel," Obama said Thursday during a Rose Garden news conference with Canadian Prime Minister Justin Trudeau.
Obama was asked if his polarizing administration was responsible for Trump — or even the protectionist rhetoric in the Democratic presidential primary. Obama, instead blamed talk radio and various other unnamed media outlets.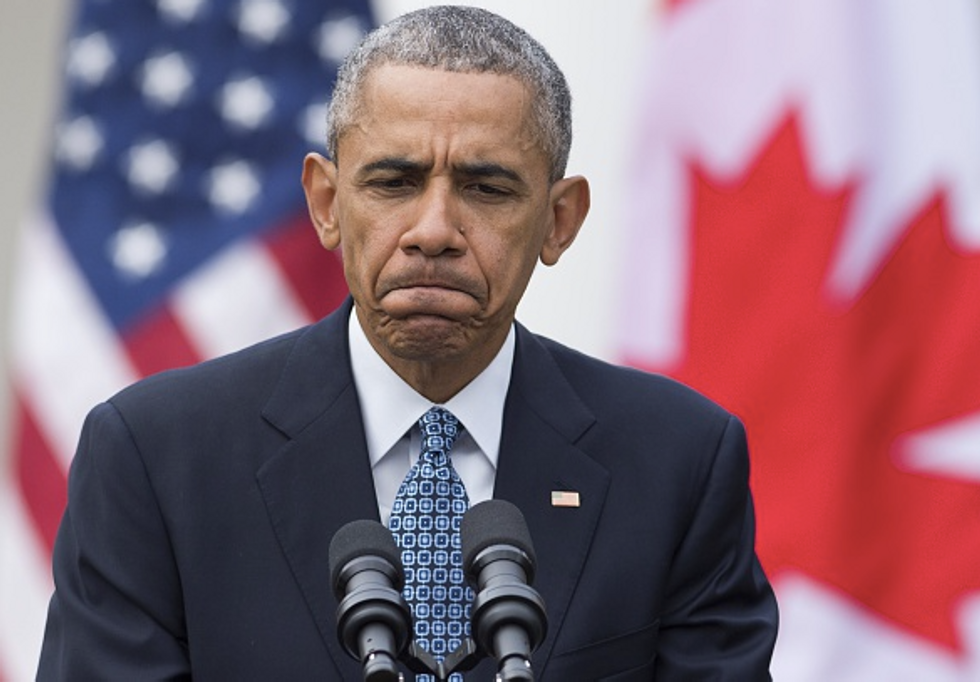 President Barack Obama speaks during a press conference with Canadian Prime Minister Justin Trudeau in the Rose Garden of the White House in Washington, D.C., Thursday.  (Saul Loeb/AFP/Getty Images)
"Objectively, it's fair to say, that Republican political elites and many information outlets — social media, news outlets, talk radio, television stations — have been feeding the Republican base for the last seven years a notion that everything I do is to be opposed, that maximalist, absolutist positions on issues are politically advantageous, that there is a 'them' out there and an 'us,'" Obama said. "The 'them' are causing whatever problems. The tone of that politics, which I certainly haven't contributed to. I don't think I was the one to prompt questions about my birth certificate. I didn't say why don't you question whether I'm an American or whether I'm loyal."
"What you're seeing in the Republican Party is all those efforts, over the course of time, creating an environment where somebody like a Donald Trump can thrive," Obama continued. "He's just doing more of what has been done for the last seven and a half years."
Obama said Trump is more "provocative" about his position on immigration but not really that much different from other Republican candidates, adding, "In fact, his positions on a whole range of issues, they are not very different from any of the other candidates."
"I'm not going to validate some notion that the Republican crackup that is taking place is a consequence of actions I've taken," the president said.
Obama said the Republican party should engage in introspection.
"I think it is very important for them to reflect on what it is about the politics they've engaged in that allows the circus we've been seeing transpire," Obama said. "Ultimately, I want an effective Republican Party. This country has to have responsible parties that can govern."
The question of Obama's role in Trump's rise stemmed from several accusations from anti-Trump forces on the right, including former Louisiana Gov. Bobby Jindal, a onetime GOP presidential candidate, who wrote in the Wall Street Journal that Obama created Trump. The Journal's own Pulitzer Prize-winning columnist Daniel Henniger also wrote that Obama's policies are responsible for both Trump and insurgent candidate Vermont Sen. Bernie Sanders in the Democratic presidential primary.