When it comes to which Republican presidential candidate has the best chance of beating GOP front-runner Donald Trump in Ohio's Tuesday primary, it's not Florida Sen. Marco Rubio, Rubio's own communications director said Friday.
Alex Conant, Rubio's campaign spokesman, told CNN Friday morning that as Florida is a winner-take-all state when it comes to delegates, Republican voters who may not like Rubio but don't want Trump to win the nomination should still cast their vote for the Floridian.
CNN's John Berman pressed Conant on if that same logic with Florida could be applied to Gov. John Kasich in Ohio. Conant agreed.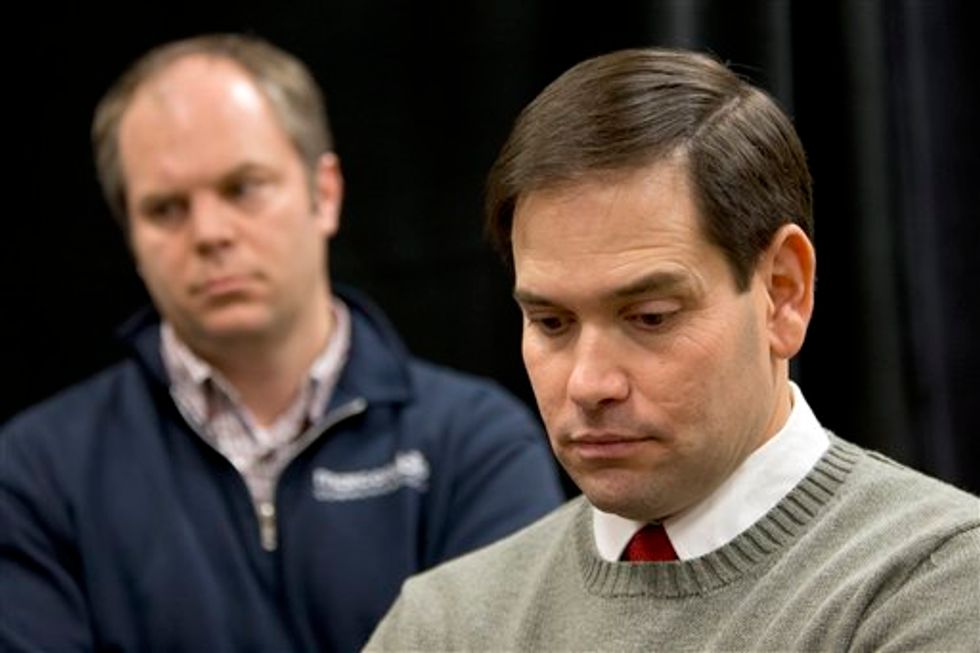 Republican presidential candidate Sen. Marco Rubio (Fla.) is joined by his communications director Alex Conant. (AP Photo/Mary Altaffer)
"There's no question that John Kasich has the best chance to beat Donald Trump in Ohio," Conant said.
"I'm just stating the obvious that John Kasich is the one person who can beat Donald Trump in Ohio just like Marco Rubio is the one person that can beat Donald Trump here in Florida," he continued. "So if you're a voter and Marco Rubio is not necessarily you're first choice, if you like John Kasich or you like Ted Cruz and you're here in Florida, you need to vote for Marco Rubio because he's the only one who can deprive Donald Trump of those 99 delegates. If we can stop Donald Trump here in Florida, we can stop him in Cleveland, and he will not be our nominee."
However, Kasich's spokesperson did not seem to want to bestow the same accolades on Rubio.
Kasich spox Rob Nichols on Rubio news: "We were going to win in OH without his help, just as he's going to lose in FL w/o ours"

— Kathleen Ronayne (@kronayne) March 11, 2016
Conant told CNN that the Rubio campaign has been "100 percent focused" on Florida over the past two weeks.
Both Florida and Ohio will hold primaries on March 15 and delegates will be awarded on a winner-take-all basis. According to Real Clear Politics' aggregated polling data, Trump is leading Rubio by 14.7 points in Florida just a few days ahead of the primary. In Ohio, Trump is only ahead by 2.5 points.
Watch Conant's remarks on CNN below.
—
Follow Kaitlyn Schallhorn (@K_Schallhorn) on Twitter