Democratic presidential candidate and Vermont Sen. Bernie Sanders appeared on ABC's "This Week" Sunday morning to discuss allegations that he organized protesters for Friday's would-be Trump rally in Chicago.
Sanders called the accusations "totally untrue."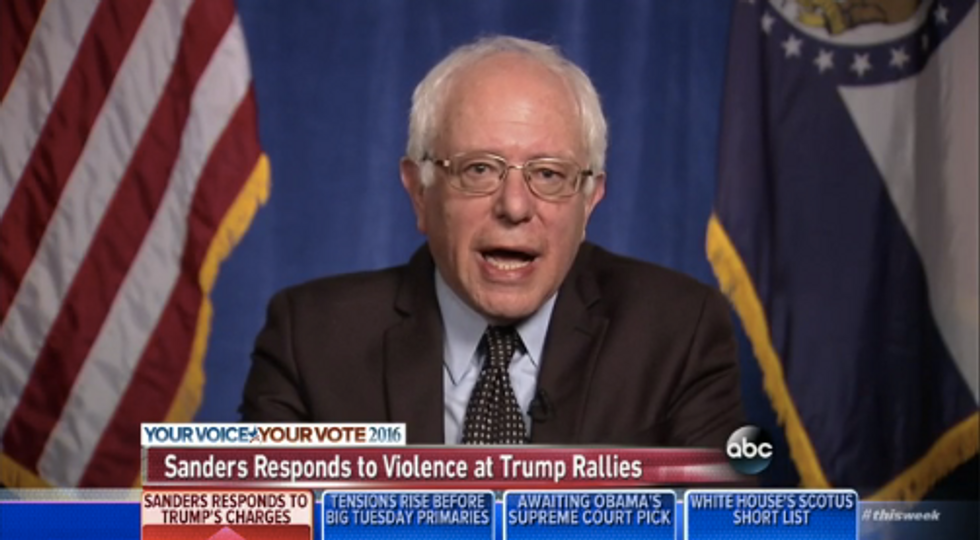 Image via Twitter/This Week
"I think anybody understands Mr. Trump's campaign knows that he tells the truth very very rarely," he said. "And I'm afraid that on this occasion he's lying again."
After Trump cancelled the Friday rally amidst an onslaught of violent protests, the Republican front-runner took to Twitter and voiced his suspicions that Hillary Clinton and Sanders' people were behind the upset:
It is Clinton and Sanders people who disrupted my rally in Chicago - and then they say I must talk to my people. Phony politicians!

— Donald J. Trump (@Donald J. Trump)1457807805.0
The last person that Hillary or Bernie want to run against is Donald Trump --- and that is fact!

— Donald J. Trump (@Donald J. Trump)1457807096.0
Two days later Trump reasserted his claims on Twitter and during an interview on "Fox News Sunday":
Bernie Sanders is lying when he says his disruptors aren't told to go to my events. Be careful Bernie, or my supporters will go to yours!

— Donald J. Trump (@Donald J. Trump)1457869724.0
.@realDonaldTrump: The Chicago protesters were professionals. #FNS

— FoxNewsSunday (@FoxNewsSunday)1457874435.0
"We have millions of supporters out there," Sanders said Sunday. "Many of them were at that rally, along with many many other protestors. But to say that we organized that — totally untrue."
Watch:
WATCH: @BernieSanders says @realDonaldTrump's claim he organized protesters at Trump rally is "totally untrue." https://t.co/ZaGeKnEZ11

— This Week (@ThisWeekABC) March 13, 2016