Fox News is cancelling their upcoming Republican presidential debate, which was slated to take place Monday in Salt Lake City, after GOP front-runner Donald Trump and Ohio Gov. John Kasich announced their intentions to skip the debate.
Fox's Salt Lake affiliate, KSTU-TV, first reported the news after a representative for the Salt Palace Convention Center — the debate's proposed venue — confirmed that the debate was no longer scheduled to take place at the site.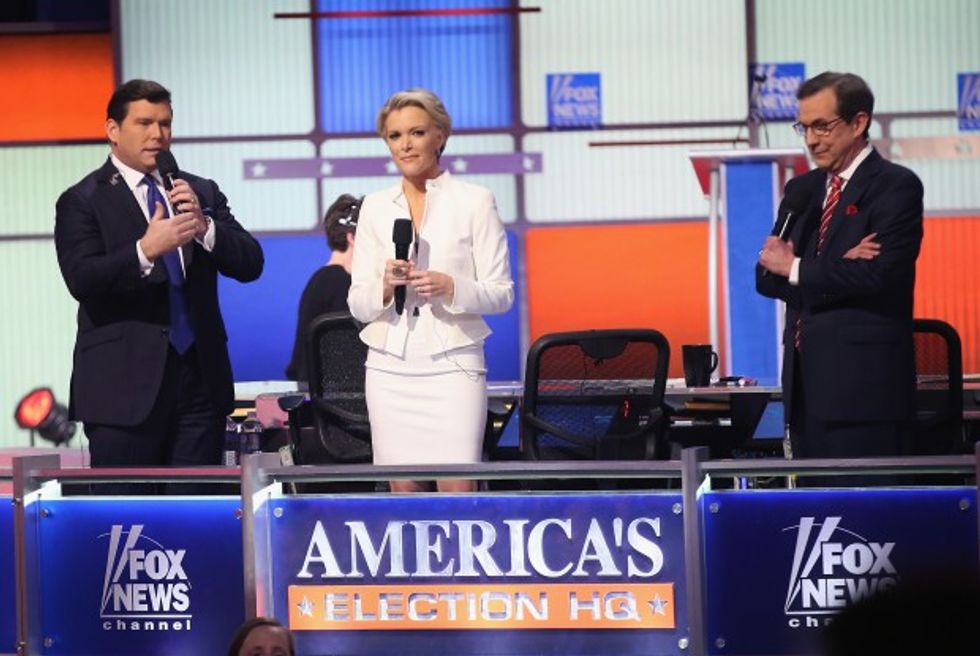 Bret Baier, Megyn Kelly and Chris Wallace are introduced at the GOP presidential debate sponsored by Fox News at the Fox Theatre March 3 in Detroit. (Getty Images/Scott Olson)
According to the affiliate, Fox News told the convention center they were cancelling the debate.
Trump announced on Fox News' "Fox and Friends" Wednesday morning that he would not be attending the debate, citing a pre-scheduled "major speech" to the American Israel Public Affairs Committee.
"I thought the last debate on CNN was the last debate, that was going to be it. Nobody told me there were going to be more debates" the billionaire said. "I think we've had enough debates."
Just an hour later, a spokesman for Kasich announced via Twitter that if Trump was skipping the debate, then the Ohio governor would as well — leaving Texas Sen. Ted Cruz on the debate stage alone.
Fox News' Gretta Van Susteren also posted the news on Facebook:
In a statement, FOX News Channel's executive vice president of news Michael Clemente confirmed the debate's cancelation.
"On Feb. 20, the Republican National Committee announced that a GOP presidential primary debate would be held on March 21 in Salt Lake City," Clemente said. "They offered that debate to Fox News Channel to host, provided there were enough candidates actively campaigning. This morning, Donald Trump announced he would not be participating in the debate. Shortly afterward, John Kasich's campaign announced that without Trump at the debate, Kasich would not participate. Ted Cruz has expressed a willingness to debate Trump or Kasich -- or both. But obviously, there needs to be more than one participant. So the Salt Lake City debate is cancelled."
Following the CNN debate on March 10, Trump told Chris Cuomo that "I think they want to do two more debates, and I guess I'm pretty much okay with it."
This post has been updated.
—
Follow the author of this story on Twitter and Facebook:
[facebook //www.facebook.com/plugins/like.php?href=