Israeli Prime Minister Benjamin Netanyahu on Sunday said that the fight against terrorism isn't only a military issue, but a "moral struggle." His statement came one day after a suicide bomber killed at least four tourists in the Turkish city of Istanbul. The Turkish government on Sunday said that the bomber had links to the Islamic State group.
Among the dead were three Israelis, two of whom also held U.S. citizenship, according to Israeli and U.S officials. The fourth fatality was an Iranian, news agencies reported.
"Terrorism sows death around the world. Israel is at the forefront of the fight against global terrorism," Netanyahu told his cabinet ministers Sunday, according to a transcript released by his office.
"This struggle is first of all military, but no less is it a moral struggle. The key to the moral fight against terrorism is to make it clear that terrorism, the murder of innocents, has no justification anywhere – not in Istanbul or the Ivory Coast or Jerusalem. Whoever does not condemn terrorism, supports terrorism," the Israeli leader said.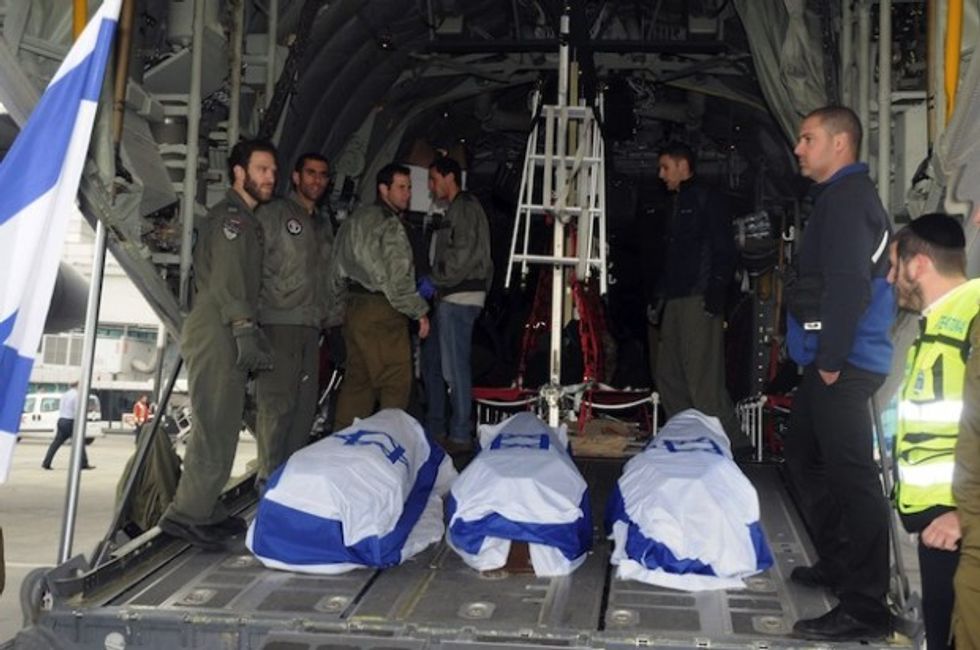 Israeli soldiers and medics load the bodies of three Israeli into a military plane at Ataturk Airport, in Istanbul, Sunday, March 20, 2016. A suicide attack on Istanbul's main pedestrian shopping street Saturday killed three Israelis, including two dual nationality Israeli-Americans, and one Iranian citizen, and wounded several dozen others, in the sixth suicide bombing in Turkey in the past year. (AP Photo)
Israel has faced nearly daily Palestinian stabbings and other attacks since September. Netanyahu has repeatedly blasted Palestinian Authority President Mahmoud Abbas for failing to condemn those attacks and has blamed him for fueling the violence by rewarding the families of attackers.
New videos purporting to show the moment the attacker detonated the bomb on a major Istanbul street were posted on social media. TheBlaze is unable to independently authenticate the videos.
New clear video for suicide bomb attack in İstiklal street #Istanbulpic.twitter.com/4wiCByKtLC

— Asım Tan (@GidaAnalisti) March 19, 2016
Turkey's Interior Minister Efkan Ala on Sunday identified the bomber as Mehmet Ozturk, a 24-year-old Turkish citizen with links to the Islamic State, CNN reported.
One survivor of the attack said the bomber "just exploded on us."
Naama Peled told Israel's Walla website that she was on a culinary tour of Turkey when the bombing occurred.
"We were a group of Israelis on a tour; he just exploded on us," Peled said, according to the Times of Israel.
"We were sitting in a restaurant and then the bomber came in and there was an explosion," Peled told Ynet.
"I saw the terrorist with my own eyes. It is hard for me to talk. I don't know what happened to everyone and there are a lot of friends that I cannot find," she said.