The Donald Trump supporter who was caught on video punching and kicking a protester at the Republican presidential candidate's Saturday Arizona rally has been charged with assault.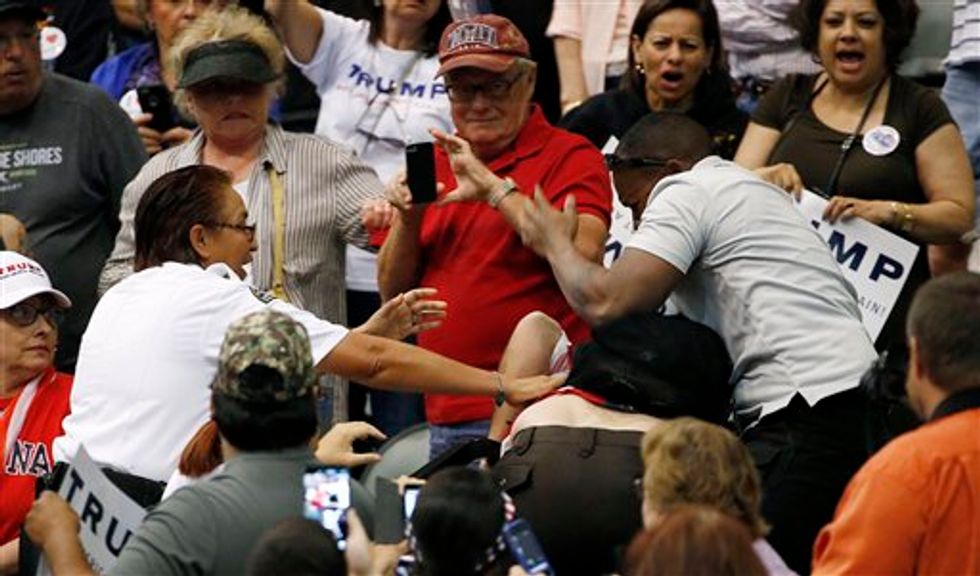 A supporter of Republican presidential candidate Donald Trump, right, scuffles with an anti-Trump protester, as security, left, intervenes as Trump was speaking at a campaign rally Saturday, March 19, 2016, in Tucson, Ariz. (AP Photo/Ross D. Franklin)
The Trump supporter, who has been identified by the Tucson Police Department as Tony Pettway, 32, was arrested following the scuffle at the rally in Tucson, Arizona, and charged with the misdemeanor before his release, according to ABC News.
The incident began when Pettway spotted an anti-Trump protester at the rally who was carrying a sign that read, "Trump is bad for America." The protester, who has been identified as 33-year-old Bryan Sanders, was wearing an American flag shirt as law enforcement officers were escorting him outside the rally. Video footage shows Pettway reaching over and grabbing the protester's sign before punching him and kicking him. Pettway could then be seen as he was escorted from the rally in handcuffs.
VIOLENCE at another Donald Trump rally, this time in Tucson, AZ. Man hits and kicks protester: https://t.co/7FWuSeE0Jt

— Frank Thorp V (@Frank Thorp V) 1458427648.0
"I feel great that I'm not dead, but I am definitely in physical pain," Sanders told the New York Daily News, adding that he suffered a swollen jaw and bruised ribcage from the encounter with Pettway.
This incident does not mark the first time that violence has occurred at a Trump rally. A Chicago rally on March 11 witnessed multiple physical altercations.
—
Follow Kathryn Blackhurst (@kablackhurst) on Twitter