Republican presidential candidate Ted Cruz wrote in an op-ed in the Jerusalem Post that the U.S. and Israel are allied against radical Islamic terrorism and that there is no moral equivalence between terrorists and Israel.
The Texas senator also argued in favor of continued U.S. defense aid to Israel, because "our investment in Israel's security pays dividends for the United States as well."
Cruz penned his piece in advance of speeches by the major presidential candidates at the American Israel Public Affairs Committee's Washington conference this week.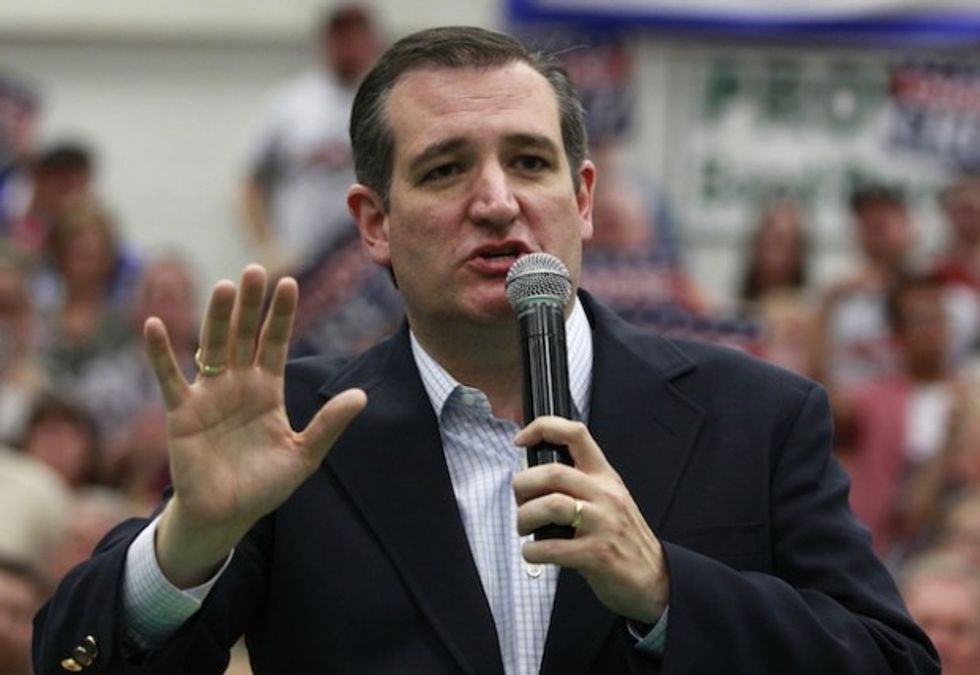 Republican presidential candidate Sen. Ted Cruz (Texas) speaks at a campaign rally in Provo, Utah. (George Frey/Getty Images)
AIPAC announced last week that Cruz, Donald Trump and Hillary Clinton had accepted invitations to speak at its annual gathering.
The Republican candidate placed blame for a Palestinian stabbing attack this month that killed Texas native Taylor Force — a graduate student and U.S. Army vet — squarely with "relentless" Palestinian incitement to violence, echoing a position long held by the Israeli government, which has asserted that the Palestinian Authority and Palestinian social networks fuel violence by glorifying and rewarding terrorists and their families.
"Influenced by the relentless campaign of incitement that has fostered genocidal hatred toward Jews in generations of Palestinians, all he cared about was stabbing as many civilians as possible," Cruz wrote. "The brutal murder of Taylor Force is yet another tragic reminder that the United States and Israel are in the fight against radical Islamic terrorism together."
"The terrorists, including those who glorify, encourage, sponsor and refuse to condemn such attacks are the problem, which is why there is no moral equivalence between them and Israel," Cruz wrote.
Cruz blasted the argument that if the U.S. were "just to abandon Israel the terrorists would stop hating us."
"[T]hese apologists for terrorism miss the reality that if the enemy succeeded in wiping Israel off the map — as the Islamic Republic of Iran threatened to do the day after Force was murdered — they would not stop there. This is not a simple matter of geography, and the hateful ideology fueling these attacks does not respect borders," Cruz wrote.
Cruz compared technological advances in anti-missile systems jointly developed by the U.S. and Israel to former President Ronald Reagan's Strategic Defense Initiative, often credited with helping to bring down the Soviet Union.
The anti-missile systems including the Iron Dome, David's Sling and Arrow-3 for longer-range missiles may similarly combat terrorism in the spirit that Reagan's SDI worked against the Soviets, Cruz argued.
"The system Israel is implementing now with the assistance of the U.S. can fill a similar role in defeating the radical Islamic terrorists we face in 2016 — from Hamas to Iran," Cruz wrote. "Just as the combination of economic pressure and the demands of trying to keep up with the Reagan-era military build up including SDI brought down the USSR, a modern version of this peace through strength policy, implemented by a new president in concert with Israel, might achieve similar results against our enemies."
Cruz criticized President Barack Obama for not fully appreciating the strategic value of U.S.-Israel relations.
"While President Barack Obama has not demonstrated the same appreciation for the strategic value of the US-Israel friendship that president Reagan had, there is every reason to expect that the American voters will be selecting a new commander-in-chief who will revitalize the alliance and understand that our investment in Israel's security pays dividends for the United States as well," Cruz wrote.