Two Palestinian teenage girls, ages 14 and 16, wielding scissors stabbed two men in Jerusalem's main market, Mahane Yehuda, Monday, the latest violent Palestinian assault in the wave of terrorism gripping Israel.
Israeli media reported that the girls' victims were a 25-year-old Jewish man and a 70-year-old Palestinian man from Bethlehem. It is unclear if the girls knew the older man was Palestinian or mistook him for an Israeli. Magen David Adom first responders told the Jerusalem Post that the elderly man was wounded in his head and back.
One assailant was shot dead and the other wounded by a police officer who happened to be in the area, police said.
Security camera video from the scene at the Jerusalem market appeared to show the girls – wearing school uniforms and Muslim headscarves – coming toward the security guard and police officer whose guns were extended. A civilian could also be seen using a chair to subdue one of the attackers.
Israel's state broadcaster, Channel 1 news, shared the video:
תיעוד הפיגוע בירושלים: 2 המחבלות במסע הדקירות עד שנוטרלו. pic.twitter.com/9Ig2LrnRGx

— הערוץ הראשון (@Channel1Iba) November 23, 2015
Israel Police said in a statement posted on Facebook, "The terrorists tried to stab other passersby, but a police sapper finishing up a job nearby identified the terrorists, jumped from his car with his gun drawn and called on the two to stop and drop the scissors."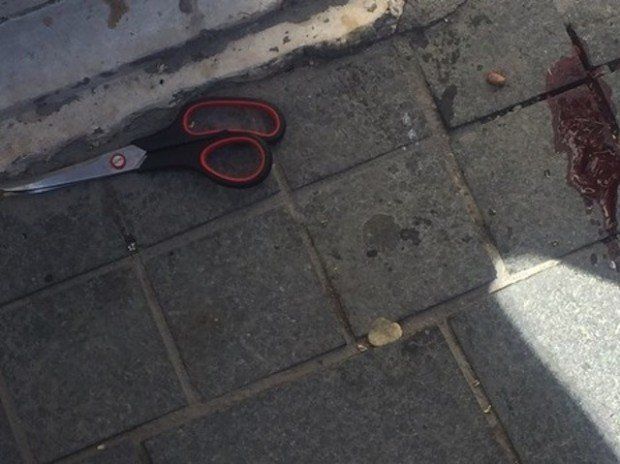 Israeli police said the Palestinian teenagers used this pair of scissors in a stabbing attack in Jerusalem. (Photo: Israel Police)
Screams and a gunshot could be heard in video captured at the scene.
השניות הראשונות לאחר הפיגוע ברח' יפו, 2 מחבלות חמושות במספריים דקרו גבר ופצעו אותו קל, מאבטח ביצע ירי וחיסל אחת מהן pic.twitter.com/uGXAYxztl5

— אלי שלזינגר (@leizersh) November 23, 2015
"The terrorists did not heed his call and moved toward him. The officer shot them and neutralized them," the police statement added.
A 27-year-old Israeli man sustained a gunshot wound in his hand and was likely accidentally hit by the police officer's fire, the Jerusalem Post reported.
Ofir Gendelman, Israeli Prime Minister Benjamin Netanyahu's spokesman for the Arabic media blamed Palestinian Authority incitement for encouraging teens to attack Israelis.
The 2 Palestinian female terrorists who stabbed people in Jerusalem today are only 14 and 16 year olds. That's the result of PA incitement.

— Ofir Gendelman (@ofirgendelman) November 23, 2015
Monday's violence came a day after three Palestinian terrorists carried out attacks on Israelis. In one of the incidents, a 21-year-old Israeli woman was killed. One of the perpetrators of the Sunday attacks was a 16-year-old Palestinian schoolgirl who said she wanted to be a "martyr" and donate her organs.
And in a separate attack Monday, an Israeli man was stabbed to death by a Palestinian assailant at a gas station north of Jerusalem.