Rolling Stones legendary guitarist Keith Richards reportedly threatened Donald Trump nearly 30 years ago after the billionaire businessman showed up at a concert that he wasn't invited to.
The legendary band needed someone to pay millions of dollars before they could play a concert in Atlantic City, New Jersey, in 1989. The only person willing to pony up that much cash was none other than Trump, Vanity Fair reported.
Donald Trump on the set of NBC's "The Apprentice." (AP Photo/NBC Universal, Virginia Sherwood)
But Stones tour producer Michael Cohl and the band didn't want to be associated with Trump. The band went ahead and took the billionaire's money, with the stipulation that he wouldn't be in any of the promotional material for the show or attend the event.
One evening, just an hour before the Rolling Stones were set to do a live national TV interview to promote the concert, Cohl was asked to go into the press room in the building next door. As it turned out, Trump was there getting ready to hold a press conference, despite reportedly promising not to show up.
Cohl exchanged words with Trump while trying to get him to leave, but Trump refused to go. Moments later, the band called Cohl back to the venue. That's when Richards pulled out his knife and slammed it on the table.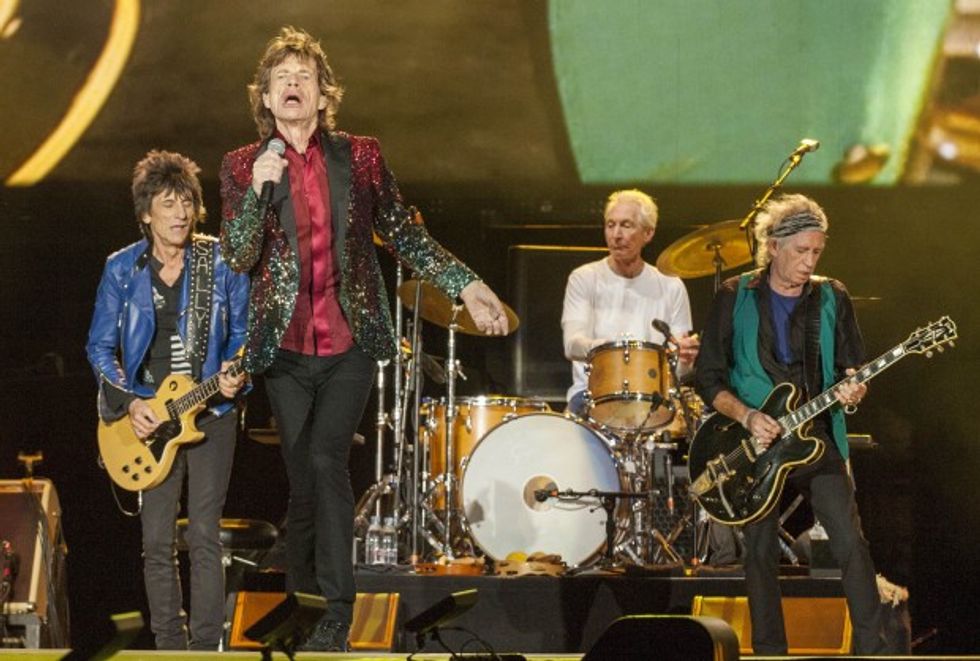 From left, Ronnie Wood, Mick Jagger, Charlie Watts and Keith Richards of the Rolling Stones perform in Quebec. (Barry Brecheisen/Invision/AP)
"What the hell do I have you for? Do I have to go over there and fire him myself? One of us is leaving the building — either him, or us,'" Cohl recalled Richards saying during the incident.
"I said, 'No. I'll go do it. Don't worry,'" Cohl remembered. He went back to Trump and told him the band wouldn't play until he left. The billionaire resisted at first but finally departed after being confronted by about 40 security guards.
More recently, Richards has made no secret of his feelings about Trump as a presidential candidate.
"Can you imagine President Trump? The worst nightmare. But we can't say that. Because it could happen. This is one of the wonders of this country," Richards said last year, according to Vanity Fair.
(H/T: Daily Mail)
–
Follow the author of this story on Twitter and Facebook: