Glenn Beck slammed President Barack Obama Tuesday for his trip to Cuba, claiming that the president is "buddies" with Cuban dictator Raul Castro and that Obama "believes in communism."
Beck's comments came in response to Obama's reply to Castro's criticism of the United States' record on human rights during a joint press conference Monday. The Cuban dictator said he finds it "inconceivable that a government does not defend and secure the right to health care, equal pay and the rights of children."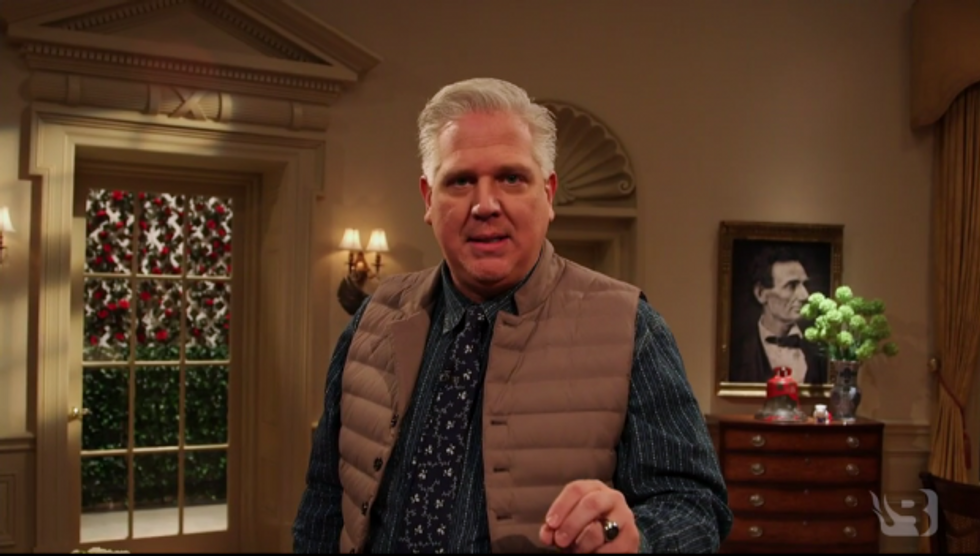 Glenn Beck discusses President Barack Obama's meeting with Cuban dictator Raúl Castro during The Glenn Beck Radio Program Tuesday. (Image: TheBlaze TV)
In response, Obama said, "In [Castro's] view, making sure that everybody is getting a decent education or health care, has basic security in old age, that those things are human rights as well. I personally would not disagree with him."
According to Beck, those things "are not human rights."
"Mr. President, what you don't understand is the Constitution and the Declaration of Independence," Beck said. "All men are created and endowed by their creator with certain unalienable rights, among these life, liberty, and the pursuit of happiness."
"When God sends me a teacher — and comes out of the womb with a teacher for every child — then God is giving us the right to education," he continued. "Rights come from God. Rights do not come from the government. That's the difference between communism and constitutional America."
At the end of Monday's presser, Castro reached over and raised Obama's arm, seemingly attempting to show solidarity between the two leaders, though the exact intent is unclear. However, Obama allowed his arm to fall limp rather than join in the gesture.
That awkward moment between Obama & Castro pic.twitter.com/zUbac7lMt0

— Brian Ries (@moneyries) March 21, 2016
Beck believes that is the moment Obama's "mask came off" and he showed that he "is a Marxist."
"Castro in his space, reaching over and grabbing his arm, showing I have control of this guy — we are one with another," Beck said. "His mask came off. He's a Marxist. He believes in communism."
"But Barack Obama knew, 'I can't show that to people,'" Beck added. "And he became a puppet of a communist dictator."
Complimentary Clip from TheBlaze TV The full episode of The Glenn Beck Program, along with many other live-streaming shows and thousands of hours of on-demand content, is available on just about any digital device. Click here to watch every Glenn Beck episode from the past 30 days for just $1!
—
Follow the author of this story on Twitter: