The owner of a Mexican restaurant in Arizona says she and her husband were called racists and other vulgar names after she was seen on stage alongside Republican presidential hopeful Donald Trump at a recent rally in Tucson.
Betty Rivas, who was holding a sign that read "Latinos support D. Trump," was called up on stage by the billionaire businessman. But soon after her public appearance, Rivas' business, Sammy's Mexican Grill in Catalina, Arizona, started getting racist and vulgar threats.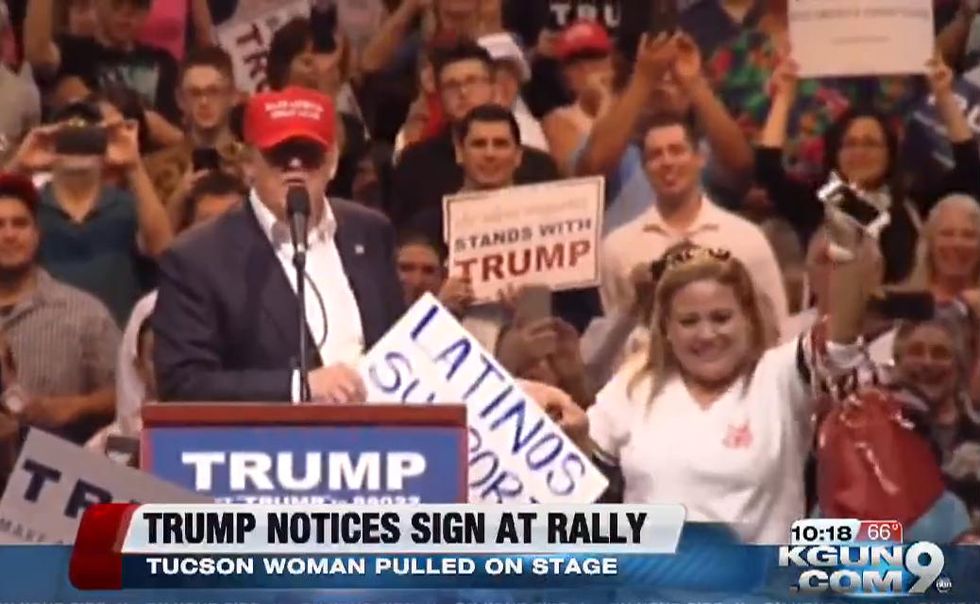 Image source: KGUN-TV
Rivas had posted a photo of herself at the event on her Facebook page, capturing the attention of those who do not support Trump for president. Ironically, Rivas hasn't even made up her own mind about which candidate to support, acknowledging that she took a similar sign to a rally for Democratic candidate Sen. Bernie Sanders (Vt.).
But after receiving a number of threats, the restaurant owner and her husband, Jorge, got quite the surprise.
"At 7:00, my husband called me and said, 'You need to come in and I said, ' Why?'" Rivas told KGUN-TV. Rivas said she thought it was something bad, but when she got there, she discovered something very positive.
The business was being flooded with people coming out to support Rivas and her First Amendment rights. In fact, the couple's phones were ringing off the hook because of people calling in and placing their orders.
And that's not to mention the crowd of people already at the restaurant showing their support.
"We just wanted to come by today — more or less — to just show our support that America still exists. People have the right say what they want to say without being threatened," Rhonda Mikuski said.
"I don't want her to fail because some people ... are meaning to shut free speech down," Harry Edmondson explained.
Despite all that's happened, Rivas said she has no regrets.
"I haven't done anything wrong. I have the right to say what I'm thinking. I can go listen to Hillary; I can go listen to Donald Trump or Bernie Sanders, because I'm within my right," Rivas said. "I didn't do anything wrong."
(H/T: KGUN-TV)
–
Follow the author of this story on Twitter and Facebook: