Democratic presidential candidate Hillary Clinton is ready to share some secret government files — on Area 51.
During an interview on ABC's "Jimmy Kimmel Live" Thursday night, Clinton made the vow that, as long as there wasn't anything in the files that would threaten national security, she would release them as president.
"I would like us to go into those files, and hopefully make as much of that public as possible," Clinton said. "If there's nothing there, let's tell people there's nothing there."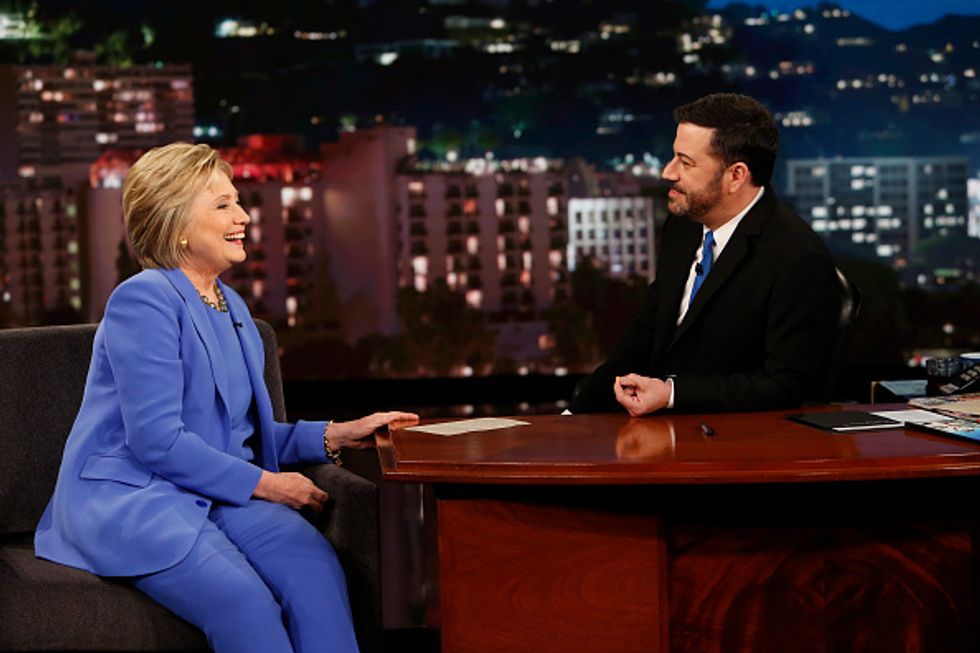 Democratic presidential candidate talks with Jimmy Kimmel on ABC's "Jimmy Kimmel Live" Thursday. (Getty Images/Randy Holmes)
She continued, "If there is something there, unless it's threat to national security, I think we ought to share it with the public."
Kimmel noted that former President Bill Clinton had already looked into the files pertaining to Area 51 and didn't seem to find anything, to which Hillary Clinton responded with the promise that she would "do it again."
Clinton's Thursday night appearance on Kimmel's talk show wasn't the first that the former first lady delved into the world of aliens and UFOs. During a meeting with the Conway Daily Sun editorial board in December, Clinton promised the New Hampshire newspaper staff that she would look into the secret military base in Nevada known as Area 51.
As for aliens, she told the Daily Sun, "I think we may have been (visited already). We don't know for sure."
—
Follow Kaitlyn Schallhorn (@K_Schallhorn) on Twitter