Two big-name progressives have come out swinging for Democratic hopeful Sen. Bernie Sanders (Vt.).
Perennial presidential candidate Ralph Nader blasted Democratic presidential front-runner Hillary Clinton and said the "contrast couldn't be greater" with Sanders, the self-described democratic-socialist.
And Massachusetts Democratic Sen. Elizabeth Warren also said she is "cheering Bernie on." However, she didn't go so far as to endorse her Senate colleague.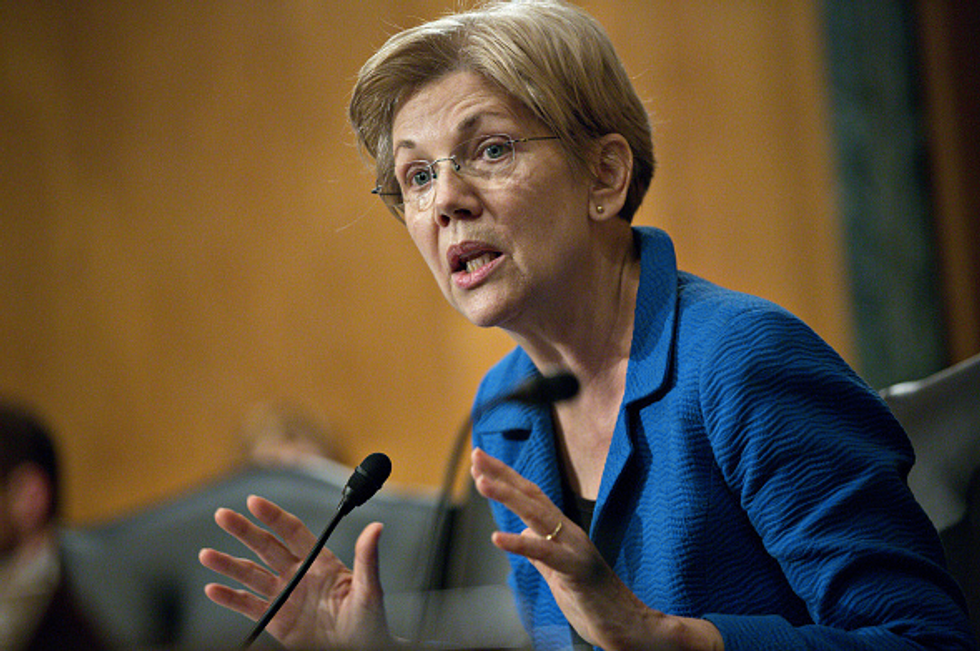 Sen. Elizabeth Warren (D-Mass.) speaks during a Senate Banking Committee hearing in Washington, D.C. (Andrew Harrer/Bloomberg via Getty Images)
Sanders is well behind Clinton in the delegate count but won two states — Idaho and Utah — Tuesday and is expected to win additional states before the primary season is over. So, the words from two progressive icons could serve as a boost going forward.
When Warren, known for her anti-Wall Street populist rhetoric, turned down calls to challenge Clinton for the Democratic nomination, most of her supporters went to Sanders. She was asked Thursday if Sanders should drop out, the Associated Press reported.
"He's out there. He fights from the heart. This is who Bernie is," Warren said. "He has put the right issues on the table both for the Democratic Party and for the country in general, so I'm still cheering Bernie on."
Warren wouldn't say whom she voted for in the Massachusetts primary.
Nader — who attracted intense progressive support when he was the Green Party presidential candidate in 2000 — called Clinton "Hillary the hypocrite" in a Vimeo interview.
"At the same time she's denouncing big money corrupting politics, she's taking big money corrupting her politics," Nader said,
The legendary consumer advocate expressed his support for Sanders, though didn't address whether another third-party campaign was ahead.
"Sen. Sanders doesn't give the paid speeches to Wall Street firms or big commercial trade conventions," Nader said. "That's a matter of public record. The contrast couldn't be greater between Hillary the hawk and Hillary the Wall Street promoter and the populist, Sen. Bernie Sanders."