Thieves have stolen a controversial church billboard featuring an illustrated image of Donald Trump calling Jesus Christ a "loser" — a message that gained international attention after it was posted by The Community of Saint Luke, a house of worship in Auckland, New Zealand.
"On the day before Good Friday, the day Christians remember the death of Jesus, a billboard with a cartoon of Jesus' crucifixion was stolen from outside St Luke's Church," reads a statement posted to the church's Facebook page.
The explanation continued, "The billboard, which the church put up for Lent a couple of weeks ago, controversially depicted U.S. presidential candidate Donald Trump standing in front of the crucified Jesus, holding a hammer and saying, 'I don't like losers.'"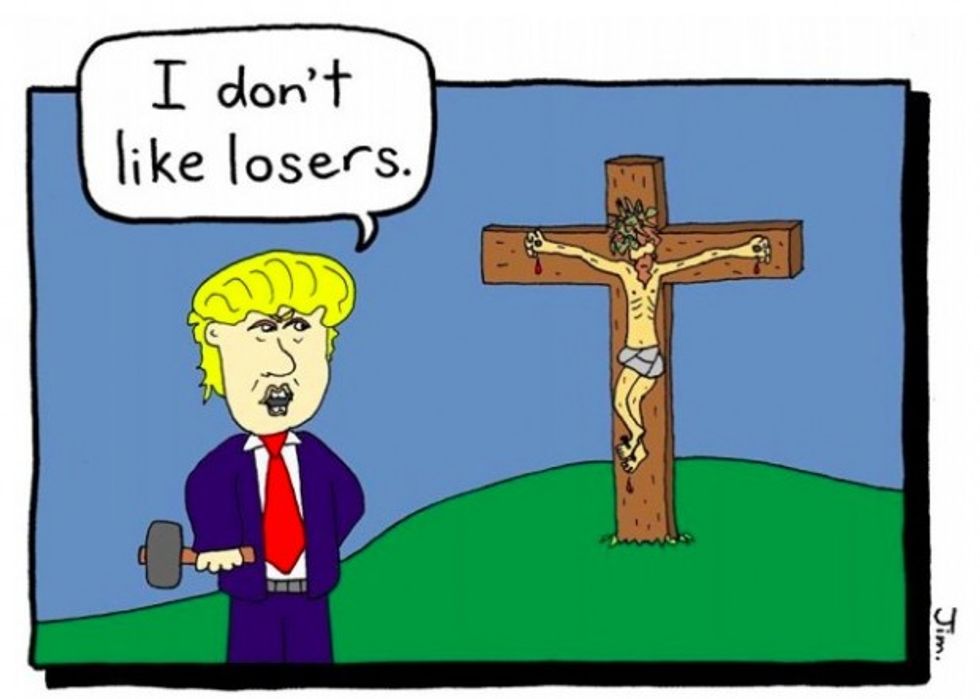 A billboard from St. Luke's church in New Zealand that takes direct aim at Donald Trump (Facebook/The Community of Saint Luke)
The sign was reportedly taken during the day while the Rev. Glynn Cardy was inside the house of worship conducting a funeral, though officials are unsure as to whether it was seized out of spite or because the person or persons admired the message.
Cardy, who expressed disappointment over the act, said in a statement that the cartoon was intended to show that the "values and views of people like Mr. Trump are completely at odds with those of Jesus."
"It is disappointing that someone decided to break the law and steal something that was stimulating a meaningful discussion in our community about the meaning of Easter," he added.
Despite the seizure of the sign, The Community of Saint Luke plans to erect a new version of the sign after church on Easter Sunday, with plans to keep it up throughout Trump's campaign for the White House.
As TheBlaze reported earlier this month, Cardy said that the image was intended to take aim at Trump's penchant for name-calling — something that Cardy believes runs counter to the biblical narrative.
More specifically, the preacher took aim at Trump's past comments about women, Mexicans and Muslims, saying that Jesus Christ "sided with minorities and those who were most vulnerable" and that this is what "got him killed."
"For those of us at St. Luke's, the cross is about politics. Jesus was killed – violently, publically and shamefully – because he spoke truth to power and confronted the leaders of his day about their treatment of the outcasts," he said. "To the Trumps of his day, and to those who see winners as having money and power, the Jesus of the Bible was a loser who associated with those rejected by society. And he died broke."
--
Follow the author of this story on Twitter and Facebook: