Puddle of Mudd lead singer Wes Scantlin was left alone and shirtless onstage after a concert in Doncaster, England, last week when his fellow band members abandoned him to the jabs and jeers of a frustrated crowd following the singer's public meltdown.
Scantlin, 43, had been performing with fellow Puddle of Mudd members during a sold out 500-person concert at the Diamond Live Lounge in England last Thursday, according to Billboard. Although the performance was sold out, many fans and other attendees left the concert dissatisfied and claiming that Scantlin had been under the influence of alcohol or drugs while performing.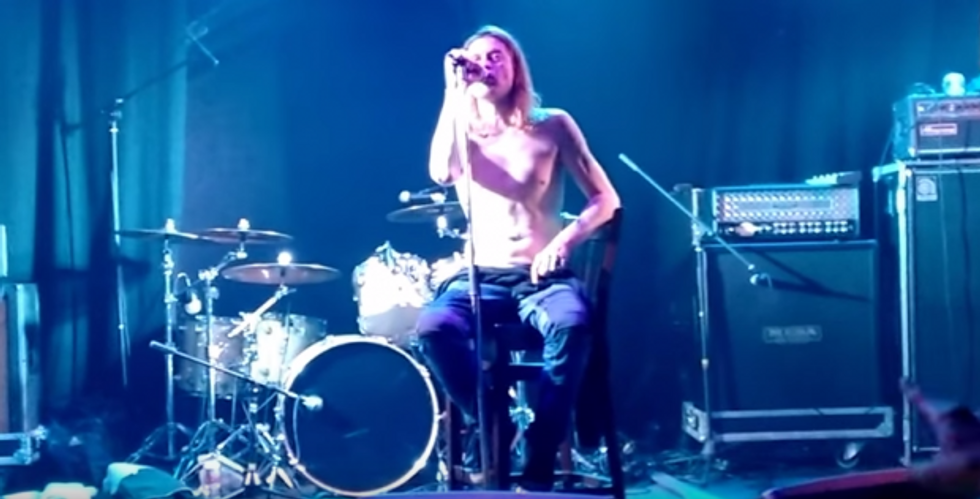 Image source: YouTube
"It was an absolute shambles. He was walking on and off stage and was talking about being high on crack cocaine," one attendee told the Doncaster Free Press. "He was telling stories but was incomprehensible and staggering around slurring. People were just walking out saying what a mess he was and how bad the concert had been."
Scantlin has had several drug-related run-ins with the law already. Last year, Scantlin was arrested twice on DUI charges, according to Billboard. In January, he was charged with felony vandalism after being arrested at a home he had recently lost in foreclosure.
During a video clip shot early on in the concert, Scantlin can be seen apparently struggling to sing the band's song "Blurry" before sinking to the floor.
Another clips shows Scantlin walking offstage as the crowd mocks him.
Still another clip shows a shirtless Scantlin seated onstage with a microphone as his band members exit the stage and an audience member repeatedly yells, "F*** you, Wes!"
The day after the embarrassing episode occurred, Diamond Live Lounge issued a statement.
"It will be no secret that last nights Puddle of Mudd gig didn't exactly go to plan as our 500 strong audience were certainly treated to a very 'rock n roll' evening, and in the end, quite concerning performance from lead signer, Wes Scatlin [sic]," the statement read. "When the band turned up, it was clear that Wes was a little worse for wear with drink and at this point we had to consult the band to make sure, collectively, we were happy to allow Puddle of Mudd to perform on stage. Members of the band, along with Wes were 100% confident that he could perform."
The statement also added:
The reaction of the crowd was very mixed, some people enjoyed what was seen as a very rock and roll moment, some with genuine concern for Wes and a very small section of the crowd were quite perturbed to say the least ... For most part of the night the crowd enjoyed the show but I would like to personally apologise for the performance of Puddle of Mudd at the end of the night. It wasn't how we wanted a great show to end or what we wanted a very patient audience to witness. Hopefully Wes gets the help that he requires for the sake of his own health and the career of an awesome band.
(H/T: Uproxx)
—
Follow Kathryn Blackhurst (@kablackhurst) on Twitter